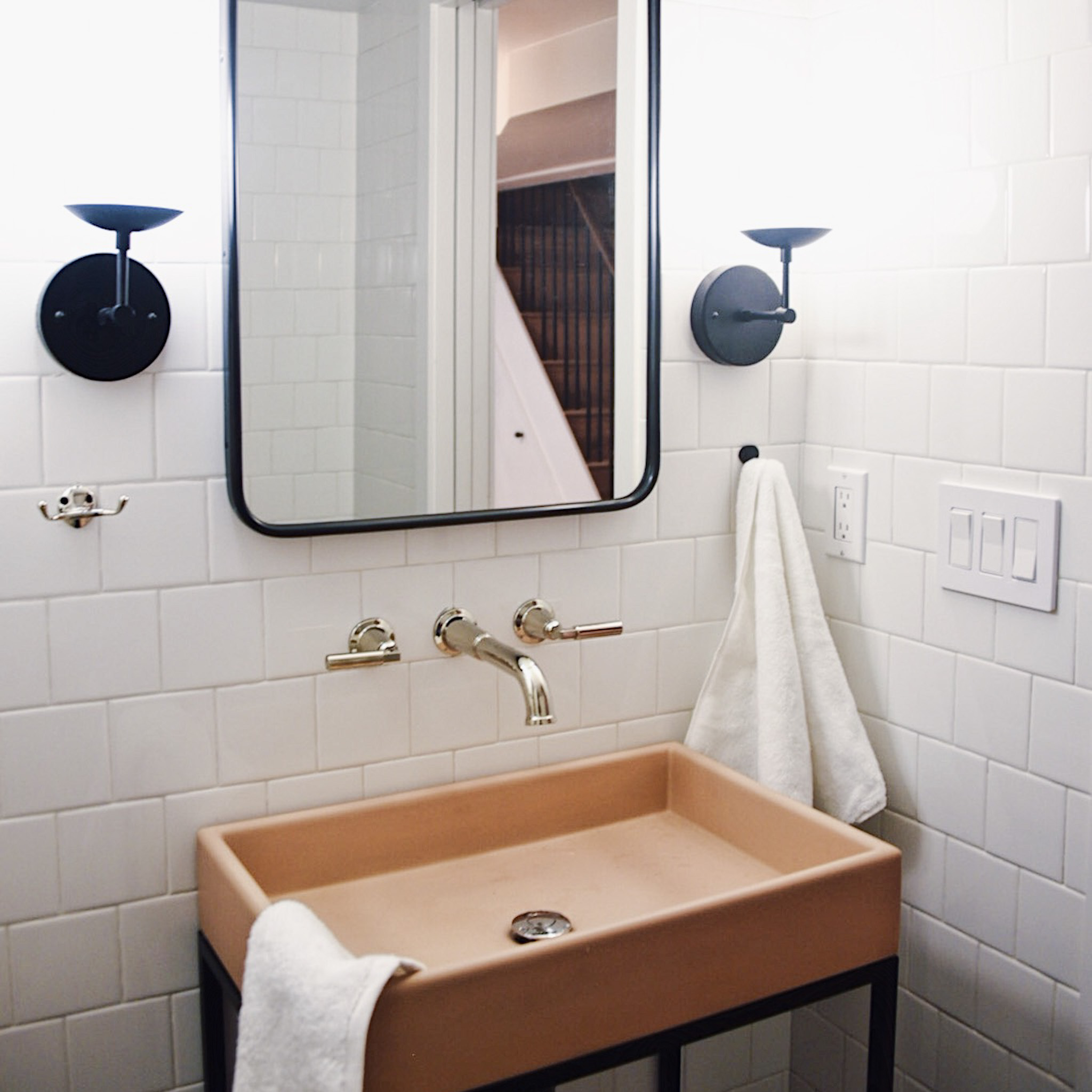 This post is sponsored. All opinions are my own. Thanks so much for supporting the brands that help us do what we do!
A million and a half years ago (approximately), we kicked off what we thought would be a 10 week renovation project. Our plan was to finish our downstairs, replacing our ancient furnace and reclaiming the space to add a third bathroom. After a bout of bad luck with our first contractor, we found a new contractor and thought we were on our way to being done with the project by March. Then, of course, the pandemic hit and everything stalled.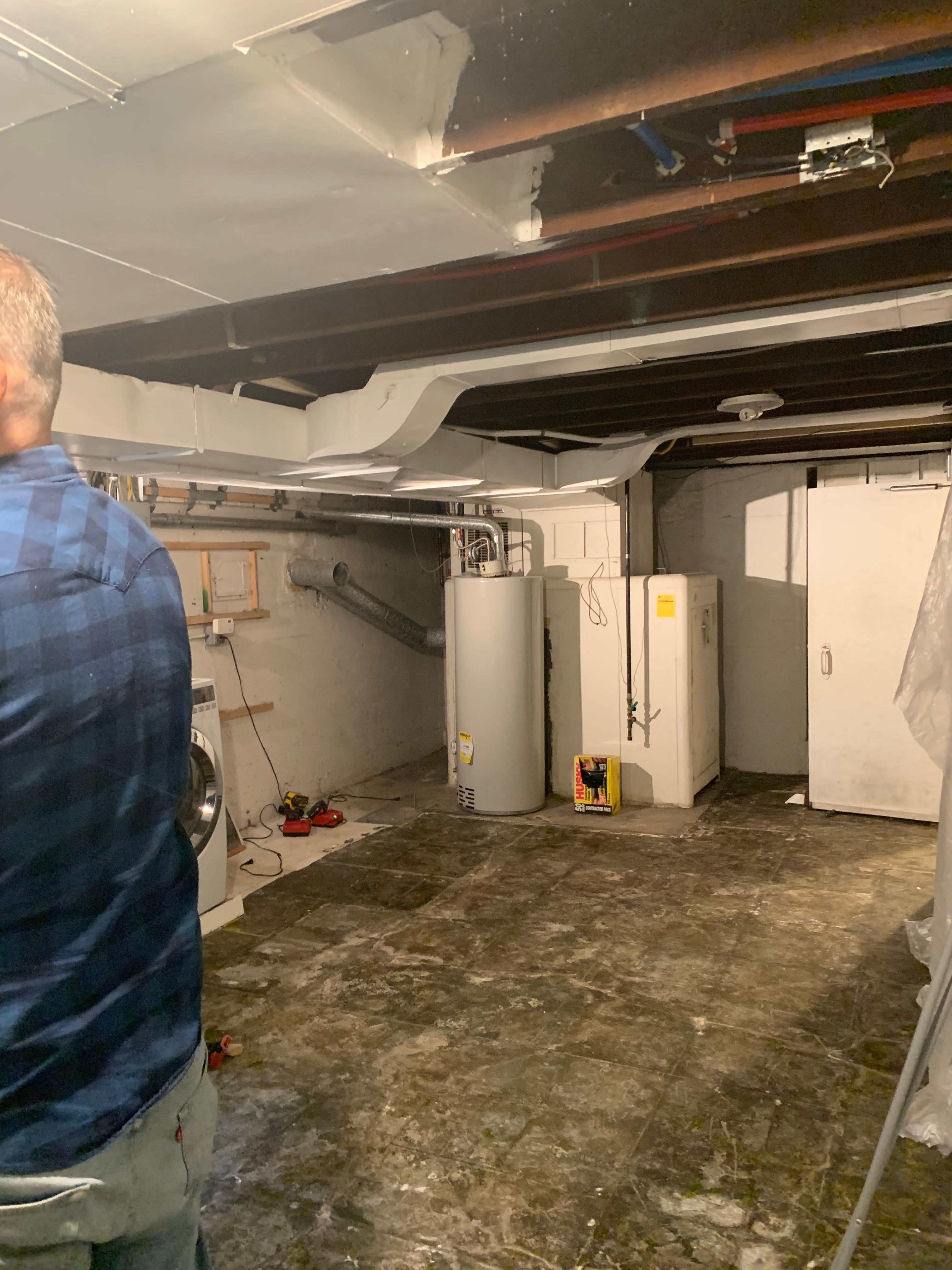 But, after months and months (nearly 10!), we finally finished what we started and we could not be happier. Pre-renovation, the space was the eyesore of our house. With hideous linoleum floors, metal siding for walls (I mean, what were the previous owners thinking?), and huge spaces there were previously used for an outdated furnace and water heater, our "laundry room" was mostly used for storage. It was also the embarrassing pass between our upstairs and the main floor bathroom and our ground-floor media room that exits to our backyard/ garden. 
We knew when we bought our house that this space could be amazing, but after our kitchen renovation and various other smaller projects, we had to hit pause before tackling it. Living in the house for five years, we've had time to figure out what works and doesn't work for our family. And increasingly, we knew that this room would completely change our home. 
A few days into living here, I can say with conviction that it has. We're still styling out the main space (reveal to come) and today I'd like to take you on a tour of the bathroom! I cannot thank our sponsors enough for bearing with us throughout this process, which dragged out much longer than anticipated: Delta Faucet, Clay Imports, Schoolhouse Electric, Rejuvenation, Nood Co., and Brooklinen. Without further ado, let me walk you around the space! 
The space
I mentioned that the bathroom used to be our furnace room. And I'm not kidding. Our furnace used to take up this entire space. We went back and forth with our designer, Heidi Caillier, a lot to figure out the best configuration for the space. Initially, we were hoping to add a window in the bathroom but unfortunately, our master breaker box was right in the middle of the space where we were hoping to add it. We settled for not having any natural light in here and instead, focused on creating a really clean and minimal space with a few pops of color.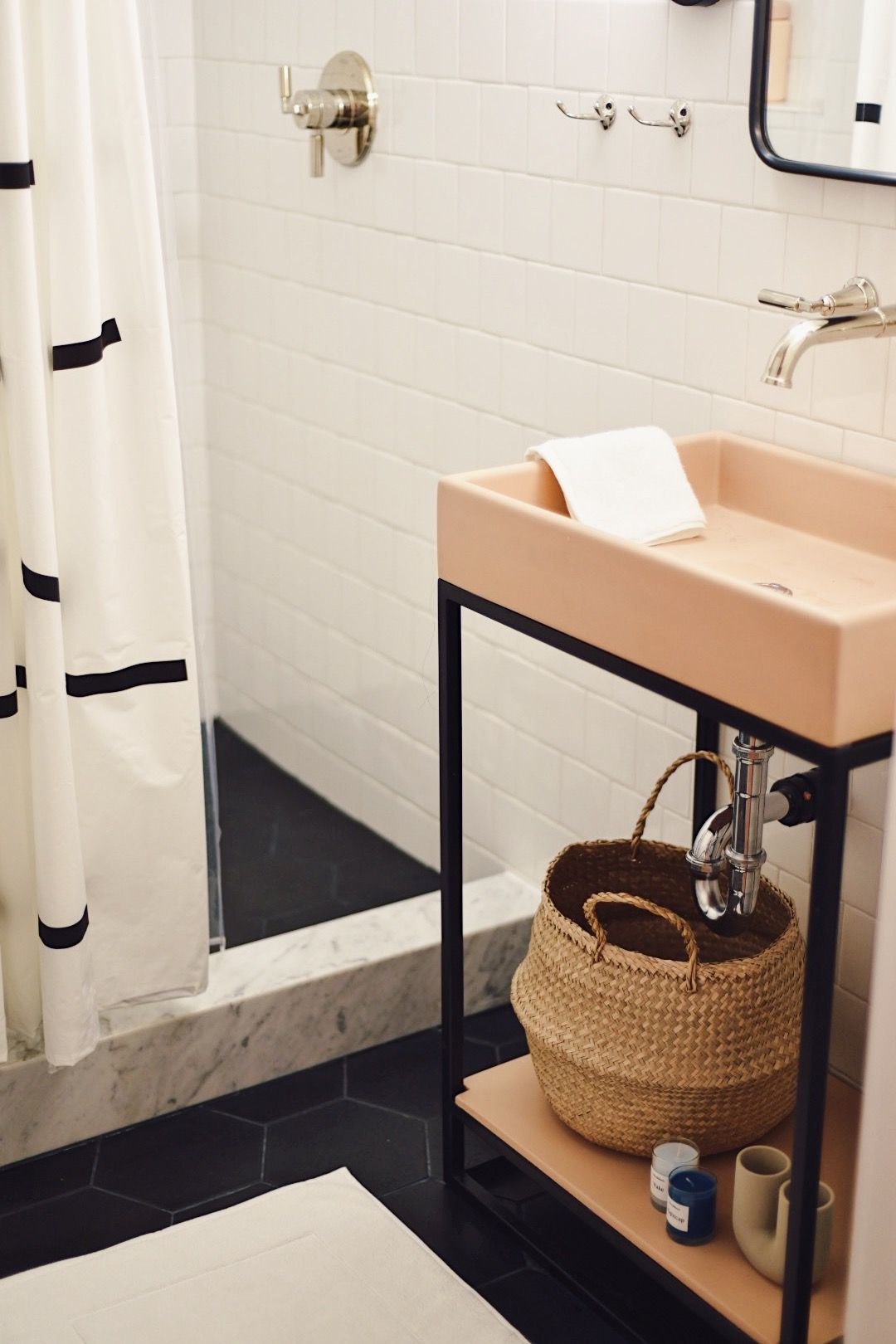 Given the size of the room, we wanted to maximize shower height and width. When Heidi recommended a curtain instead of a partition, I wasn't immediately sold. But now that I've used the shower, I actually really like it. Plus, we were able to justify putting in a beautiful stone step for the cost we saved by using a curtain (from Brooklinen).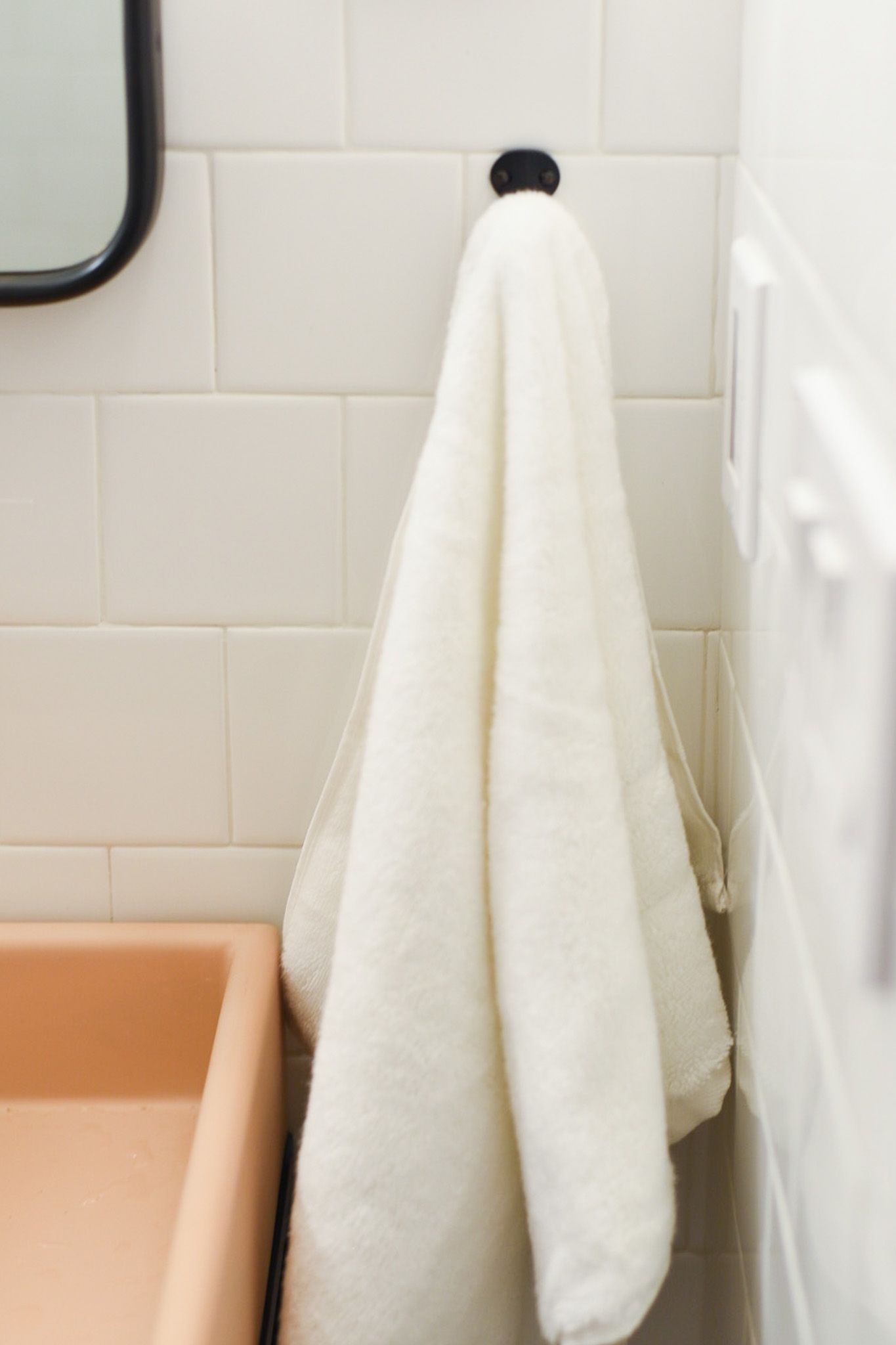 I've long been a fan of Rejuvenation and Schoolhouse — many of our light fixtures and hardware throughout the house are from them — so I was thrilled to partner with both brands. I love the two Schoolhouse Nova L Sconces that frame the Rejuvenation oil-rubbed bronze mirror and the simple Rejuvenation wall hooks (single Vernon hook in oil-rubbed bronze and Linfield double hook in polished nickel)  for towels. Given that this bathroom is on our lower level, it's mostly going to be used by guests, so we didn't plan for too much storage in here. Instead, we had a built in shower niche, where we can keep guest shampoo and conditioner. I added some simple Ikea baskets for towels, a blow dryer/etc, and a few Brooklinen candles that we could light for ambiance. The Brooklinen AM-PM candle set includes perfume grade candles in heavenly scents like Magic Hour and Dusk.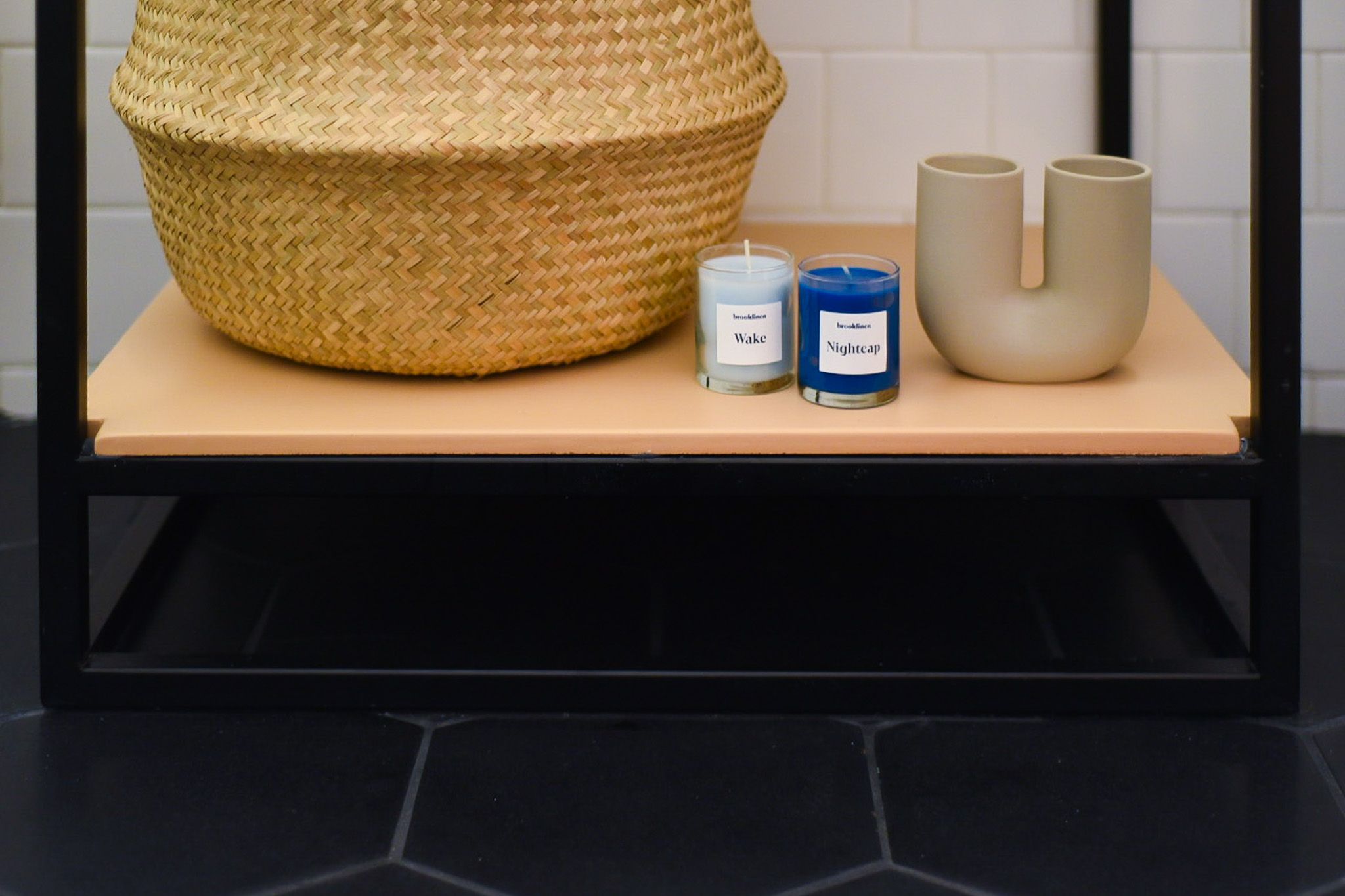 Because there's a huge difference between amazing towels and mediocre ones, we stocked the bathroom with Brooklinen's OEKO-TEX® certified plush towels in 100% Turkish Cotton. Hotel vibes at home!
If you want to snag some of your own, our friends at Brooklinen are offering readers $20 off orders over $100 with code turntable20.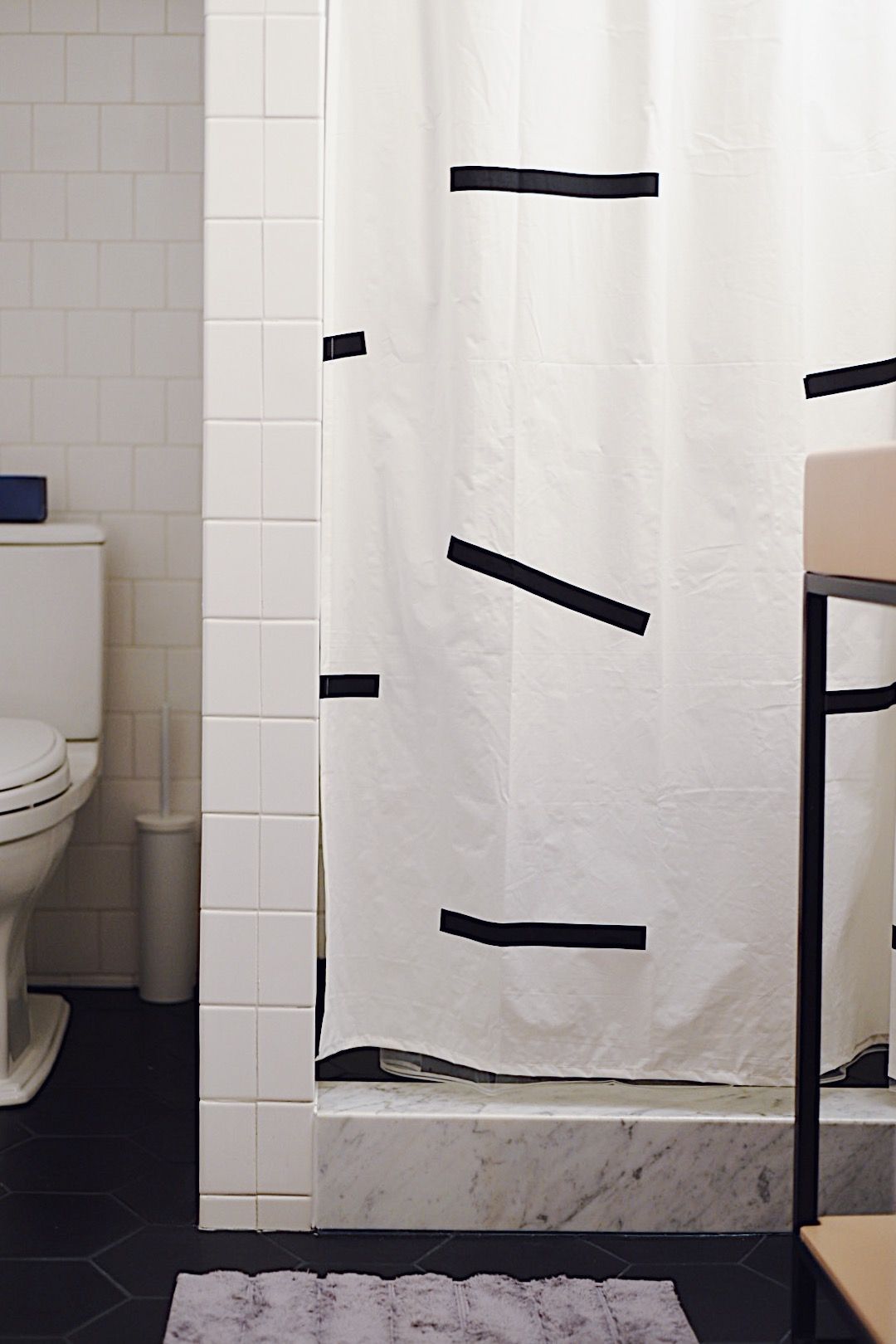 Overall, I love how this bathroom feels like one you'd step into at a chic hotel. Matt and I have jokingly been saying that our downstairs feels like hanging out in an Airbnb. It's almost like a separate apartment from our house, which, given the pandemic we're all living through, is pretty dreamy. 
The sink and shower fixtures
Let's talk about the fixtures because they are incredible. We partnered with Delta Faucet on all of the sink and shower fixtures and I cannot recommend them enough. We chose the ​Bowery™ Wall Mount Bath Faucet​, which is ​inspired by the clean, geometric shapes found in interior architectures. ​Not only are they backed by a Lifetime Limited Warranty, but Delta® WaterSense® labeled faucets use at least 20% less water than the industry standard, which is great both for the environment and our water bills. We selected a matching tissue holder in the same finish.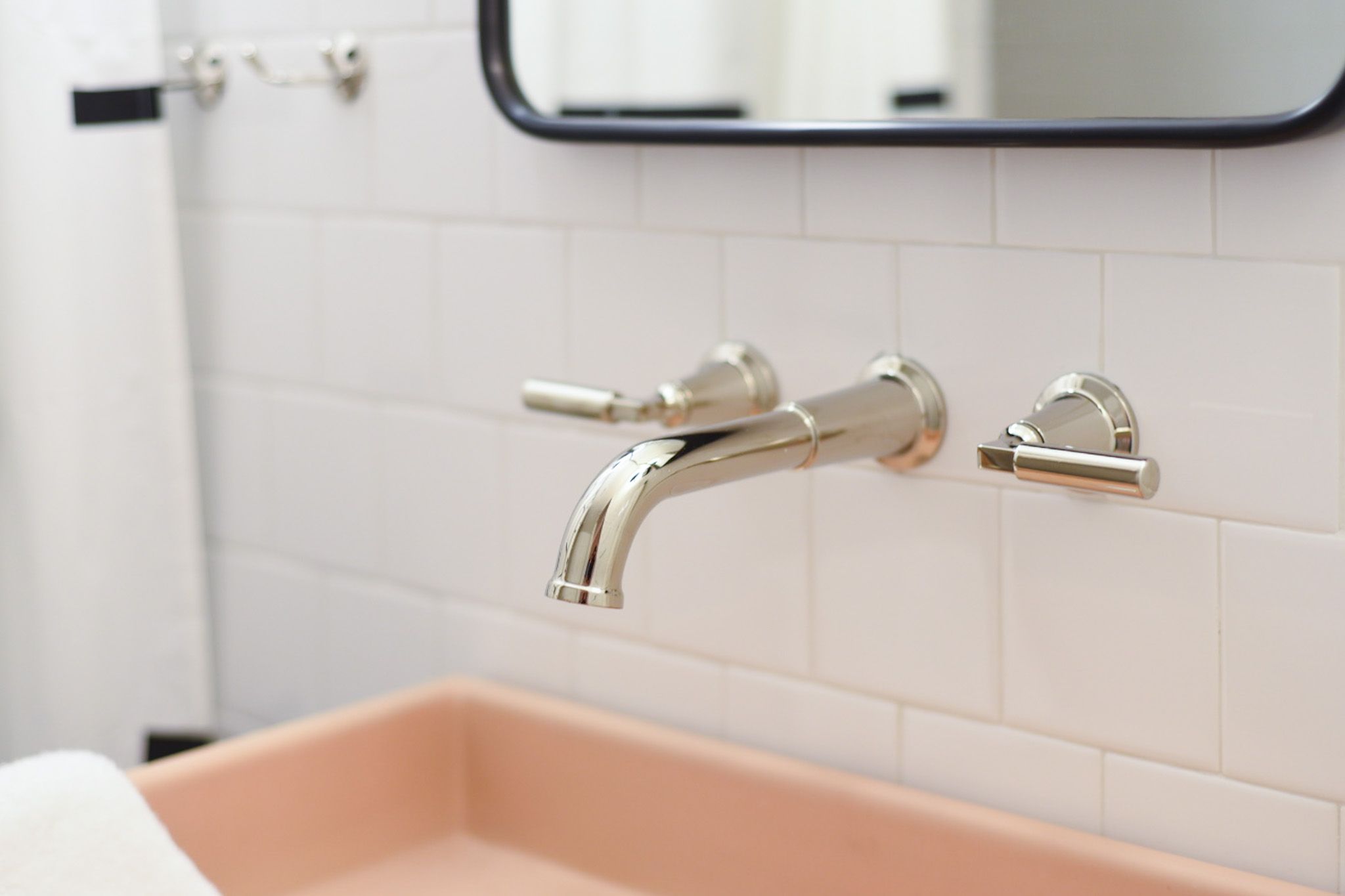 I have to admit that I've never cared too much about the showering experience. I know folks who are super particular about the rain shower, water pressure, etc. Now that I've taken a shower in our new bathroom, I've changed my mind.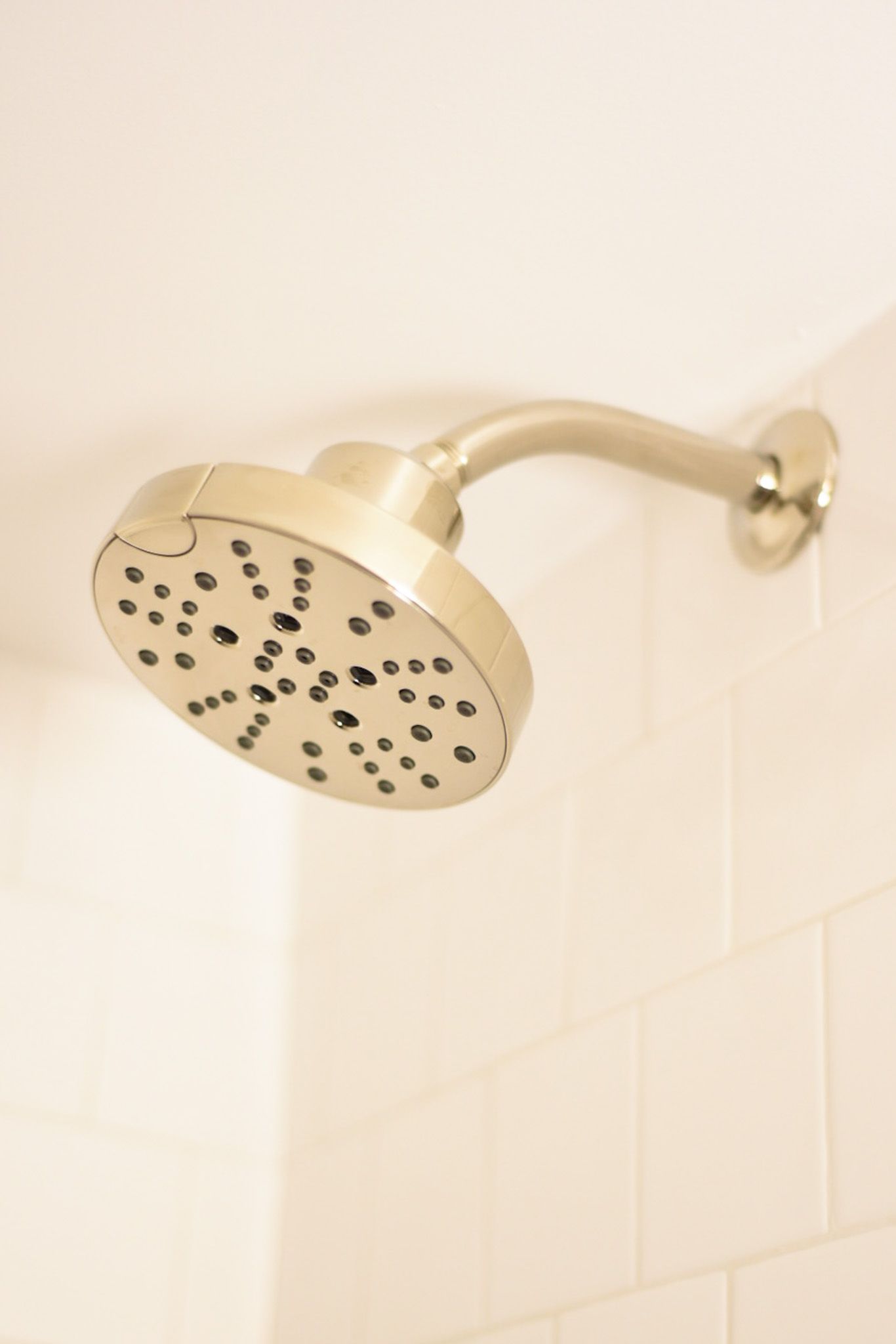 We selected ​the Delta® Bowery™ Monitor® 17 Series H2Okinetic® Shower Trim​ and I'm in love with it. Their ​H2Okinetic® showers gives you 3x the coverage of a standard shower head, which I have to say is a game-changer. You never get cold! And the water feels like a mas​sage, not a pelt. There are separate handles for water volume and temperature, so once you set your temperature preference, you can turn the shower on and off without losing your perfect temperature. So if you're, say, shaving, you don't have to get too hot or too cold in between. Even our kids are obsessed. Just like the sink fixture, the shower head also uses 20% less water than the industry standard, which is amazing, given how much water you think you're using. 
If you're doing a home renovation (bathroom or kitchen), or just looking to upgrade your fixtures, Delta Faucet has an incredible array of styles. I can't say enough about what a difference good fixtures make. 
The encaustic clay tile 
I remember well before we started our renovation, I pinned this image as inspiration. I had in my mind a vision for hex black floor tile, paired with simple subway tile. Heidi helped turn my vision into reality and took things up a notch. She selected a more unique square subway tile shape and for the the floor (and shower floor) we teamed up with Austin-based Clay Imports on the black hex floor and shower floor tile.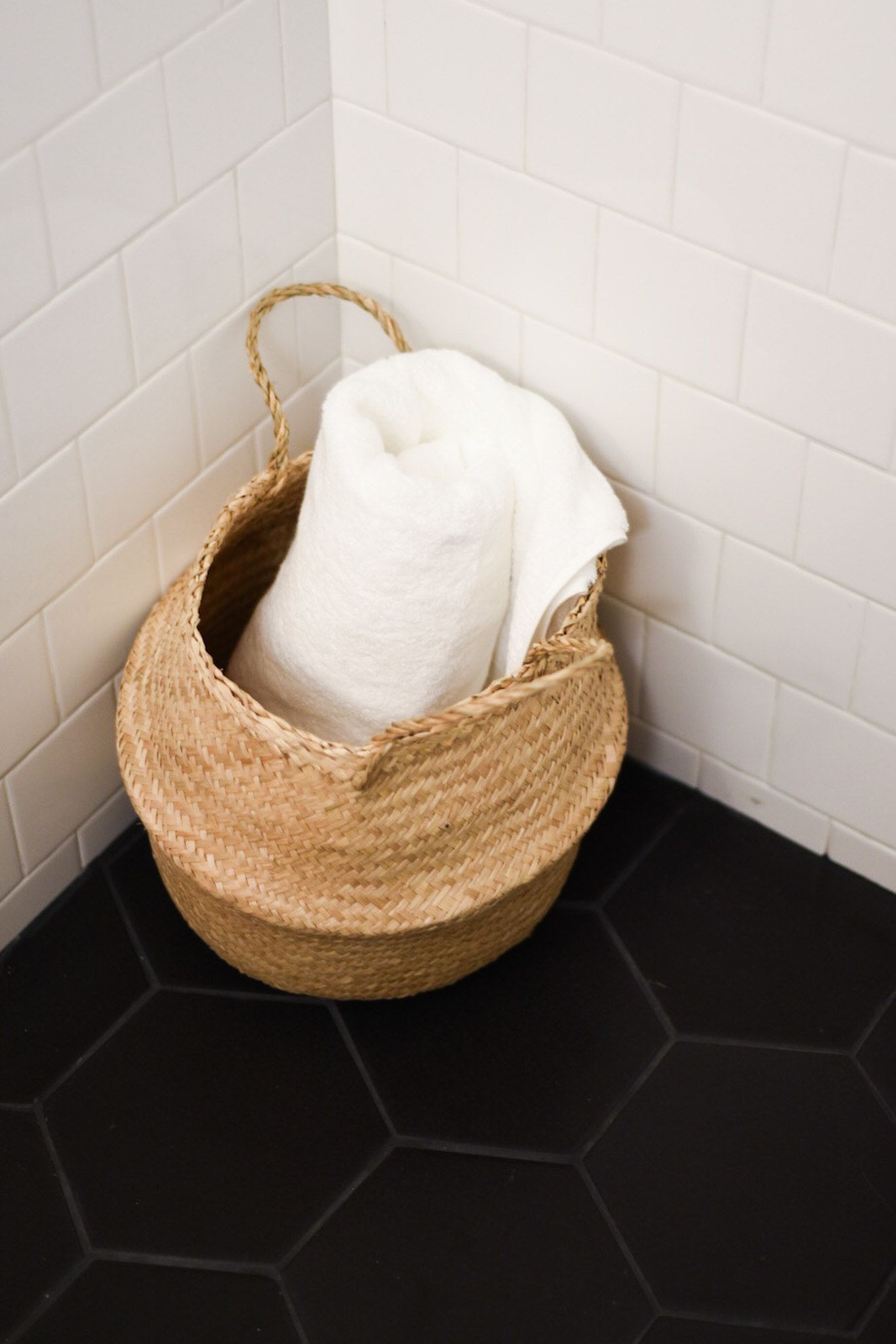 Not all tile is created equal and Clay Imports' tile is stunningly beautiful and handmade, meaning no piece is exactly the same. The tile itself has a super smooth finish (not glossy), so it feels incredible on your bare feet.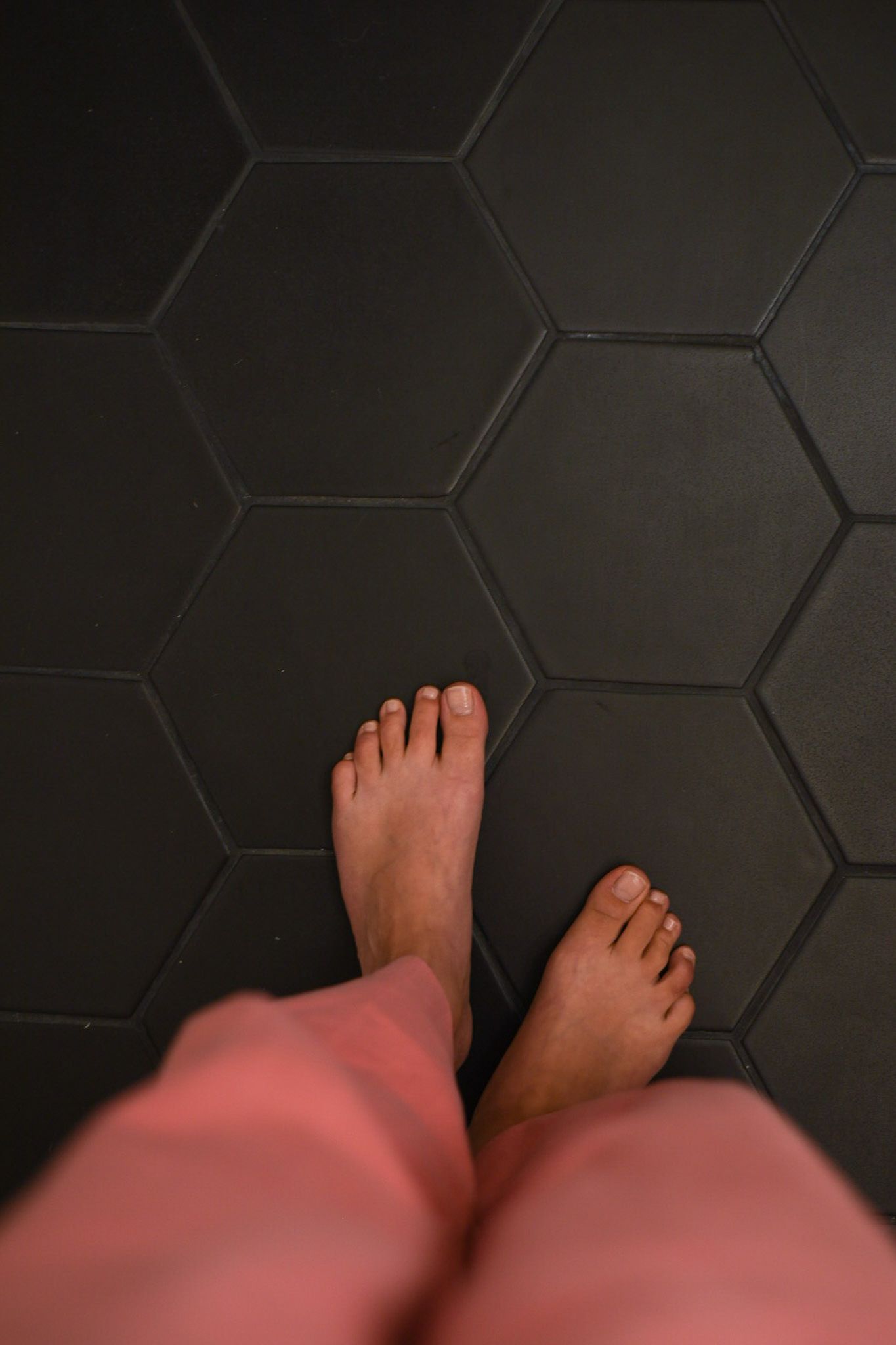 Because it's a bathroom, and because we have kids, we wanted to be mindful of choosing products that would be super high maintenance. Though of course we wanted nice stuff 🙂 I love that the Clay Imports encaustic clay tile is super low maintenance. The tile is fired at a high temperature that makes it resilient to moisture absorption. And, it doesn't need to be sealed. All in all, you get the appearance of a beautiful handmade piece without a lot of effort, and you know it's durable. We used a dark gray grout (recommended by Clay Imports).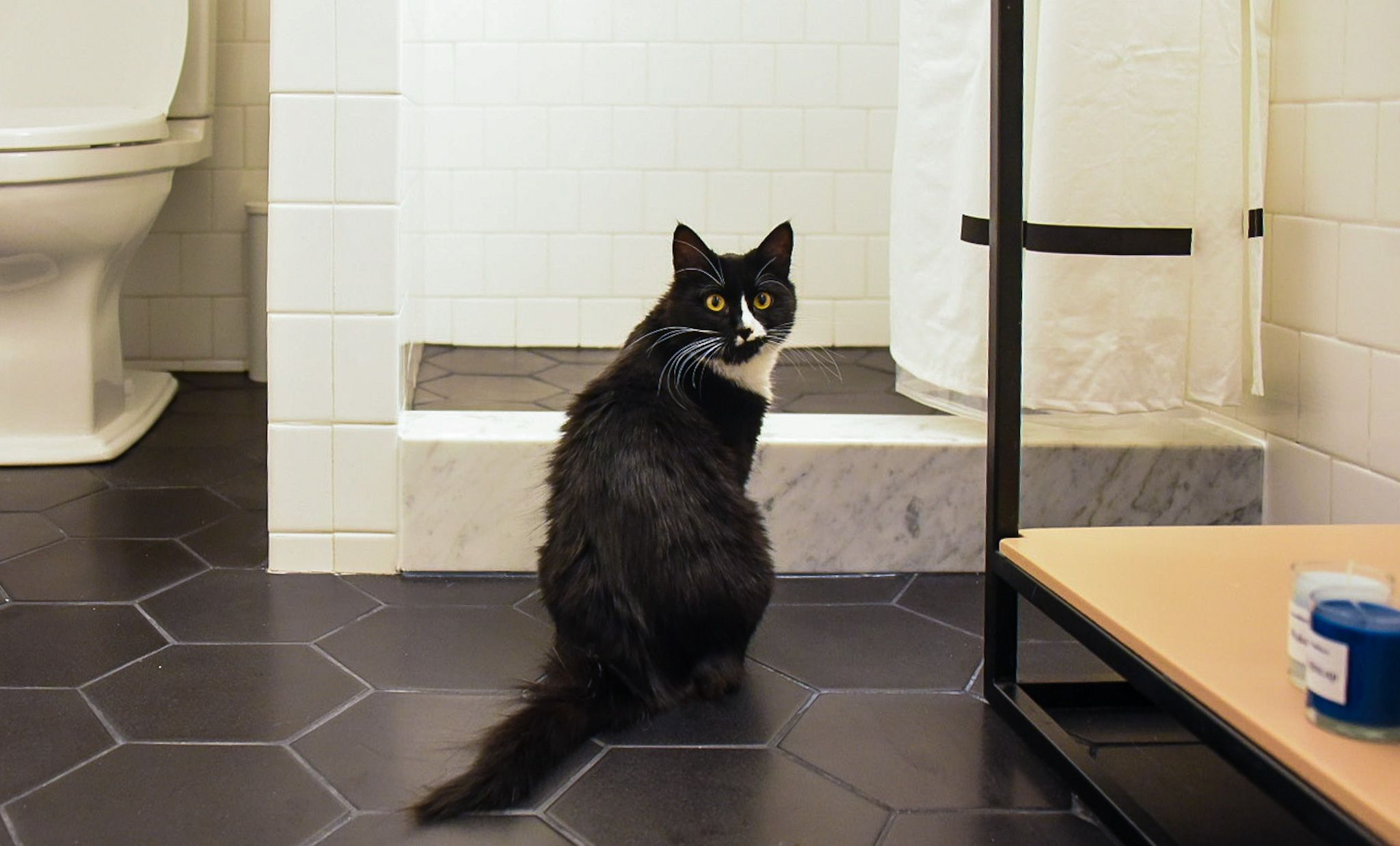 Every time I step into this space, I feel luxurious. I honestly sometimes just want to sit here with a cup of coffee.
The cement sink
Between the black and white tile, we didn't want the bathroom to be devoid of color. Enter: our peachy nude cement sink from Australian company Nood Co.. I've been drooling over their sink basins for ages and I am so, so thrilled to have one in my home. The peach color isn't too pink or too nude, so it really makes a statement, without feeling too millennial (in my opinion). Plus, I could never convince Matt to choose a "blush" sink.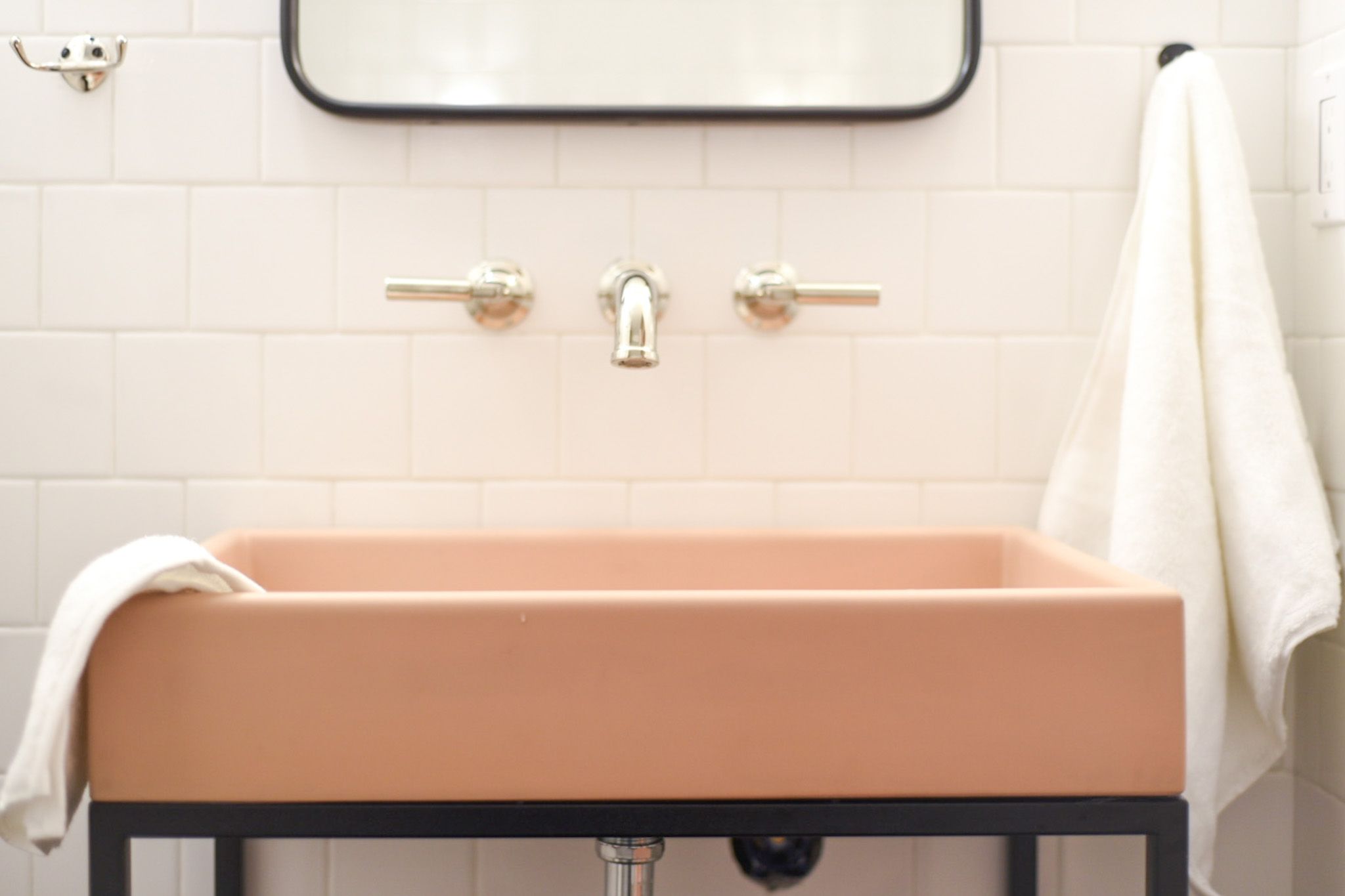 We went back and forth on whether to do a sink basin on top of a counter or the vanity basin and ultimately went with the Box Basin Vanity. The box basin sits atop a powder coated steel frame. The upside is that it's super sleek and has plenty of storage below. The downside is that we didn't factor in any counter space for soap and toothbrushes. Given that it's a guest bathroom, I think it still works, though we may consider some kind of shelf or hanging soap dispenser option in the future.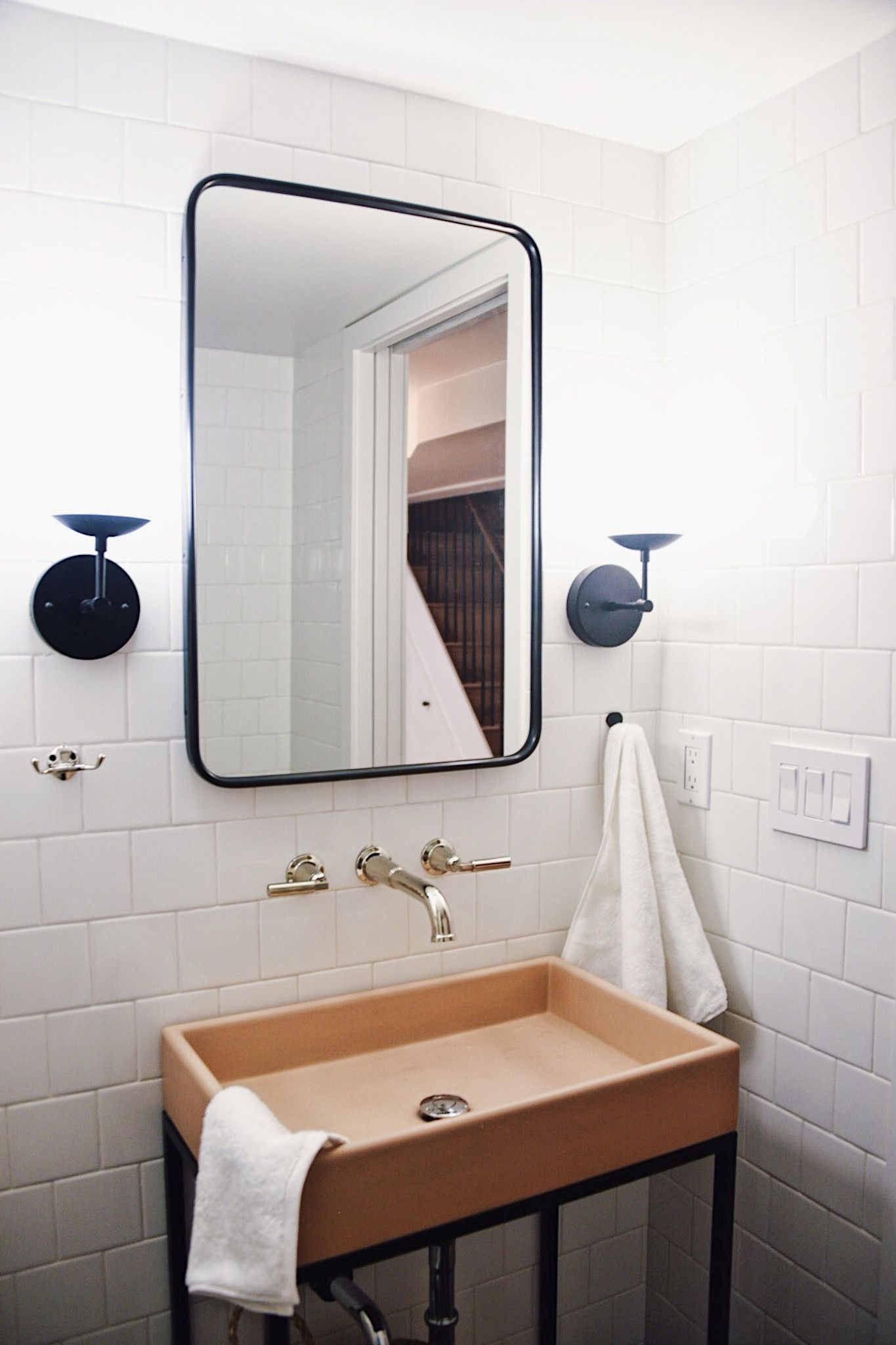 This vanity basin — again — makes me feel like I am showering in a chic hotel. Nood Co's cement furniture is sustainable and handmade in Australia.Their products are made using a zero VOC concrete composition and sealed in a food-safe, UV stable, extremely low VOC sealer. The final product is waxed in a pure natural beeswax polish. Cleaning the sink is as easy as using some soapy water and a microfiber cloth. 
The only downside to our new bathroom being done is that I now only want to shower exclusively downstairs. Which at the moment, feels perfectly reasonable since we have no visitors or guests. In time, though, we look forward to hosting family and friends. 
Do you have any questions about the renovation process, costs, etc.? Ask them in the comments. And stay tuned for more reveals of our renovated ground floor soon.