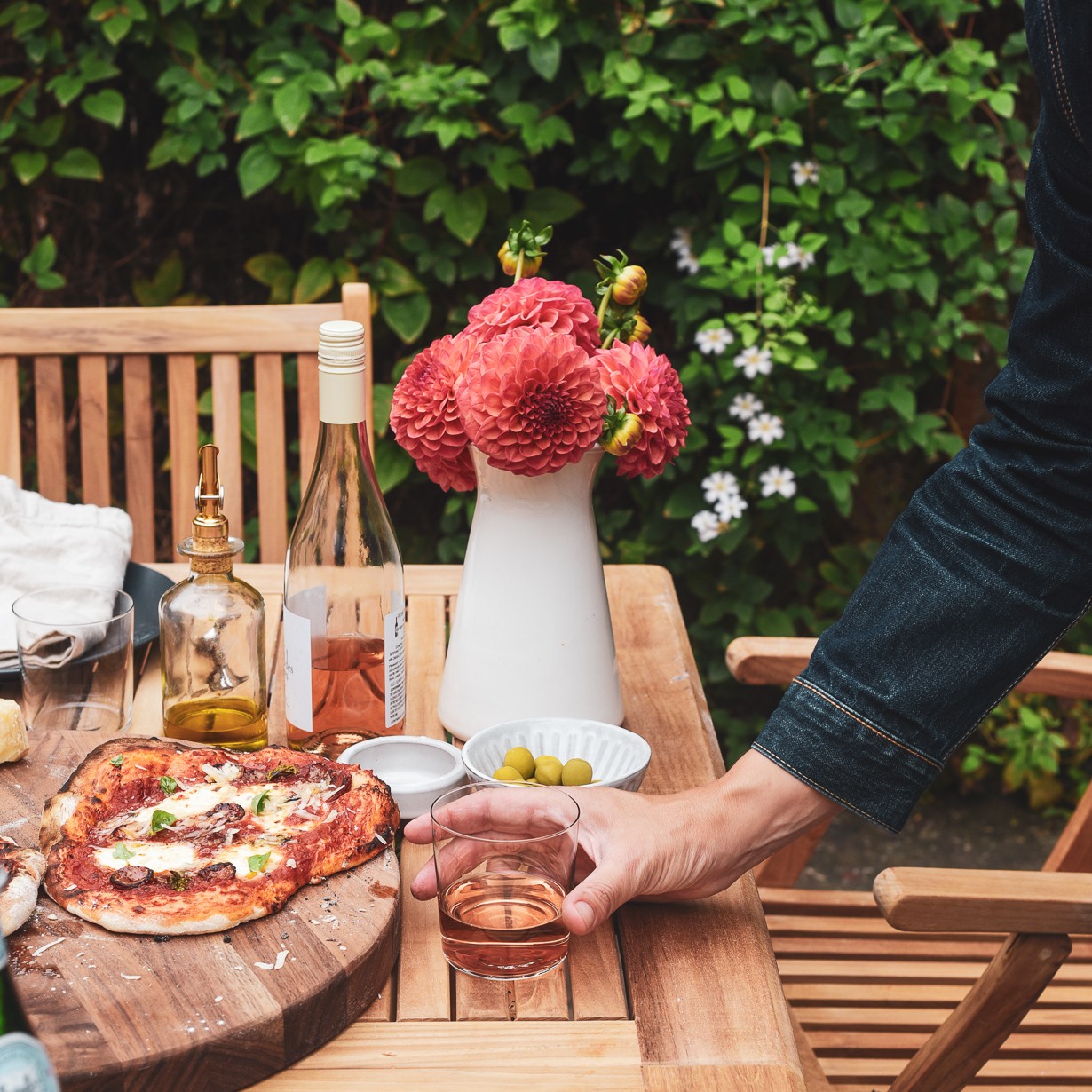 This is a sponsored post in partnership with Lowe's. All words and opinions are our own. Thank you for supporting the brands that help us do what we do!
This summer has been a whirlwind, to say the least. We planted a garden, started planning updates to our backyard, and then promptly went on a lot of trips. But we've certainly made the most of it, and today I'm excited to finally share what we've been working on in our backyard with our friends at Lowe's (just in time for Labor Day!).
Living in Seattle means that our backyard feels very lived in during the summer months, but very un-lived in during the fall and winter. We wanted to change that! We're all about getting outdoors, even when the weather isn't ideal. I get so stir-crazy if I'm stuck inside. And there's no better way to stretch out the feeling of summer than to plan for fun gatherings in the fall, and even winter. For us, this meant getting our backyard outfitted with weather-resistant furniture, and some items that would bring some serious heat (no pun intended) to our space.
Pictured above: 1: Safavieh Mopani Chair Acacia Adirondack Chair with Slat Seat 2: Endless Summer 34-in W Oil Rubbed Bronze Steel Wood-Burning Fire Pit 3: Gronomics 48-in W x 30-in H Rustic Red Rustic Cedar Raised Planter Box 4: Forno Venetzia Pronto Brick Hearth Wood-fired Outdoor Pizza Oven 5: International Home Amazonia Teak 9-Piece Brown Wood Frame Patio Dining Set 6: Forno Venezia 5 piece pizza tool set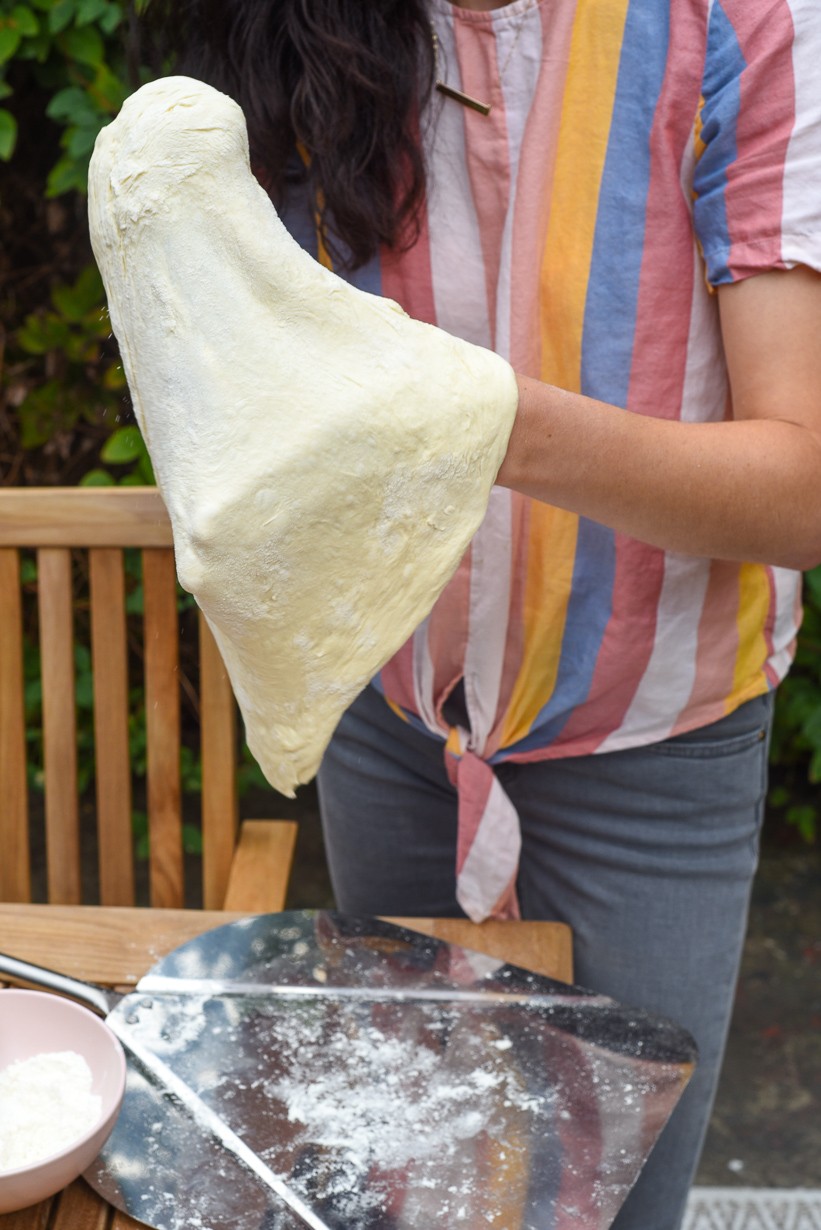 Like all PNWers, we've had our hearts set on a set of Adirondack chairs and a fire pit, for s'mores and evening storytime. And like Californians, we'd always dreamed about having an outdoor pizza oven. Lowe's made our dreams come true (on both fronts). Over the last few weeks, we've been building ourselves a cozy little space that'll last us from this summer to the next (and beyond). And we've taken our pizza-making skills to the next level. Though, we're still in major need of practice.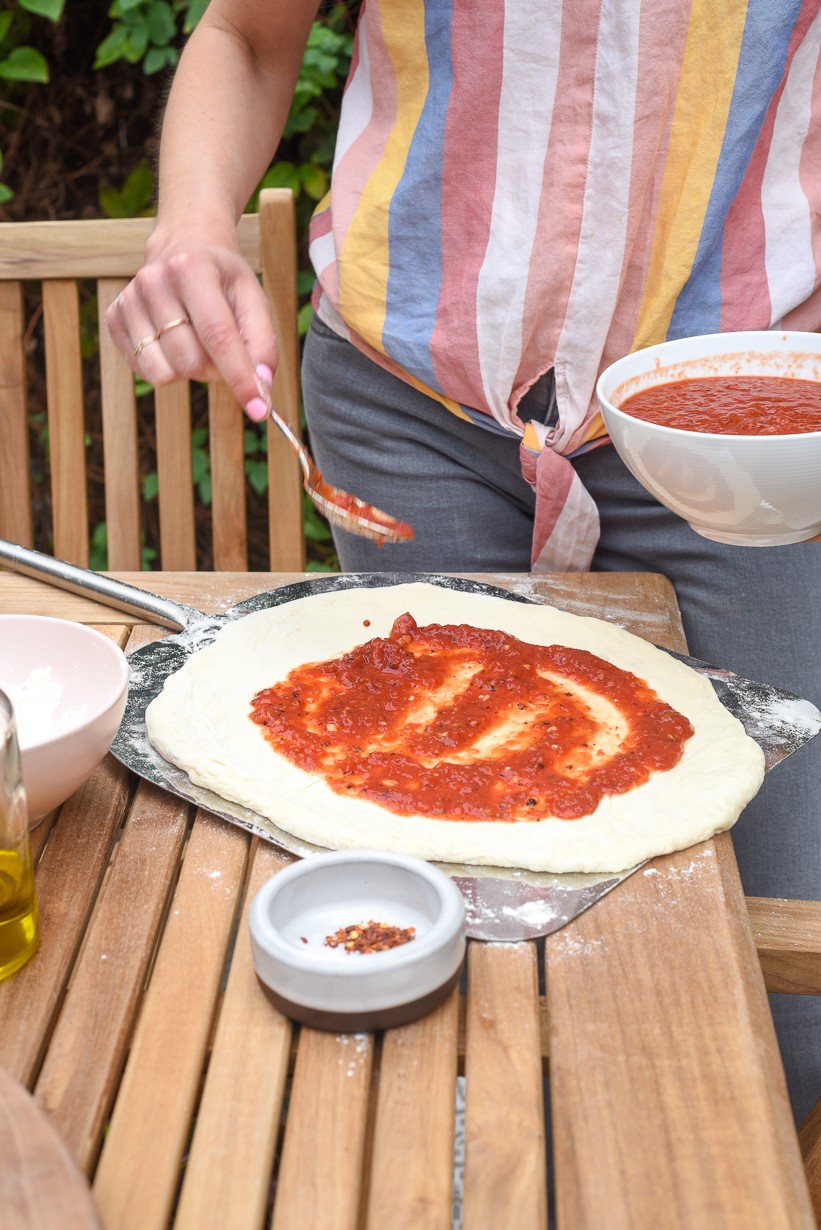 Today, I wanted to share a little peek into what we're putting together, and also give you some ideas for ways you can have an unconventional Labor Day Pizza Party! I realize that not everyone has an outdoor, wood-fire oven, and this pizza can easily be adapted for home ovens. But, I'm fairly certain that now that we have the option, I'll never make pizza in my indoor oven again. Our Forno Venezia Pronto Brick Hearth Wood-fired Outdoor Pizza Oven heats to over 800 degrees Farenheit (!) meaning that pizza is ready in just about 1 minute and you get those incredible bubbles in the dough. It's also really darn beautiful. But I digress. Regardless of how you cook your pizza, a pizza party is worth having. Here are a few ways you can have yourself a pretty stellar Labor Day gathering, even if the sun has decided that summer is officially over.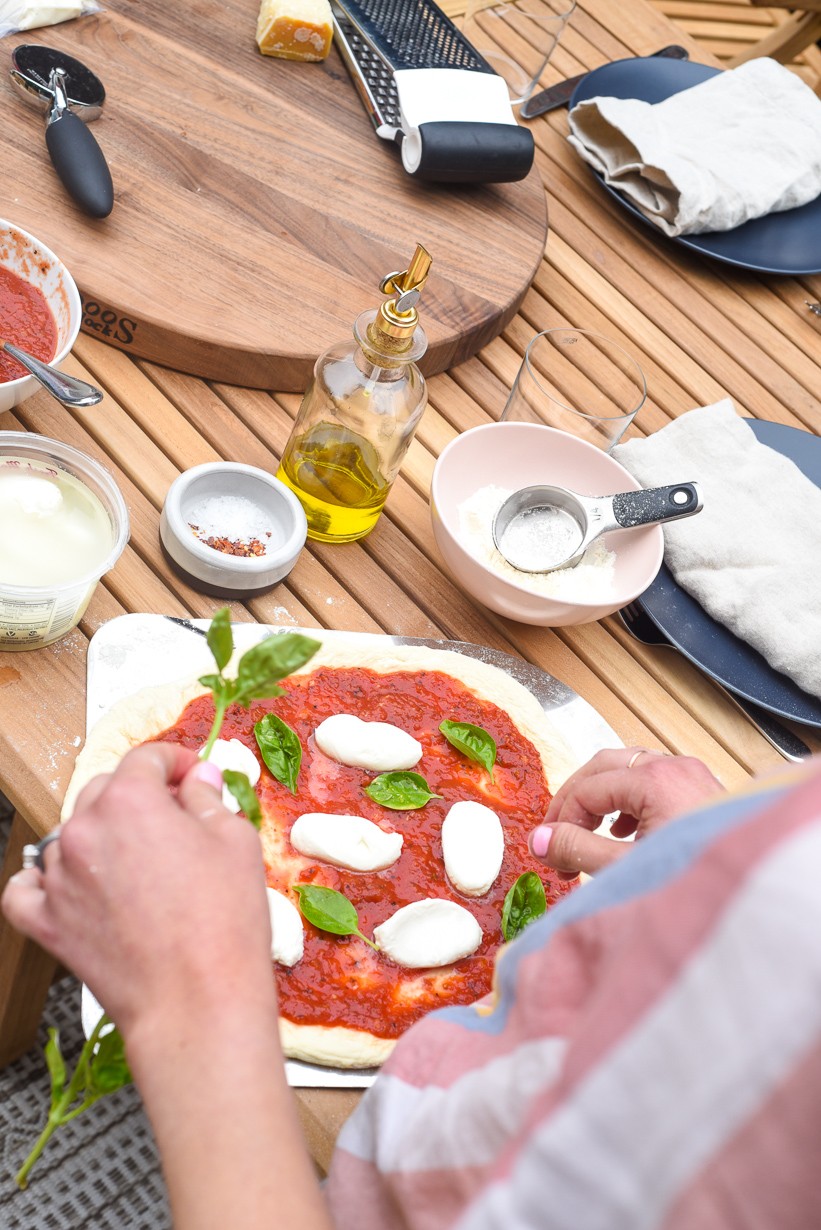 Make plenty of pizza dough ahead of time
I get it. Sometimes I run to Trader Joe's for pre-made dough in a pinch, too. But trust me, making your own pizza dough is SO easy. It's also pretty rewarding. And if you make plenty, you can experiment with all sorts of crazy pizzas, and even give some to the kiddos to play with. Here's the recipe I've been playing with, which comes from Franny's: Simple Seasonal Italian:
Franny's Pizza Dough
1 1/2 teaspoons of dry active yeast
1 3/4 cups of cold water
4 1/2 cups of all-purpose flour
2 teaspoons of kosher salt
Add the water to the bowl of a stand mixer. Sprinkle in the yeast and let sit until it starts to foam (about 5 minutes). Add the flour and salt and use the dough hook attachment to mix the dough until it's a smooth ball (3 minutes or so). Oil the inside of large bowl. Place the dough in bowl and cover it loosely with plastic wrap. Place it in the fridge for 24- 48 hours. Franny's has you divide the dough into 4 pieces, then form it into rounds, turning the dough into itself…and then placing it in the fridge for 4 hours before using. But we've skipped this step and had pretty fantastic pizza still 🙂 You also want to let your dough rest for 30 minutes at room temperature and when it comes time to make pizza, stretch your dough (not roll).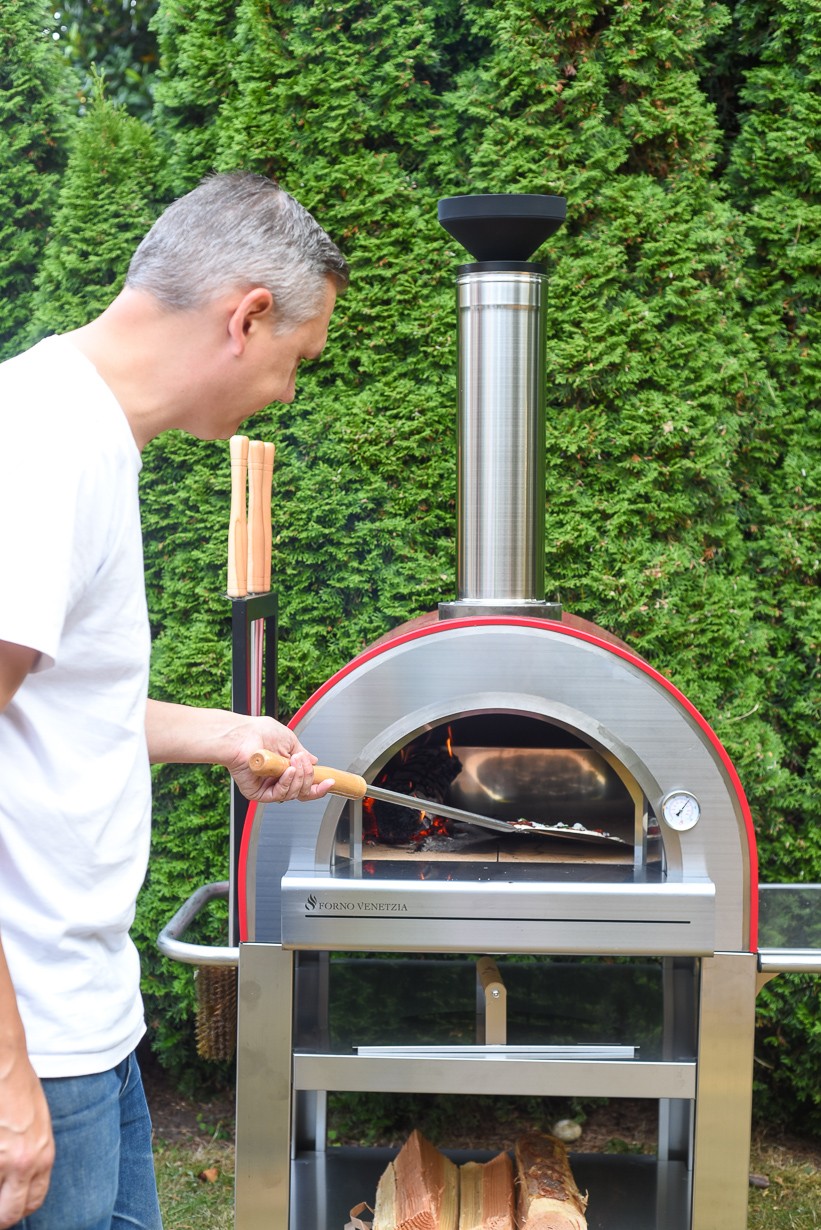 Use fresh herbs
The beauty of having a garden is being able to grab a handful of this or that. Nothing makes me happier than garnishing my food with greens I've grown myself. For pizza, we like to use fresh Genovese basil, Mediterranean oregano, and when they're available, squash blossoms.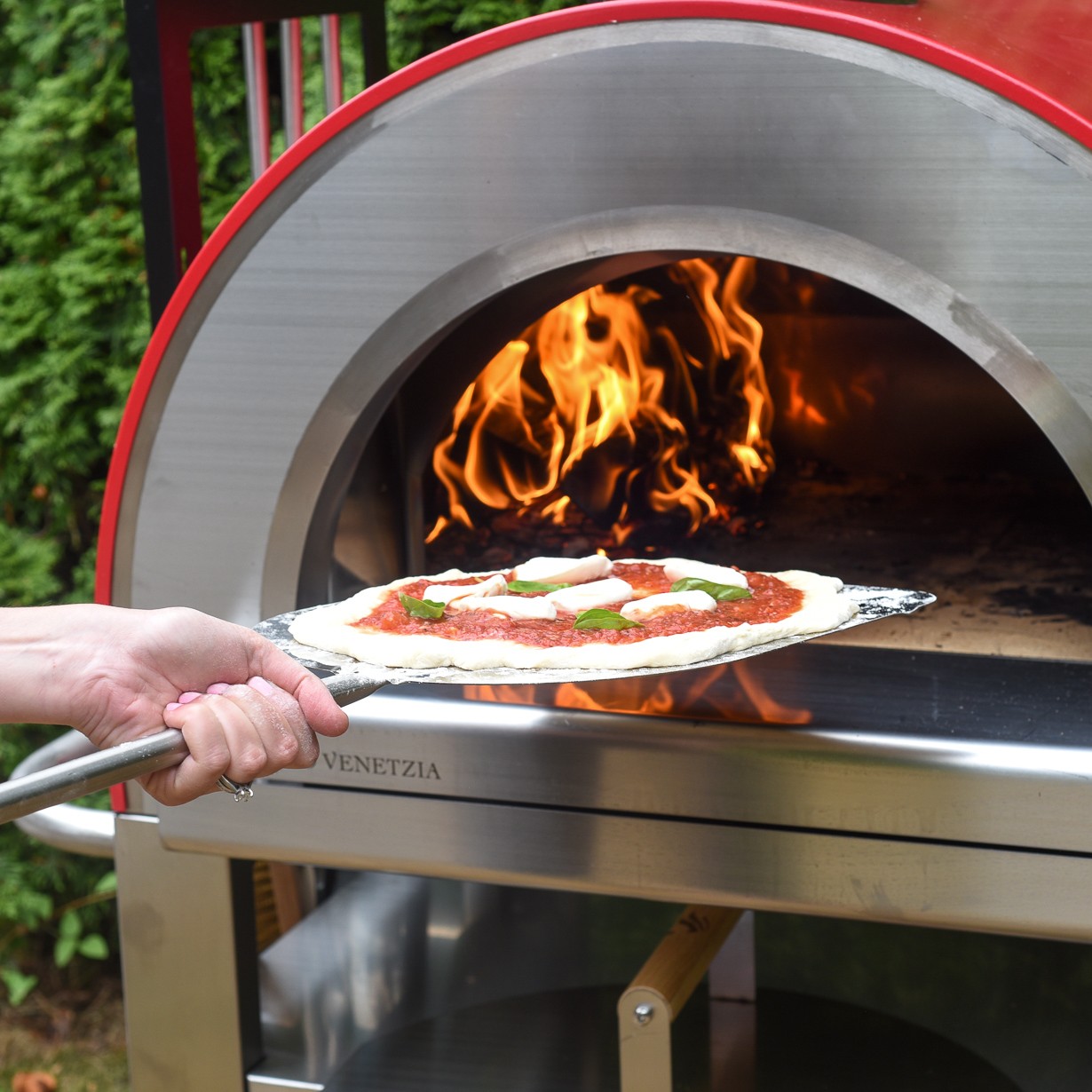 Repeat after me: Simple is always better
When you go to a fancy pizza place, you'll often be met with ingredients you've never heard of before and that's fine. But when it comes to making pizza at home, I'm a firm believer in keeping things simple: easy (homemade) tomato sauce, fresh mozzarella (buffalo mozzarella, if you can procure it), fresh basil, salt, and red pepper flakes. Freshly grated Parmigiano Reggiano (only the real stuff), too.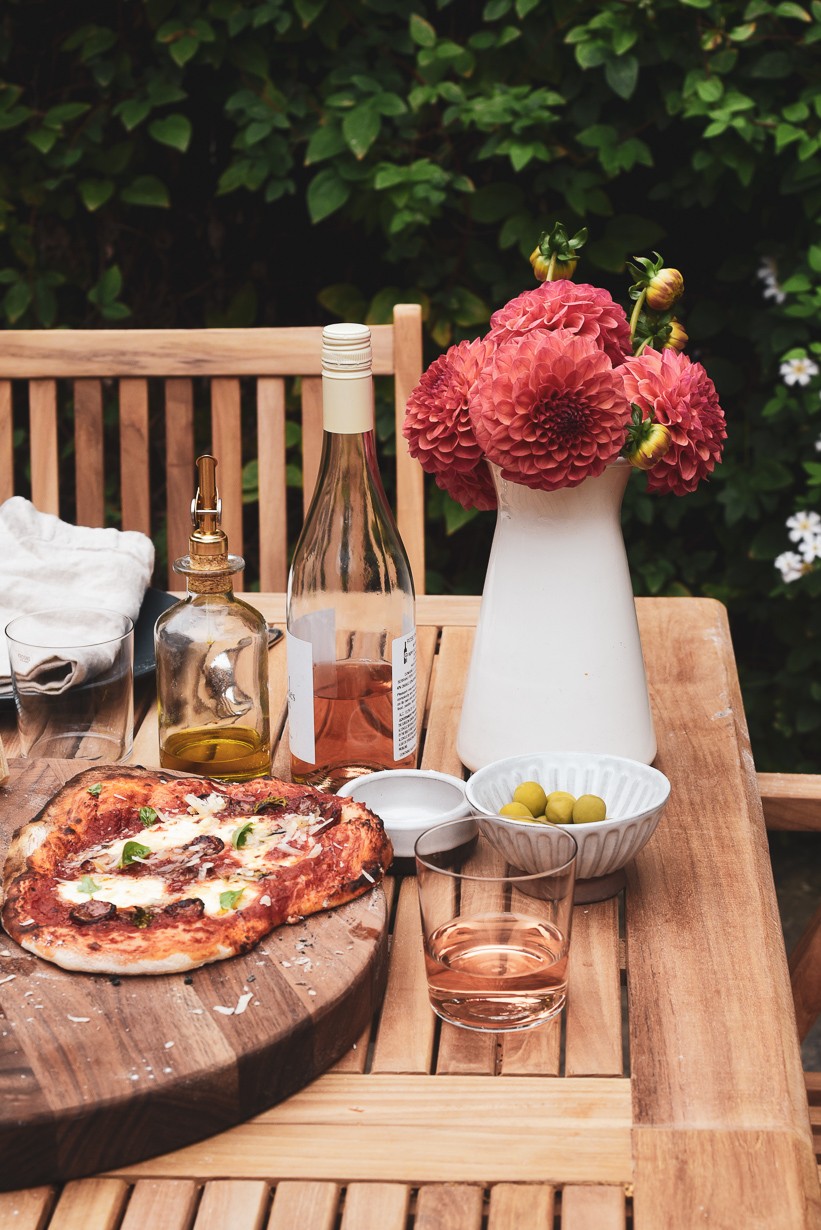 Rose all day (and cider)
When it comes to pairing pizza and alcohol, I like the following progression: start with rose (especially if it's a nice day) and cider (this is the PNW!). This is a good time to nibble on olives, potato chips, and fresh veggies. If you want to do it like the Italians do, move on to red wine (I like Dolcetto d'Alba, which is light and very drinkable).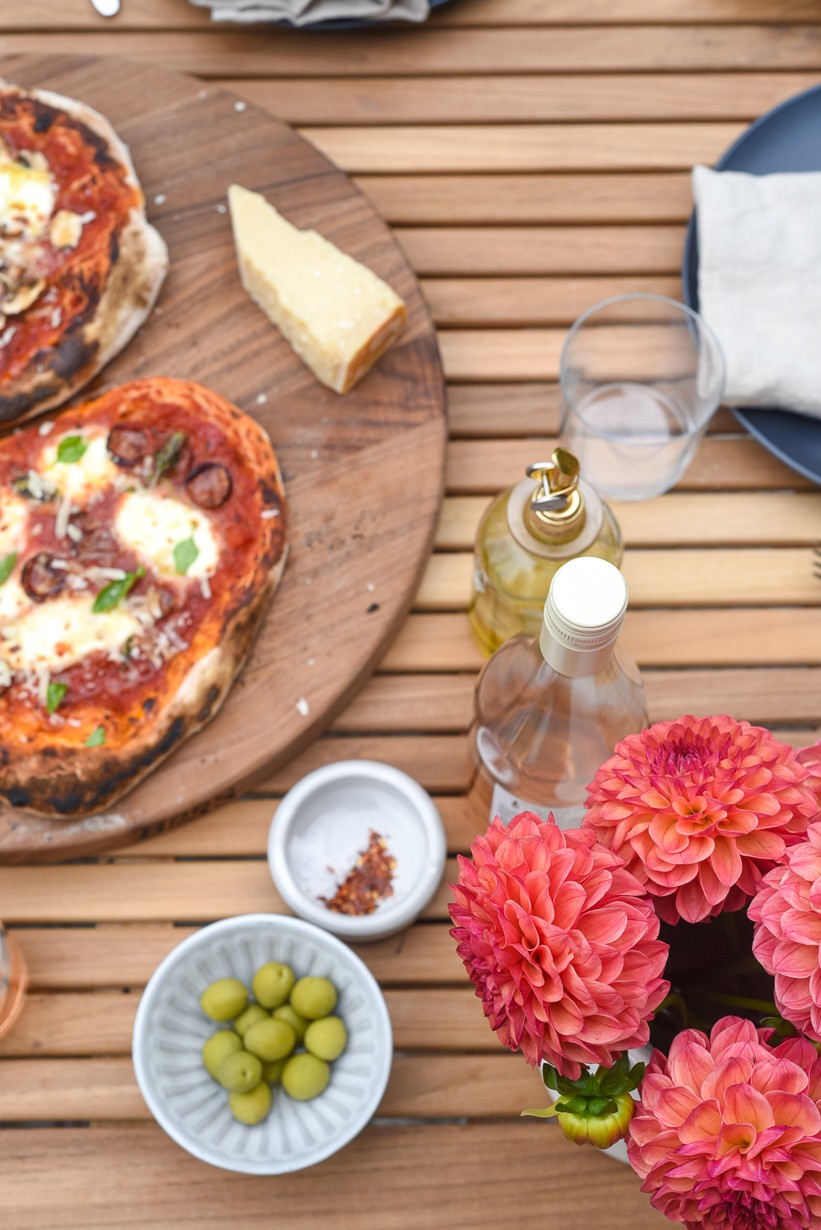 The afterparty
When it comes to post-pizza party sweets, I like one of two options: a make-your-own ice cream bar: vanilla bean ice cream, store-bought waffle cones, Italian olive oil, and a little bit of salt (to please every palette). Alternatively, you can't go wrong with a giant bowl of watermelon or a platter of warm chocolate cookies. Choose your own adventure, and have a fantastic end-of-season gathering.