This squash blossom pizza has been taunting me since March. March! That's when the Los Angeles issue of Saveur appeared in my mailbox, its cover adorned with the most beautiful pizza pie I had ever seen. To say that I have been patiently waiting for squash blossoms to appear at my farmer's market is an understatement.
Pizza is near and dear to my heart—you may have noticed that I'm no stranger to making it at home or eating it out. The thing is, I don't believe there is one perfect pizza. While I lean towards thin-crust, it doesn't mean I don't enjoy the Chicago-style pie every once in a while. I have never been to Pizzeria Mozza (the restaurant which inspired this recipe) in Los Angeles, but I sure have heard plenty about it. Friends and acquaintances have told me they've never had a better pizza. Thing is, I've had a lot of pizza in my life—in a lot of different cities and countries—and I still can't say that one is the absolute best. I think went it comes to pizza, I value variety, fresh ingredients uniqueness.
Some of my favorite pizzas have been topped with potatoes and rosemary, fresh tomatoes, goat cheese, roasted red peppers, fennel sausage, wild mushrooms and even tuna. Squash blossoms, while not entirely foreign to me, have never been on my pizza to-do list. Until, that is, I felt myself wanting to fall into that magazine cover like Alice in Wonderland.
Notably, this is the second time that I've wanted to literally fall into a Saveur cover. The last time was when I made this chocolate-caramel tart. When I finally saw some squash blossoms (at the Mountain View farmer's market), my heart lit up. Squash blossom and burrata pizza. Finally!
This pizza was only slightly more work than my usual—the dough rises and rests for several hours, so be sure to start a good 3-4 hours before you know you'll be really hungry. It utilizes several new-to-me preparation techniques—stretching of the dough as opposed to rolling and baking the pizza on parchment paper on top of an already pre-heated pizza stone. The double rise time lends itself to a chewier, less dense crust. I particularly loved the thinness of the pie, accented by a fluffy, puffy, slightly-salty crust. The tomato sauce that I chose for this pizza was inspired by 101Cookbooks—it's a bit spicy, so if you'd prefer something milder, be sure to cut down on red pepper flakes. Lastly, I went a little overboard with the amount of burrata that I used for the pizza topping. In the end, I didn't regret it (I rarely ever do with cheese). I mean, who ever regrets more cheese?
The combination: spicy tomato sauce, light and bright squash blossoms, delicate and creamy burrata, fruity olive oil, a touch of sea salt and the most perfectly balanced chewy-crispy crust—was maybe one of the most unique, complex, beautiful and downright delicious pizzas I've ever had. Anyone who says you can't make great pizza at home needs to try this!

Squash Blossom and Burrata Pizza
adapted from Saveur, inspired by Pizzeria Mozza
*makes 2 10 inch pizzas
For the Pizza Dough:
extra virgin olive oil
1/2 tablespoon of active dry yeast
1/2 tablespoon of sugar
1/2 teaspoon of salt
3 cups of flour
For the topping:
1 cup of Tomato Sauce*
15-18 squash blossoms, de-stemmed
1/2 pound of fresh burrata
*recipe below
1. In the bowl of a stand mixer, combine 1/2 tablespoon of olive oil, yeast, sugar, salt and 1 cup of warm water (115 degrees F). Let the mixture sit for about 10-12 minutes (until it's foamy).
2. Add the flour and mix on slow speed. Switch to a dough hook and knead the dough for about 6-8 minutes (until smooth).
3. Divide the dough into two balls. Place them on a floured baking sheet and cover with a sheet of lightly oiled plastic wrap. Allow the dough to rest for 2-3 hours (until it is nearly tripled in size).
4. Place a pizza stone on the lowest rack of the oven and heat your oven to 500 degrees F.
5. Place one ball of dough on a floured sheet of parchment paper. Use your fingers to stretch it out to a 10 inch diameter. Work from the center and be careful not to stretch too thin. The center should be relatively thin–leave a 1 inch border of slightly thicker, puffier crust.
6. Cover the dough with a towel and allow it to rest for 15 minutes.
7. Brush the edges with olive oil and lightly salt the dough.
8. Evenly spread the tomato sauce over the crust.
9. Arrange the squash blossoms in a circle.
10. Carefully transfer the pizza on the parchment paper to the pizza stone and bake for about 10-14 minutes (until the crust is puffy and nicely browned).
11. Remove the pizza stone from the oven and use a spatula to transfer the pizza to a cutting board.
12. Top with burrata, a drizzle of olive oil and any salt, to taste.
*Tomato Sauce
inspired by 101Cookbooks
1 28 ounce can of diced San Marzano tomatoes
3-4 tablespoons of extra virgin olive oil
1 1/2 teaspoons of crushed red pepper
3 cloves of garlic, finely diced
salt, to taste
1. Combine the olive oil, salt, garlic and red pepper in a skillet. Heat to medium heat and stir until fragrant.
2. Drop in the tomatoes, a bit more salt (to taste) and cook for about 5-6 minutes, stirring occasionally.
3. Transfer the chunky sauce into a blender and blend until creamy. Adjust seasoning, to taste.
Musical Pairings: Grizzly Bear – Yellow House + Squash Blossom and Burrata Pizza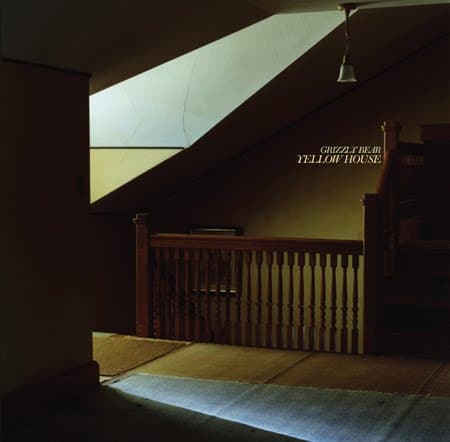 Grizzly Bear's 2006 album, Yellow House, is almost the definition of a modern, lush and beautiful indie-rock album: an otherworldly, ethereal folk-psychedelia that floats hazily and warmly through a deep symphonic and choral soundscape. Simultaneously hip, modern and
rustic, Yellow House is a perfect musical analogy for the squash blossom and burrata pizza recipe featured today on eating/sf. Both the pizza and the album are rustic, fresh, modern and urban. After just one bite, Kasey and I agreed that this recipe was a new favorite, but the more we ate, the more we savored the pizza, the more we realized that this was definitely a "go to" recipe. Something to prepare whenever squash blossoms were available and in season. Similarly, Yellow House is one of those albums that unfolds and fully demonstrates its subtleties and beauty with repeated listens. For me, it is one of the greatest albums recorded in the last ten years, and a definite "go to" record for whenever you want something thoughtful, evocative and nuanced. Read more at Musical Pairings' home. –Matthew