I went on my first backpacking trip last weekend and the first thing I did to prepare was bake these light brioche burger buns. The sane person would probably think about other more logical things first: charcoal, clothing, socks. No, I thought that the most important part of sleeping in the wilderness and cooking on an open grill was to come prepared with a bottle of wine and brioche buns.
Thing is, I'd been eying these buns since I first read about them in the New York Times, and later saw them on Smitten Kitchen. I filed them away for a time when I would be ambitious enough to bake my own bread and a time when I'd be in contact with an outdoor grill (living in the city, the latter doesn't happen often). In any case, I tackled the bread-making in the last year, and acquired a stand mixer so it seemed like nothing really stood in my way at this point. Kneading is something that really scares me but kneading with a dough hook and a stand mixer? Well, that I can do.
These buns were the most treasured possession I had on me for this trip. I wrapped them tenderly, tucked them away into the most protected place in my pack and made sure that they were placed into our food box (those raccoons do not mess around). When the time came to grill, Matt threw the burgers on the grill and I tended to these buns. We had a great trip with our friends–all of whom turned out to be vegetarians. We brought our beef and they brought their marinated portabello mushrooms (which looked SO SO good). We shared the buns. I can't speak as highly of the actual burger patties, but I will say that these buns were heavenly. They weren't crumbly (but weren't dense either), smelled like an intoxicating mix of eggs and butter and really soaked up the juices of the contents inside.
We sat around our little picnic table, drank bottles of wine and beer, noshed on cheese and barbecued oysters (with more cheese), and enjoyed some of the most beautiful Northern California coastline views and a pitch black night that made some think about distant fires and others think about the next occasion they'd get to eat burgers on homemade buns in the glorious outdoors again.
Light Brioche Burger Buns
adapted from Annie's Eats
makes 4 large buns
1 1/2 tablespoons of warm milk
1/2 cup of warm water
1 tablespoon of instant yeast
1 tablespoon of sugar
3/4 teaspoon of salt
1 egg
2 cups of bread flour (or all-purpose), more as needed
1 1/4 tablespoon of unsalted butter, at room temperature
For the topping:
1 egg beaten, lightly beaten with 1 tablespoon of water
Sesame seeds
1. Combine the milk, salt, sugar, yeast, egg and water in the bowl of a stand mixer fitted with a paddle attachment.
2. Mix on low speed to combine, then add in the flour, mixing it until it is just incorporated.
3. Mix in the butter and add more flour (no more than 1/4 cup at a time) if the dough is too sticky. The dough should be slightly tacky but not runny.
4. Replace the paddle attachment with a dough hook, kneading at low speed for about 8 minutes. If the dough is runny or not coming together, add a bit more flour, being careful not to add too much (you don't want to end up with buns that are too dense).
5. Lightly oil a large bowl and transfer the ball of dough to it. Cover the bowl with plastic wrap, letting the ball double in size (about 1-2 hours).
6. Line a baking sheet with parchment paper or a Silpat. Divide the ball of dough into 4 balls and place the balls about 2-3 inches apart on the sheet.
7. Lightly spray a piece of plastic wrap with some cooking spray and place it loosely over the balls of dough, letting them rise for another 1-2 hours (they'll be roughly doubled in size). Meanwhile, preheat the oven to 400 degrees F with the rack in the center of the oven.
8. When the buns have risen again, brush them lightly with the egg wash and sprinkle them with sesame seeds.
9. Bake them for roughly 15 minutes, rotating the baking sheet midway through (until the tops are golden).
10. Cool before slicing in half and filling with desired ingredients.
Musical Pairings: Sleep Good – Skyclimber + Light Brioche Burger Buns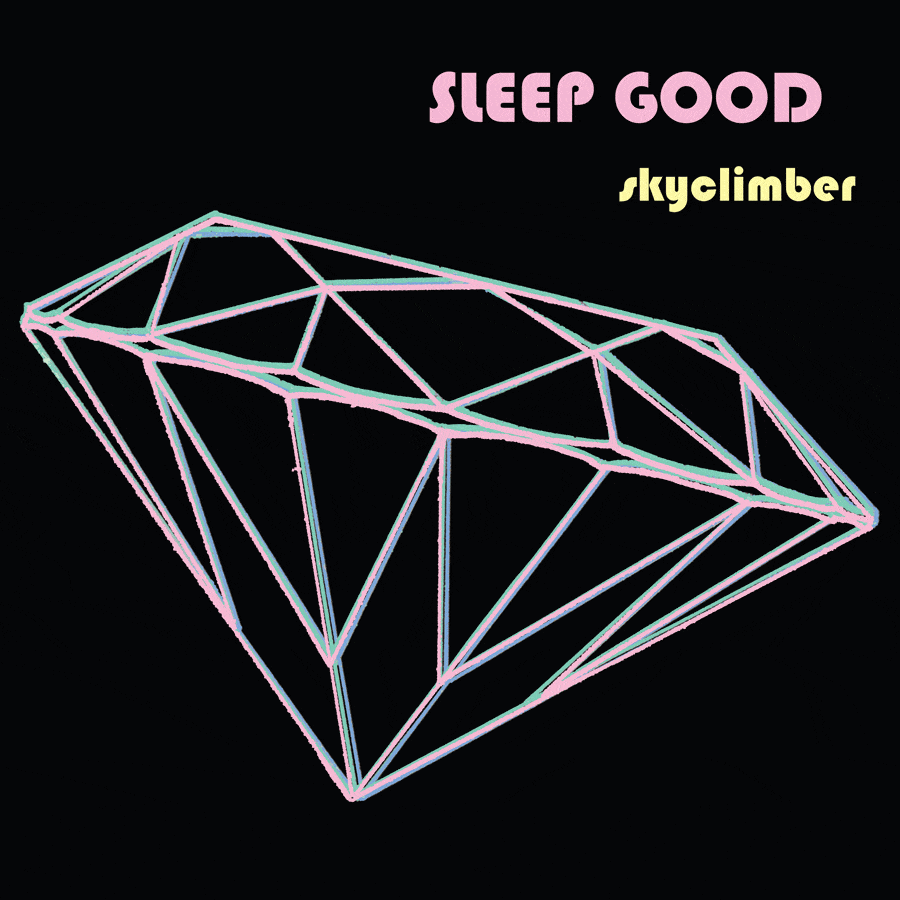 To this day, I get a little bummed that Austin, Texas' Sound Team broke up (I still think that Work EP was underrated). The silver lining is that several of their members are pursuing awesome projects since their disbanding: such as Bill Baird's project Sunset and now Will Patterson's project Sleep Good. His latest album under the Sleep Good moniker is titled Skyclimber, and it is the first Sleep Good album recorded with a full band. Patterson led his new band in recording a solid album of feel good pop tunes that sound heavily influenced by the Brian Wilson-era American pop-music of the 1960s with songs featuring prominent "la la la" backing harmonies andjangly guitar. So today's pairing? Well nothing screams good-old American popular culinary classic more than a hamburger. But, of course, Kasey's homemade brioche burger buns are more than your average accompaniment and really raise the bar for the average summer cookout. Likewise, Sleep Good doesn't merely mimic the music that influenced them, but instead find a way to add their own twist to the most classic form of American pop music. Read more at Musical Pairings' home. –Matthew