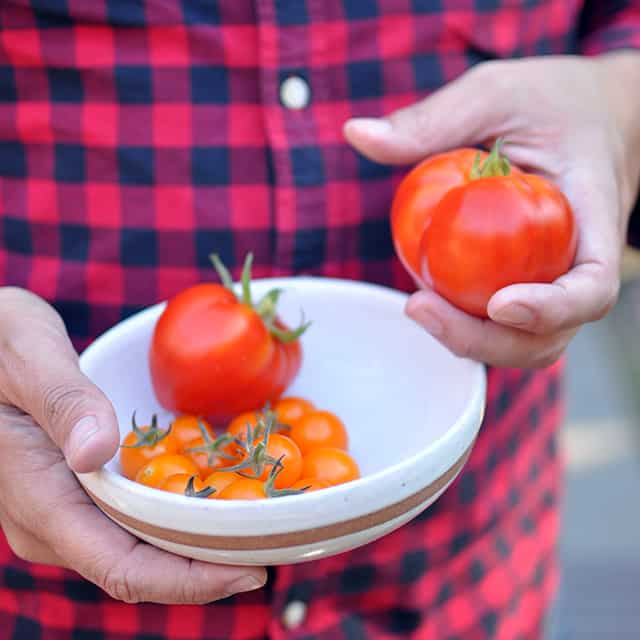 This is a sponsored post in partnership with Naked Juice and Wholesome Wave. All words and opinions are our own and we're sharing this cause with you because we truly believe in its positive impact on our local and national community. Thank you for supporting the brands that help us do what we do!
Coming from California where, despite the well-documented drought, produce seems to be a-plenty, I was nervous about what Washington would have to offer. Sure, I'd heard about Washington apples and pears, but nothing could beat California strawberries, tomatoes, and citrus. Not to mention, our incredible dairy! Luckily, we've been blown away by just how much good food our new home state grows. In the summer, we were spoiled by an candy aisle-like array of berries, delicious peaches, and plenty of greens. We're even a part of this excellent fruit CSA that I'll be sad to bid goodbye to once fall comes. But one of our best discoveries has been our new green thumbs!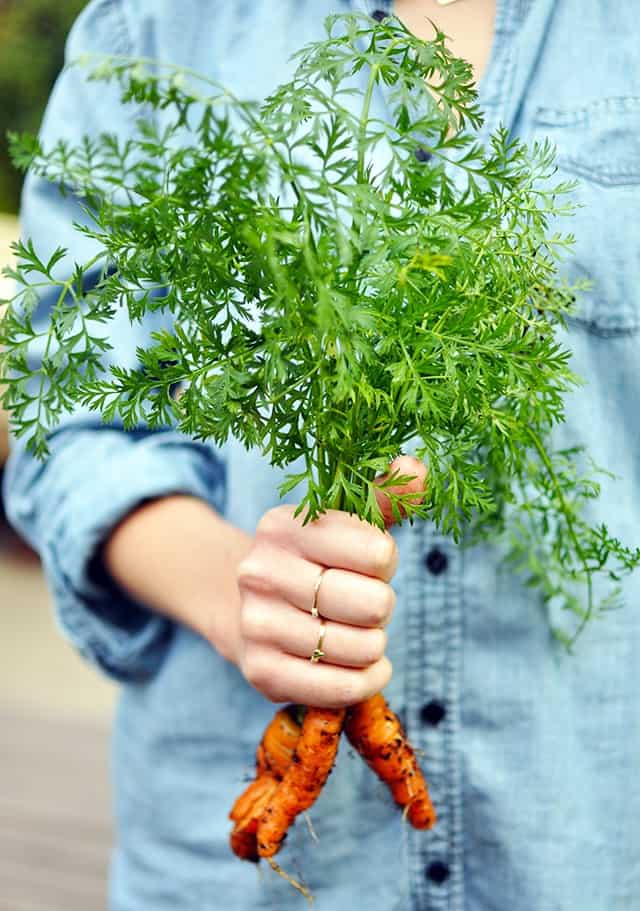 Our house has a rather large backyard for the city (a huge selling point when we were buying!) and one of the earliest investments we made in it was building a veggie box (thanks to our friend Mori's expertise and hands-on guidance). We've since learned a lot about growing our own food and continue to learn more every day. We planted:
Kale
Sorrel
Butter Lettuces
Mixed Lettuces
Cauliflower
Onions
Leeks
Strawberries
Cucumbers
Peas
Jalapeños
Radishes
Tomatoes
Carrots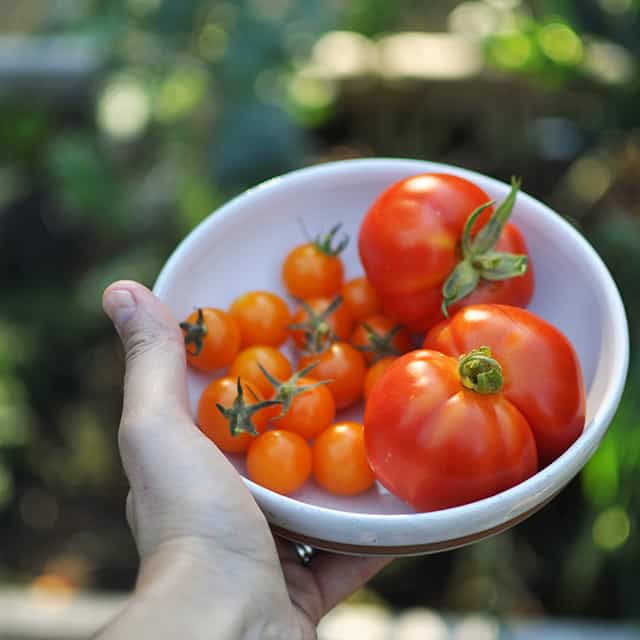 One thing I tell people about our first time experience with gardening is that growing organic food is HARD! We've battled aphids, bought approximately 5k ladybugs to try to attack them, and have had our fair share of disappointments. Our first beautiful batch of strawberries was eaten by squirrels (we purchased netting to combat this), our kale is constantly getting eaten, and our cucumbers got moldy and never really took (we got 1 solid cucumber). We did have an insane amount of salads with our lettuces, and our tomatoes are phenomenal — like candy. In addition to being able to add fresh produce from our garden to our meals, I just love how therapeutic gardening is. There's truly nothing like digging in the dirt with your fingers, and popping a crisp carrot just pulled from the ground into your mouth (after scrubbing away the dirt first, of course).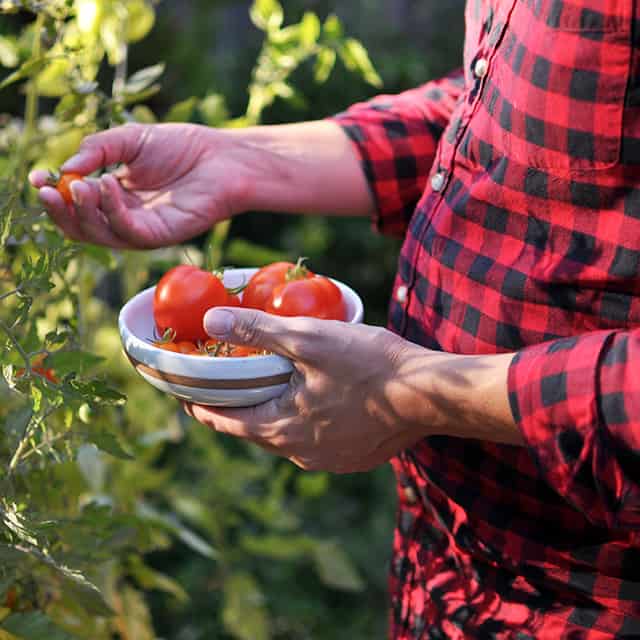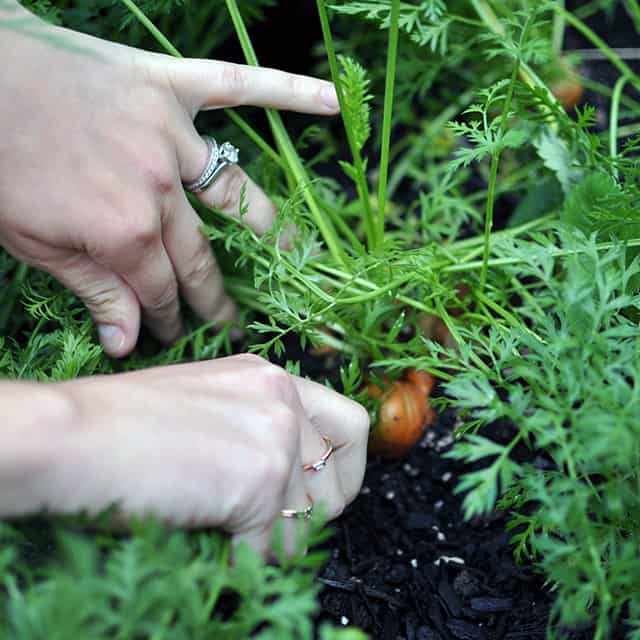 Coming from a place where I could never have a garden has really opened my eyes to how lucky we are to be given the gift of being able to actually grow some of our own food. Unfortunately, many Americans aren't so lucky. Not only can they not have a garden, but many of them live in food deserts without access to any affordable high quality fruits and vegetables. A lot of us (a whopping 60%!) don't even realize that these food deserts exist just a stone's throw from our homes.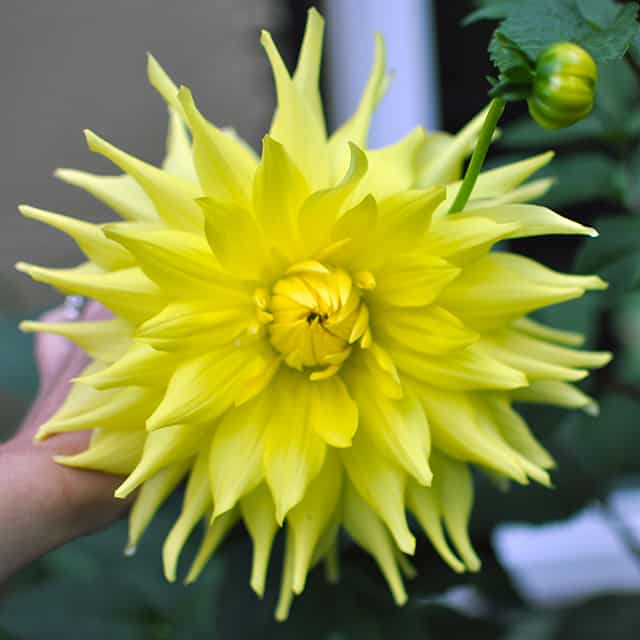 Last year, we teamed up with our friends at Naked Juice to promote their #DrinkGoodDoGood initiative — a collaboration with Wholesome Wave to give communities much-needed fresh produce they don't currently have access to. We're thrilled to be spreading the word about this awesome campaign again and would love to encourage you to join us. Naked Juice is making a 250,000 pound contribution and will donate 10 pounds of additional produce for every pic you share of yourself holding a fruit or veggie. All you have to do is use the hashtag #DrinkGoodDoGood (see our post here). When you think about the fact that 1 of every 10 people in American neighborhoods are affected by this crisis, it's hard not to act.