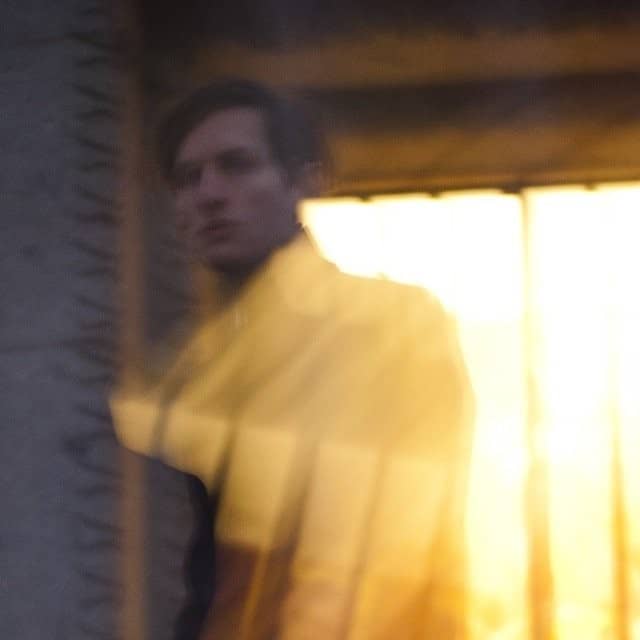 Berlin-via-NYC songwriter/guitarist/producer Andrew Fox, aka VISUALS is no stranger to the world of Turntable Kitchen. A Pairings Box alumini, Fox has stirred our attention via his brand of psych-experimentalism since the release of his 2013, Darkside produced EP. As VISUALS, Fox's songwriting is lionhearted. Transcendental and deeply soothing, there is a backbone to his compositions oftentimes absent in the realm of electronic music.
Ahead of an upcoming full-length, we caught up with Fox at home in Berlin to speak about working with the Other People crew, staying healthy on tour, and some of his favorite spots in NYC and Berlin.  
Your latest track, 'A Pixel' is featured on the latest Other People compilation that just came out.  How did you initially hook up with that crew?
I've known Harrington for 10 years, initially from hanging out in Boston one summer.  He was a bass god back then and I thought to myself 'got to play with that one'. Then when he started playing in Nicolas' live band, before DARKSIDE, we all became more acquainted. Through Nicolas I got the chance to meet Valentin and many other great artists on OP.
What do you find inspiring about their work? Anything you try to carry over into your own?
The Other People community of artists is typically hard to define genre wise, and even acts that are overtly electronic find a lot of warmth and organic sounds to work with.  I'm thinking of Psychic, but also the High Water record, Val's record, Drew Gragg's. It's totally inspiring and reaffirming to be in a context where the lines of genre are almost by a rule ignored. I have always been a pen & paper songwriter in one sense, that's the core of what I do, but as far as the Visuals sound I initially took a lot of inspiration from post-punk and new wave. Chrisma for instance is a really interesting project; they perfectly walked the line of punk rock and early electronic. Cybernetic feelings are feelings too.
You were recently back in NYC doing a few performances and DJ Sets. How did it feel to be home this go around?
NYC is such a great litmus test. I know from living there that you have to really work to impress a NYC audience, let alone make them move at all.  So it was a great r&d period. I have new LP in the works and most of those live sets consistent of almost 100% new material.
Was that your first time performing at Trans-Pecos? What did you think of the space?
Todd P has done an amazing job of rebuilding that space.  Actually, I played my first proto-Visuals solo electronic set there way back in 2011, when it was the old Silent Barn. No disrespect to the Silent Barn as it was, because it was magic, but Trans Pecos has a more serious audio system and a cleaner, maybe more universally inviting vibe. You can feel it's carefully run and curated.
Where's the first place you go for food and/or records when you're in NYC?
Sadly my favorite record store, Kim's Video and Music, closed shop.   But back when I was collecting a lot, I would swing by there on 1st avenue, and then, because usually I would buy more than I could afford, get some gourmet fried dumplings around the corner at the Dumpling Man.
What drew you to Berlin initially?
I was getting bored of NYC, and that is a terrible way to experience such a dynamic city.  So I needed a change… and for better or worse cut some ties and habits, in order to get maximally creative.   I was building a studio, Visuals was a band at that point, and I was involved romantically… and in one week all of those obligations, which were obviously keeping me grounded in NY, I let go of all of them.   I wasn't seeking Berlin initially. I just needed to experience a new city where I could carve some headspace for making more songs.  Then I was sitting with Harrington and our friend Todd, telling them the sob story… and I said I was thinking about moving to Philly for a while, where some friends of mine had a giant loft and a good lifestyle. And Todd said, 'How about Berlin'? And I said, 'warum nicht'.
Any kind of culture shock upon arriving?
The weight of history, especially in the city of Berlin, is just so obvious and part of people's psyche. My first flat was 10 meters away from a part of the Wall. The spirit of freedom and openness here is definitely a reaction to so many years of obvious, physical repression, and that attitude still shapes the city's sense of cultural identity. Minimal techno blasts out of the bodegas. Actually, I never heard 'Drunk in Love' until last winter while I was here.
Are there just as many outlets for artists/musicians as compared to NYC?
I will say that definitely for an electronic musician or DJ, there are more outlets and more of an audience. My roommates here are curators on the art scene and there are an incredible amount of ad-hoc gallery spaces as well… openings almost every night. I think for kind for acoustic music, there's also a lot of opportunity but I guess I am seeing that as an outsider… my band friends often tour through. NYC seems to be in a transition period where a lot of the venues I cut my teeth in are closing up, or becoming more formalized.
For a touring band trying to get that perfect pre-show dinner, what are some spots you would recommend?
I wouldn't say that Berlin is a foodie town in the same way that New York is… Berliners like a lot of food, for cheap.  That's the style. But to do that well – try the fish. I know it sounds crazy because it's an inland city, but there's this spot Fish House on Oranienstr, mind altering fish sandwiches. And the Lebanese food is a plenty. Get a doner-kebab from a Lebanese joint and you will have a good night.
And for the vinyl-heads.  Where would you take them?
To be honest, I haven't had the chance to start collecting again… looking forward to setting up a little bit more now this time around.  But if you want your world changed a bit, I highly recommend going to Rumpsti Pumpsti, by Treptower Park. The beautiful thing about Berlin is that record stores thrive there; it's really such a vinyl town. On a 4 span block on Kastanienallee , there are at least four shops. Can't wait to get my system going again.
Eating even remotely healthy on tour is always a challenge. Especially in the U.S. Is it just as hard overseas? Any tips on how to do it?
I think it's a bit easier in the EU, because venues are really great here about providing accommodation.  In Denmark I had one of the best stews of my life in Loppen, a club in the Christiania district. But barring those special venue vibes I just tend to eat as much vegetables as possible and dose myself with juice.  Keep the processed foods to a minimum, which is generally a bit easier in the EU.  I do a lot of fly dates, so one tip is to NEVER eat airline food.  It's not the food of the future just because you don't know what it is.
Favorite venue in Berlin to perform at?
There were two amazing experiences I had so far performing in Berlin; the first was at Berghain opening for Darkside… obviously a legendary club and a magnificently tuned sound system. I had not done too many live shows with my new set up, so it was an incredible honor to play there and I will always thank Nicolas and Dave for that. And then I played an EP release show at a very small, 50 person club called Backyard… the energy was so palpable, and I was just right there playing from a DJ booth.  It was a perfect context to push the boundaries of my songs.   
Between touring, writing, recording, etc., are you ever able to make time to cook? Got any specialties?
People will tell you that I make genre-defying omelets.  Also, after living with my Lebanese friend Samer for many years, I have learned some of the mysteries of the chick pea.
Who should we be listening to out of Berlin right now?
I was just turned on to Vladislav Delay, but I think he's actually Finnish.  Also Lucretia Dalt – she was in Barcelona for a while I believe but now lives here. Beautiful sounds.
What's 2015 looking like for you? Can we expect another release or tour dates?
Full length in the works.  Will come back round to the states upon release for some dates, after some EU shows this winter / spring.