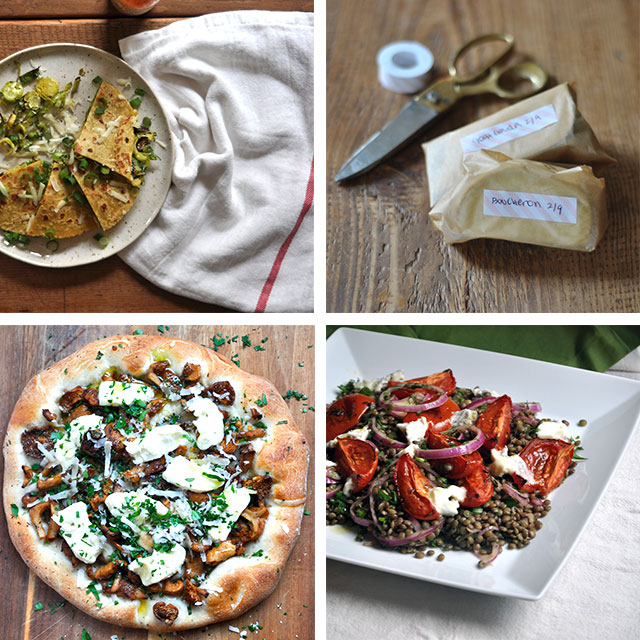 Around the holidays, while browsing for gift ideas, I came across cheese paper bags. I had never heard of cheese paper bags before because, truth be told, I'd been used to storing my cheese in plastic wrap, which is exactly how you're not supposed to store cheese.
Turns out, the best way to store cheese is actually wrapped in cheese paper, which allows cheeses to breathe and doesn't dry them out. I never invested in those little bags (though they're oh so cute). Instead, I wrap my cheese in parchment paper, seal it with some tape, then loosely cover it in plastic if I think the cheese won't be eaten for a few days. Lately, I've taken to my stash of Japanese washi tape and been writing the cheese names and purchase dates on the tape.
If you can't tell, I'm a cheese fiend. I love to eat cheese straight out of the fridge, on crackers and sprinkled on everything from noodles to kale. So today, I thought I'd share a few of my favorite cheesy recipes!
Roasted Brussels Sprout Quesadillas with Monterey Jack and Scallions: chock-full of Monterey Jack, these are delicious as appetizers, for lunch, or a light vegetarian dinner.
Wild Mushroom and Crescenza Pizza: the photo alone is one of my all-time favorites. Crescenza is very similar to burrata cheese — it's creamy and indulgent.
Lentils with Roasted Tomatoes, Marinated Onions, and Creamy Cheese: this recipe was adapted from Plenty, one of my go-to cookbooks for inspiration. Again, with the creamy cheese! This one is also vegetarian.
Overnight Cinnamon Rolls with Pecans and Cream Cheese Frosting: I've been making a variation on these cinnamon rolls for years. The benefit of getting everything prepped overnight? No waiting for dough to rise and warm rolls in your belly before brunch!
Turntable Kitchen's Mac and Cheese: Ok, not to taunt you, but this one was featured in the 'Childhood Favorites'-themed Pairings Box back in September 2012. You can find the recipe now as part of our Cookbook in a Box, which you can purchase here.
Alright. Let's go stuff ourselves full of cheese!
P.S.
A bunch of wonderful people are nominated for Saveur's Best Food Blog Awards!
My friend Kimberley's book is available for pre-order here.
This banana bread is bananas.
The Kitchn said our Cookbook in a Box is "making it cool (very cool) to have a recipe box again."
Our love of coffee….has its own Pinterest board.
And…coffee ice cubes. Enough said.