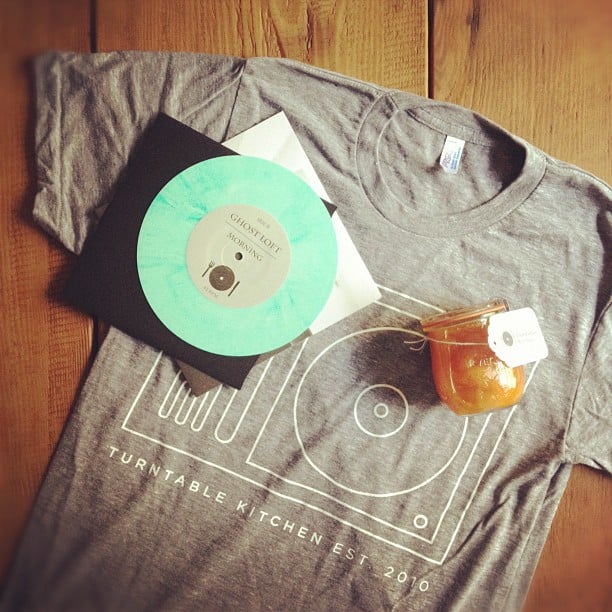 A week or so ago, I posted on Facebook that I had made 9 jars of apricot jam. I was overwhelmed by the number of people who said they wanted to try some…and so, a giveaway was born! We're still riding the high of having just launched the TK Market and had a few coveted Ghost Loft records set aside for occasions like this, so we decided to create a special little TK package for one lucky winner. If you win, you'll receive:
1. The Ghost Loft 7″ record featured in the Italian-themed July Pairings Box (psst…we're now accepting orders for the August Pairings Box!)
2. 1 Turntable Kitchen Record Player Tee in Heather Gray (you'll be able to select your size).
3. 1 jar of homemade apricot-vanilla bean jam, lovingly made by me. The jam is made from apricots grown in my parents' yard in San Jose, CA so, while not 'certified,' I'd say I'm pretty sure they are organic. The vanilla beans you can also purchase from the TK Market (they smell heavenly!). The jam comes in a cute little Weck jar (I'm slightly obsessed).
What do you need to do to enter? Leave a comment on this post, letting us know what you'd like to see featured in the TK Market, or what you currently like about it.
A random winner will be selected and announced on our Facebook page this Friday, August 3rd (be sure to Like our page to stay updated).
For those wondering, I do plan to share the jam recipe!