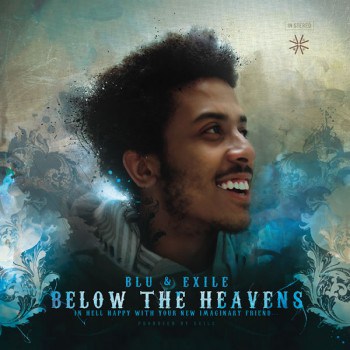 Blu & Exile's 2007 debut Below The Heaven was unquestionably one of the best underground hip hop albums released in the past decade. But, like a lot of great underground music, it's taken time to discover it's audience. Sure, the album brought them a loyal audience nearly immediately upon it's release, but it took other fans a little longer to discover the magic (including, in all honesty, myself). For example, I discovered Blu last year thanks to his single for the track "Amnesia." Afterwards, I sought out anything I could find by the duo (including their tracks as Johnson & Jonson). It was the pairing of Blu's thoughtful, conscious lyrics and smooth flow balanced alongside Exile's upbeat and catchy rhythms that caught my attention. It's a demonstration of just how smart, uplifting and straight-forward good rap can be. Fittingly, in light of their growing statute, Below The Heaven has been recently rereleased on limited edition vinyl.
Before the release of Below The Heavens Exile had already begun to make a name for himself working with artists like Jurassic Five and Mobb Deep, and as 1/2 of the duo Emanon alongside Aloe Blacc. In fact, it was Blacc who introduced Blu and Exile. At first, Blu lent some verses to Exile's solo album, which ultimately led to the recording of Below The Heavens.
Straight off the bat, in true hip hop fashion, Blu blazes into fiery, cocksure introductions: "I don't pack stadiums yet / I still rock 'em. / They still spell my name f*cked up on their flyers / it's B-L-U / and if you see the E drop 'em. / It's like they dropping E from the beats E is dropping." They mellow the tone for the laid-back, but pensive "The Narrow Path" and "So(ul) Amazin' (Steel Blazin')." Repeatedly, throughout the album, Blu demonstrates a talent for spinning compelling narratives that balance his darker impulses against his better tendencies including on personal favorites like "Blu Colla Workers," "Dancing In The Rain," and "First Things First." In all, I'd consider this a true underground hip hop classic.
This is the type of hip hop you can groove to first thing in the morning. Yeah, this is that rare, laid-back and feel good hip hop that you can start your day to (I'm a grown-ass man. I prefer to finish my morning coffee before I go H.A.M.). Indeed, Below The Heavens is complex and totally satisfying. As a result, I'm pairing this one with Kasey's Bluberry…, er, Blueberry Buttermilk Muffins.
Check out the recipe for Kasey's Blueberry Buttermilk Muffins. Buy Below The Heavens from Insound (follow this link and use coupon code 'febstorewide15' for 15% off your entire purchase).