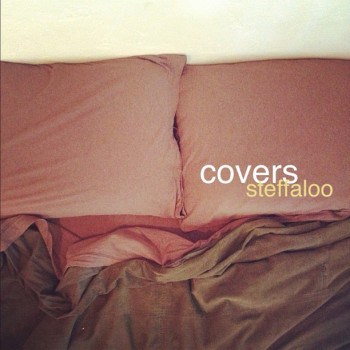 We're honored to premier a few tracks from the lovely Steffaloo's brand new Covers album.  As the title suggest, it collects nine ukulele-friendly, bedroom-recorded covers including her take on tracks by Feist, WHAM!, Justin Timberlake, Katy Perry, Cher, Jesse Woods, Bright Eyes, Ray Lamontagne, and even a fully reworked version of "Somewhere Over the Rainbow."  A few of these have made the rounds before including the JT cover (which closed out our Covers Dinner mixtape), but several of these are just now seeing the light of day. As always, Steffaloo's stripped-down takes on the songs borrow deep into the core of the source material revealing hidden beauty in even the most unlikely places (like WHAM!'s "Wake Me Up Before You Go-Go" or Katy Perry's "I Kissed A Girl.").  If you like what you've heard and haven't listened to her debut album yet, go check it out now. You'll be glad you did.
Steffaloo – First Day of My Life (Bright Eyes Cover)
Steffaloo – My Love (Justin Timberlake Cover)
The album will be available to download tomorrow from her Soundcloud page.