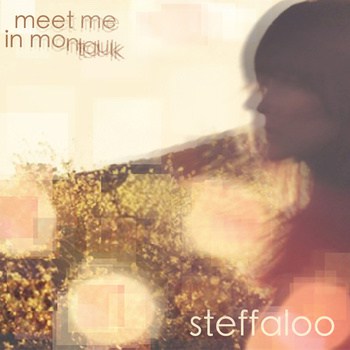 With a melodious strummed guitar riff and cool, wet tape hiss/white noise as thick as Bay Area fog, Los Angeles' Steffaloo (a.k.a. Steph Thompson) opens the eponymous first track from her debut full-length Meet Me In Montauk. The tune is simple, catchy, sincere and to the point. With an disarming emotional-honesty, it's like listening to a talented friend unload their heart and soul in their bedroom with nothing more than poetic lyrics and a sparsely-accentuated acoustic guitar. And despite being stripped-down and straight-forward Meet Me In Montauk is not some casual, throw-away – it is an endearing testament to youth, beauty and giddily recalled day dreams.
And if the name sounds familiar, that is because although this is Steffaloo's debut LP, it is hardly her introduction to the indie music world.  She's previously collaborated with San Francisco's Blackbird Blackbird and recorded a pair of excellent pop covers (including her take on JT's "My Love") which made the rounds throughout the music-blog scene. The selection of those pop covers alone are indicative of her love for a clever-hook and a catchy melody: traits she's adopted as her own on this record. And this ability to deliver a satisfying, engaging and upliftingly sweet tune makes the album a perfect musical pairing for Kasey's oatmeal chocolate chip cake with cream cheese frosting which is the type of recipe you prepare when you want a delicious, unpretentious safe-bet: a recipe that is nearly universal in its ability to invoke delighted murmurs of "mmmm" and fully-satisfied coos of "yum."  With equally unpretentious songwriting and melodies that are intended to deliver, Steffaloo is a fully satisfying, safe bet: music that should appeal to pop music and indie rock fans alike.
And of course, the only way to have that sort of appeal is to write great songs. The previously mentioned opening track "Meet Me In Montauk" deliver a swayingly upbeat tunefulness that is hypnotizing. The song consists of little more than her lovely vocals, soft acoustic guitar and some finger claps, and yet if you let yourself fall into it – you'd swear there was so much more going on. That magic – making so much out of so little – is a trick that Steffaloo pulls off again and again on this record.  "Oh My God" spins a delicate web of longing and love that calls to mind both Feist and Sufjan Stevens: "oh my god / you are so good / so good to me."  The warmly, enveloping track "When The Sun Goes Down" is another highlight, as is the delicate, intimate and beautiful cut "Fly Away." And I honestly don't think there is a weak spot in the collection. A truly solid first effort.
It's available for download from Bandcamp. Go get it and support a great, up-and-coming artist.
Steffaloo – Meet Me In Montauk
Steffaloo – I Kissed A Girl (Katy Perry Cover)
Don't forget to "heart" our songs on hypem if you like what you hear!  Go get that chocolate chip cookie-cake recipe.  It's so good.