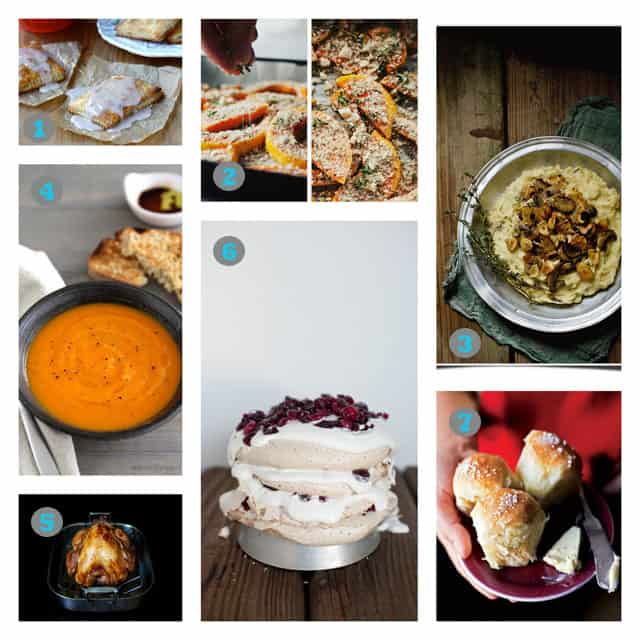 I love Thanksgiving. SO MUCH. I'm not a religious person, so holidays to me are all about family, friends, drinking, laughing, not working, not going to the gym, cooking, eating, lounging, food coma'ing, watching parades, and talking about what you ate and drank. Is there a better non-religious holiday than Thanksgiving? Canadians celebrate Thanksgiving a whole month before us Americans. We celebrate the harvest and the beautiful season some call fall and some call autumn. And every year, we're urged to ponder: what are we thankful for? Every year, I'm thankful for the same stuff, with a few additions. This year, it's (as per usual) my family, friends, health, good food, love, and laughter. I'm also particularly thankful for the beautiful community of online and offline friends I've made in the last year (you people! you awesome, rockin' good people). And lastly, I'm thankful for this little slice of Internet that we created, one year ago today. Turntable Kitchen went live. And what a way to celebrate.
I'm always frantically searching the internets and my cookbooks for good Thanksgiving recipes, so I thought I'd share a few that caught my eye recently.
1. Pear Pie Pop Tarts from Adrianna at A Cozy Kitchen. Yeah, yeah, yeah, everybody eats pie on Thanksgiving, but if you want to double indulge yourself, why not start Thanksgiving morning with a Pie Pop Tart? This sounds delicious. While you're eating your Pear Pie Pop Tarts, you should go ahead and dive into Adrianna's blog. It is awesome.
2. Crusted Butternut Squash from Sprouted Kitchen. I love this girl and her blog. Crusty squash sounds like a really awesome and unique thing to add to your Thanksgiving table, or bring to a potluck. Plus, it's adapted from a fabulous book that I also own and love: Plenty.
3. Garlic and Mushroom Mashed Potatoes from Give me Flour via a guest post on A Clove of Garlic, A Pinch of Salt. I discovered Amanda's blog sometime this summer and I think it's zomg-good. Check it. Mashed potatoes shouldn't be boring!
4. Roasted Butternut Squash, Carrot, and Ginger Soup from With Style & Grace. Lisa is such a sweetheart, and I really love her blog. She focuses on gluten-free recipes, so for those of you who have food allergies, this soup sounds like a winner.
5. Russ Parsons' Dry-Brined Turkey via Food52. This technique, inspired by Judy Rogers of Zuni Cafe and the best roast chicken ever is sure to be a crowd pleaser.
6. Holiday Pavlova: Meringues layered with Nutmeg Whipped Cream and Cranberry Compote: have you seen a thing more beautiful? I came upon this one via Aida Mollenkamp on Pinterest. This is a stunner of a finisher if you want to go the untraditional route.
7. Tom Colicchio's Parker House Rolls. I have been eyeing this recipe ever since I saw it in Saveur Magazine last year. I keep meaning to make it. I think this year I finally will.
Speaking of Saveur, I am floored, honored, speechless, etc., etc., to see Turntable Kitchen profiled as one of their 'Sites We Love'. I am really thankful for that, too! Check it out.