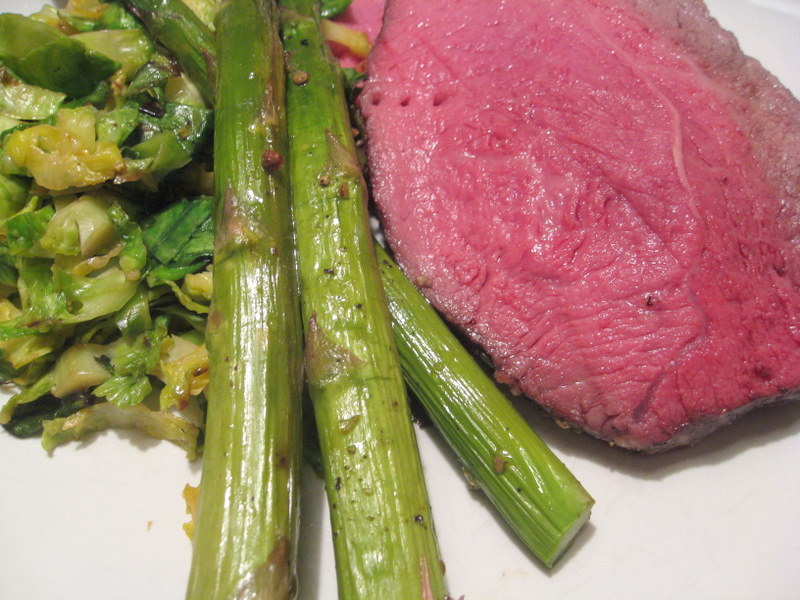 Musical Pairings: Stars – Heart & Kobe Beef Sirloin Roast
"I feel like love is in the kitchen with a culinary eye. I think he's making something special and I'm smart enough to try." Ok, ok: so that quote isn't from a song by the band Stars, but when the sound of Stars' album Heart floats tenderly in the air, mixing with the smells of fresh herbs and red wine while you lovingly prepare a dinner with your someone special: "love" is definitely in the kitchen. From the ridiculously sweet album cover to the opening lines on the album where each band members introduces themselves by saying, "I am _____ and this is my heart," Stars tip-toe along a fine line between being overly cheesy and heart-breakingly sincere. In that regard, I suppose you could argue that their album is like preparing the perfect cut of beef: over-do it and it becomes dry and tasteless; under cook it and it becomes a mess; but do it just right and you have something special. On Heart, Stars manage to get it just right. The whole album is great, but for starters I recommend listening to these tracks:
Stars – Look Up
Stars – Elevator Love Letter
Amy Milan (of Stars) – Look Up (live on KCRW)
P.S. for extra credit, can anyone identify the quoted lyrics from the beginning of the musical pairing? If you think you've got it, leave a message in the comments section. Googling the lyrics counts as cheating. -Matthew
***
A while back, I read an article in the New York Times about women who eat red meat. From my memory, a lot of vegetarians were up in arms about it. The fact is, for how much I love vegetables, tofu, beans and seafood, sometimes, you just can't get any better than a good piece of meat.
I've heard stories from vegetarians and ex-vegetarians about dreams they've had of eating thick steak, bacon and sausage. I'm relatively conservative when it comes to meat-eating. I rarely cook red meat at home and order it out only on occasion. But sometimes my body just craves it, the way it craves sushi or chocolate or bread. And when this craving comes, it must be satisfied and it must be worth the splurge.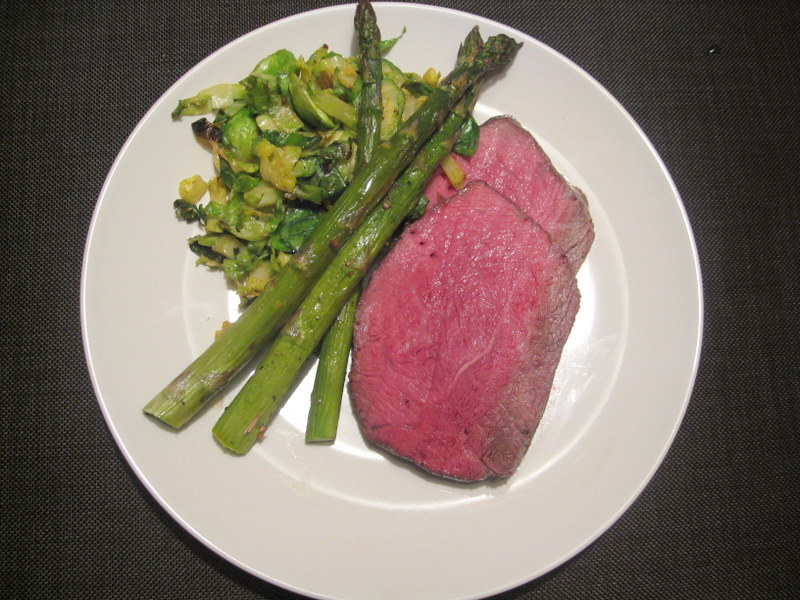 With Valentine's Day just around the corner, I can't think of a better recipe (albeit, a meat eater-friendly one) to cook for that special someone (or your crew!!). Earlier this week, Matt and I got a great sirloin roast from Andronico's, that we made for a Sunday night dinner. With a bottle of red wine, a side of Parmesan-crusted brussels sprouts and roasted asparagus, it felt like a celebratory meal, despite our lack of a specific celebration. With such a nice piece of meat, it's best to do yourself a favor and not overcook it. Be sure to have a meat thermometer at hand and monitor the temperature carefully. We cooked our meat medium-rare and it was so juicy and flavorful that we ate it without any sort of sauce, though I imagine a good steak sauce would go very well with this meat.

Kobe Beef Sirloin Roast
* Serves 4 or 2, with leftovers
1 one-and-a-half pound sirloin roast (we got a Kobe Sirloin that was already tied)
1-2 sprigs of rosemary
olive oil
salt and pepper
1-2 cloves of garlic, minced
1. Pre-heat oven to 325 degrees F.
2. Mince the garlic and tear off the rosemary leaves from the stem.
3. Place meat in a baking dish and rub down generously with olive oil, a few pinches of salt, minced garlic and freshly ground pepper. Sprinkle rosemary all around (feel free to stick a full spring underneath the tie).
4. Place a meat thermometer into the middle of the roast (about 2 inches in) and place on the middle rack of the oven.
5. Roast for about 50 minutes. Remove meat from the oven and slightly push the meat thermometer deeper into the roast. If the temperature drops significantly, put the meat back in for another 5-10 minutes. For a medium-rare roast, the temperature should be 140 degrees.
6. Let the meat rest for about 5 minutes before slicing into individual pieces.
Of course, no Valentine's Day dinner can be compete without a delectable dessert. Here are some ideas from around the blogosphere:
Molten Chocolate Cakes with Irish Cream
Profitroles With Coffee Ice Cream and Chocolate Sauce (if you're seriously ambitious)
Red Velvet Cupcakes with Cream Cheese Frosting
Lemon Raspberry Tart
Banana Caramel Cake
Clementine Sorbet