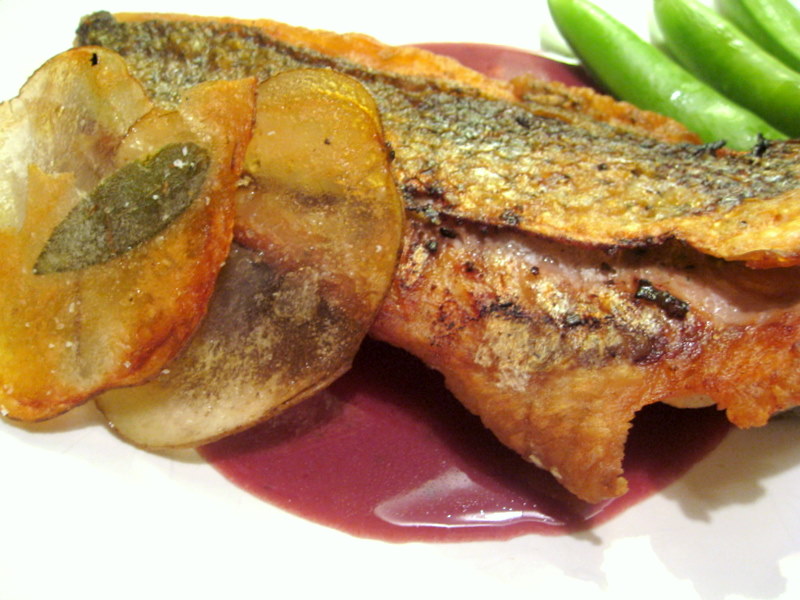 My fiance, Matt, has done some pretty amazing things for me, but this Valentine's Day may have just about topped everything aside from his proposal. I cook a lot. We cook a lot together. But my cooking style is what I'd call rustic/fresh/country style. A lot of Mediterranean, California-fresh cuisine that tastes good, but isn't necessarily super time consuming. Sure, I've been known to make hummus from dried garbanzo beans and churn my own ice cream. But this, this was just out of this world.
Beyond surprising me with a beautiful bouquet of flowers sent to my work on Friday, and presenting me with a delectable selection of new chocolates to try, he strategically hid some secret ingredients in our fridge for a fantastic Valentine's Day meal. He had photocopied the recipe, along with some handwritten notes, and invited me to participate in making some sage potato chips for the side of our meal. Did I mention he purchased a mandoline (a tool I have been dying to get) and a mesh strainer to kick start this evening? Umm, yes. So after making our potato chips, which were about 10,000 times tastier than any baked chips I've ever eaten out of a bag or at a restaurant, I watched him pull out a container of recently-prepared veal stock, fresh striped bass fillets, and a little jar of sage butter that he had whipped up earlier in the week. I relented a bit at the veal stock. I know, I know. Veal is a delicacy and a French one at that, but besides lamb, it's a meat I never eat. That said, my mind jumped to my one and only experience with suckling pig in Porto, Portugal. There, my friend Maggie and I nearly cried as we ordered the town specialty. The tears we cried during dinner were those of laughter and utter joy at eating one of the most delicious things we had ever tasted. I don't make a habit of eating suckling pig, nor will I be making a habit of consuming food products made of veal, but the 'humane' sticker and Matt's ridiculous sounding recipe reassured me.
I watched as he skillfully rubbed the fillets, which he had already prepped, with sage butter, wrapping the stretched skin under the bottom. An intense aroma of shallot, wine and butter sauce overtook our kitchen. I kept imagining Julie Powell, the author of Julie & Julia, cooking through all of Julia Child's recipes. This is, quite frankly, what it felt like.
When the food finally made it onto the plate, it looked just. like. the damn picture in the book. Yes, the book that he brought over. The photocopied recipe actually came from a cookbook from famed New York restaurant, Chanterelle. Have I been there? No. Do I think the dish that Matt prepared was just as good as what's served in the restaurant? I'm pretty damn sure. It was unbelievable. The crisped skin on the fish, the tenderness of the sauce, the flavor of those potato chips.
As I leafed through the recipes, which called for such ingredients as rendered duck fat, premium black caviar, whole truffles and quail eggs, I wondered how in the world we'd ever make anything from this book ever again. And then I thought about what I was about to eat, and Matt's fearlessness at preparing the dish. Then I knew that this book will come to play for special occasions in the future. The topper, of course, was a molten chocolate cake. A recipe to which I'll direct you at the end of this post. Before diving into this, I'd urge you to read my cook's notes as well.

Striped Bass with Sage & Red Wine Butter
*adapted from the Chanterelle restaurant cookbook
*serves 2
1 stick of unsalted butter, softened
1/6 cup of fresh sage leaves
1/2 teaspoon of lemon juice
1/4 teaspoon of kosher salt
1/2 of a garlic clove, peeled
2 striped bass fillets
3/4 cups of Merlot wine
1 tablespoons of red wine vinegar
1 tablespoon of port
1/4 cup of veal stock (homemade or store bought, the highest quality you can find)
2 small shallots, diced finely
1 stick of butter, cold, cut into 1/2 inch pieces
fresh pepper
1 cup of flour for dredging
1/4 cup of olive oil
Sage Potato Chips (recipe to follow)
1. For the sage butter: place room temperature butter, sage leaves, fresh squeezed lemon juice, 1/4 teaspoon of kosher salt, and garlic in a food processor. Process until smooth.
2. Place fillets on a cutting board with the skin facing down and slide your knife underneath the skin, length-wise to separate the skin from the meat of the fish. Be careful not to cut off the flap of skin entirely and use a very sharp knife to make your incisions and make the cut.
3. Spread roughly 2 tablespoons of the sage butter underneath the skin of the fish (give or take). Fold the skin back over and wrap the end under to hold the skin in the place.
4. Now, prepare the sauce: In a small pot, pour in wine, vinegar, port and veal stock. Add the finely diced shallots, bring the mixture to a boil and cook for about twenty minutes (until the sauce is significantly reduced). Add in the butter, in a cubes, whisking as you go. Season with salt and pepper. Strain, using using a fine mesh strainer and get rid of the shallots.
5. Now, dredge the fish fillets in flour on both sides. Season with salt and pepper.
6. Heat a large saute pan over medium-high. Add the olive oil and let it heat up. Place the fish fillets into the pan skin side down and cook for about 8 minutes (until the skin is crisp.) At this point, flip the fish and cook for 2 additional minutes.
7. Use a rounded tablespoon to pour about 3 tablespoons worth of sauce onto each plate. Place the fish fillet, skin side up, on top of the sauce. Serve with sage potato chips and a light side of your choice (we simply had fresh snow peas).
Sage Potato Chips
1 Idaho or Russet potato
fresh sage leaves, washed and separated from stems
olive oil
kosher salt
1. Cut the potato in half, lengthwise. Use a mandoline to slice the potato into paper thin slices.
2. Pre-heat the oven to 350 degrees F. Grease a large baking sheet with olive oil. To make the chips, take one thin slice of potato, place a sage leaf over it and cover with another thin slice, making a natural seal (the slices will stick together naturally). Arrange the potatoes on the baking sheet and cover with a sheet of parchment paper. Place a second baking sheet over the parchment paper, weighing down the chips.
3. Bake the chips for approximately 10 minutes before removing the covering baking sheet and parchment paper. Return to the oven and bake for another 2 minutes. The chips will be brown and should be transferred to a plate, covered with paper towels.
4. Season chips with salt.
Cooks notes:
* For the sage butter, I would halve the recipe even further–we've now got a container full of butter that we'll be using for roast chicken later this w
eek.
* We ended up burning some of our potato chips–they were quite difficult to remove from the pan. You might want to start the initial layer with parchment paper, rather than laying them down straight onto an oiled baking sheet.
* The potato chips can also be fried by pouring oil into a deep pot and crisped for about 2-3 minutes.
The finisher: Warm, Soft Choclate Cake via Leite's Culinaria.
Musical Pairings: The Pains of Being Pure at Heart
A few words that describe the music of The Pains of Being Pure at Heart: earnest, warm, fuzzy and heartfelt. Although I'll leave it to Kasey to share the details of our meal, suffice to say that descriptors such as "earnest, warm, fuzzy and heartfelt" were all I hoped to achieve with my Valentine's Day dinner. Therefore, I think this debut, self-titled album is the perfect musical accompaniment to my recent culinary adventure. This album is reminiscent of a My Bloody Valentine album blended with equal parts The Smiths and Belle & Sebastian: a tender wall-of-sound rests upon a buttery sauce of catchy hooks and warm lyrics. Take for example the lyrics from standout track Everything With You: "I'm with you and the stars are crashing through / Tell me it's true / I want everything with you."
-Matthew