December has, over the years, become one of my favorite months. Ever since I passed the school days and could no longer look forward to summer vacation, December has become my closest reincarnation of summer break. Every weekend is packed with holiday parties, friends popping into town, dinner get togethers, red Starbucks cups. It's hard to be in a bad mood. Being the party thrower that I am, I was going to jump on the holiday bandwagon–early. So, Matt and I decided to invite our good friends over to our house to share food, thematic cocktails and cheer.
In preparation, we decided to prepare two dishes–one savory and, of course, one sweet. For the savory, we went with a classic bruschetta–shrunk onto smaller toasts that could be eaten in two bites and jazzed up with a few fresh ingredients. For the sweet, I was deciding between two of Molly's recipes–her lemon buttermilk cookies and chewy cocoa cookies with chocolate chips. After some deliberation, I went ahead with the chocolate. Matt aptly pointed out that some people like lemon. But everyone loves chocolate (except my friend Ruth. I could never begin to understand).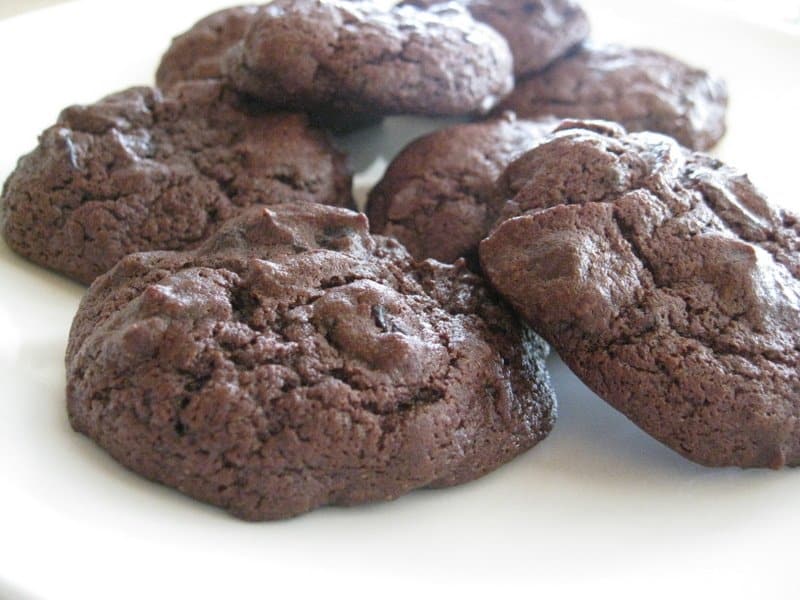 The cookies came together pretty quickly–and were just as chewy as promised. All night–until they all ran out. As Molly suggested, I stuck to roughly 1/2 cup of chocolate chips, but also added 1/4 cup of dried cranberries and I think they were really great. A little unexpected surprise. Also, while Molly's recipe called for yogurt that was not low-fat, I used some of my low-fat stash and it works just great. For some reason, I kept calling them 'mocha' cookies, giving guests an impression that there was espresso in the mix. Mocha and cocoa somehow got mixed up in my head. But, I'm here to set the record straight!
I was blown away by the effort that my friends put into the potluck. From traditional Portuguese kale soup with Portuguese sausage, potato latkes, Irish soda bread, lacies, mini cheesecakes, cheese and meat spreads to rice-stuffed fried tofu, meatballs with pomegranates, bean dip and olive cheese puffs, our house was filled with deliciousness. Not to mention, delicious brews like Moonshine and ginger mohitos. I must say, my friends are CRAFTY! It was exciting to get into the holiday spirit so early on…Now I just need to kick my newly-developed cold.
So, here you go. A sweet. And a savory. In that order 🙂
Chewy Cocoa Cookies with Chocolate Chips (and cranberries)
via orangette
1 cup flour
¼ tsp. baking soda
few dashes of salt salt
1/2 stick unsalted butter
2/3 cup plain sugar
1/3 cup brown sugar (I used Trader Joe's organic)
7 tablespoons unsweetened cocoa powder (I used Droste brand)
1/3 cup plain yogurt
1 tsp. vanilla extract
1/2 cup semisweet chocolate chips
1/4 cup dried cranberries
1. Preheat the oven to 350°F. Line a baking sheet with parchment paper.
2. Mix together flour, baking soda and salt in a bowl. Set aside.
3. Put the butter into a small ceramic bowl and microwave it until it melts. Add in sugars, sift in the cocoa powder and mix well. Add in the vanilla extract and yogurt, followed by the dry ingredients in the bowl you set aside.
4. Stir in the chocolate chips and dried fruit.
5. Use a tablespoon to place walnut-sized balls of dough on the cookie sheet (leave about an inch all around). Bake for about 10 minutes, until you see some cracks in the top of the cookies. Since they're chewy, they're pretty delicate, so be careful when transferring them to a rack to cool and then straight to a plate–or your mouth! You may need to repeat the process 2 times. Next time, I might double the recipe.
Italian Tomato Bruschetta
adapted from the Silver Spoon Cookbook
The original version does not call for added garlic into the tomatoes or the basil, but I think they're both great touches.
1 fresh baguette
2 cloves of garlic, skins removed
1 small bunch of basil
about 1 pound of tomatoes (use the most flavorful available. I used small 'Campari' tomatoes on the vine)
salt & pepper, to taste
extra virgin olive oil
1. Pre-heat the broiler.
2. Cut the baguette into roughly 1/2 inch slices. Line 2 baking sheets with sliced bread. Place underneath the hot broiler for approximately 1 minute. Remove the baking sheets from the oven, flip the bread and stick back in for another 30-45 seconds (keep an eye on the bread to make sure it doesn't start to blacken).
3. Take out the baking sheets of bread and rub the toasts with the garlic. Stick back under the broiler for 5-10 seconds, just to bring out the garlic aroma.
4. Flip the oven to 400 degrees F and stick the two garlic cloves in a small ramekin to roast.
5. Meanwhile, dice the tomatoes, removing the seeds and place them into a bowl. Roughly chop the basil and add to the bowl.
6. Let the garlic roast for about 10-15 minutes. Crush it into the tomato mixture and mix.
7. Spoon the tomato mixture onto the toasts. Salt and pepper to taste. Drizzle with olive oil and serve.