I can't believe I've been blogging for over a year and I still haven't reviewed one of my neighborhood standbys–Pomelo. It's a travesty, I tell you. The restaurant has two locations–one in the Inner Sunset and one in Noe Valley–and focuses on fresh ingredients and global cuisine. Since I moved to my Inner Sunset apartment three plus years ago, I've been to this restaurant on so many occasions. I've taken my parents here. Had girls' nights here. Went on dates with Matt here. Had a mother/daughter dinner here after a day of shopping.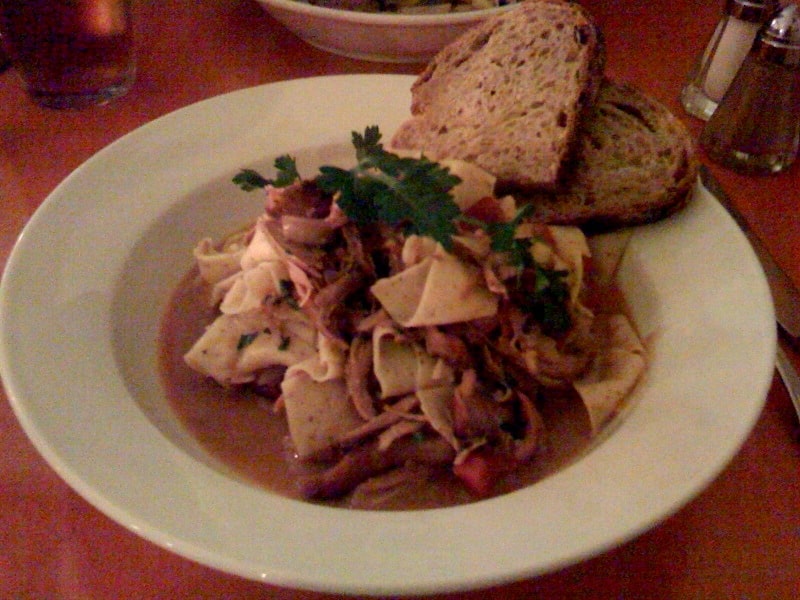 While they switch up the menu seasonally, there are several items that are mainstays–and they're across the board delicious. Pomelo's grilled fish of the day with quinoa cakes was a standby for me for a while. I am also a big fan of the Cuban fried rice with plantains and skirt steak. I discovered farro here when I had a balsamic farro dish with steak sometime last year. The restaurant's starters–including french onion soup and sauteed baby bok choy are hearty portions and equally as delicious as the mains.
On my most recent trip, my eyes immediately fell on the Ferrara–fresh black pepper papardelle with pulled duck and porcini mushrooms. With so many eating out options in San Francisco, I rarely order a traditionally Italian meal, but this one was definitely it.
The pasta was perfectly cooked, light and tender. The generous portion of duck was impressive. I am always amazed to find fantastic restaurants that manage to serve huge portions of seemingly expensive ingredients at $15 a plate. Pomelo is one of those places. The Inner Sunset location is a tiny, tiny place, distinguished from the outside only by a giant pomelo hanging over its door. Inside, though, it's warm and cozy.
The cooks prepare everything right in front of the patrons. In fact, the bar seats surrounding the kitchen area provide diners the opportunity to watch their meal come together right in front of their eyes. If you prefer to sit along the window, you can peer out onto the street, or try to grab one of three tables in the 'dining room.'
Don't dismiss their wine offerings, either. And delicious housemade lemonade. Hurry over for the papardelle before they take it off of the menu–and be sure to ask for some Parmesan cheese.