I am not a Yelper, though I probably fit the bill for one. For some reason, before I would have had the opportunity to start Yelping, I met Matt, who was an Elite Yelper, and decided that I was happy to blog and reap the benefits of his status. Over the last two years, we've gone to a handful of Yelp events and all of them have been pretty phenomenal–especially for being free. Most of the folks that attend are a pretty fun and friendly bunch and given that Yelp is Yelp, restaurants are happy to dish out great stuff in return for some good reviews.
Some of the goodies: cupcake and cake, Hawaiian Poke Tuna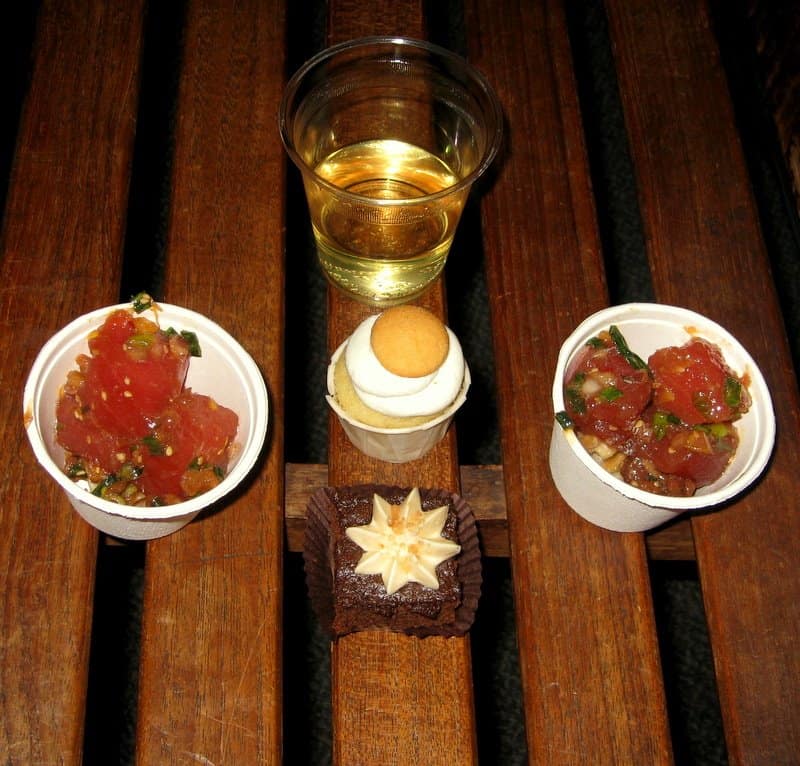 The yearly holiday party is definitely the creme de la creme, though. Last year, it was held at Yerba Buena and food and drinks were provided by a range of restaurants and merchants from around the city. This year, the company went just as big and threw the bash at the Exploratorium–letting Yelpers play around with all of the cool museum exhibits. Why the museum would ever agree to let 2,000 plus people take over their premises and host numerous open bars, I have no idea.
We arrived a good hour and twenty minutes early to stake our place in line–and boy was it worth it. Twenty minutes in, the line had probably grown to about 200 people. By the time we were let in, we got to leisurely check out all of the food and drink booths that were scattered around the museum. Vendors from Destino and Pisco Lounge to Bissap Baobab, Pacific Catch, Baraka and Prana served out delicious bites of food. Lobster bisque and rolls from a place I can't quite remember were phenomenal, as were kobe beef skewers from a nearby table. I also loved the butterfish ceviche from Poleng Lounge. There were definitely a lot of crackers with raw fish toppings or various cheese spreads. Dessert highlights were definitely the mini cupcakes from Cups and Cakes (I tried the red velvet and the vanilla) as well as a chocolate cake from Inticing Creations (wedding cakes, anyone?). Needless to say, it was pretty awesome to have the run of the place before the crowds were jammed, the food ran out and the bar lines were out of control.
View from upstairs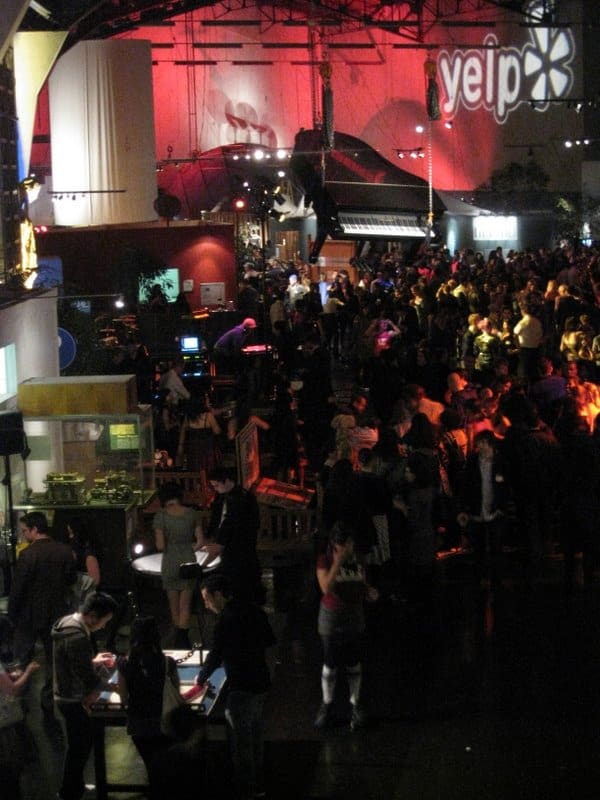 Hula hoop dancers and roller skaters entertained the crowd and handed out Madeleines and chocolates. There was a mini frozen yogurt stand. There was even a cheerleading routine. Hanging at the Yelp party, you'd hardly know there was a recession. The back of the museum was also transformed into a 'lounge' and more hidden tables with goodies were tucked away. At the end of our night, we headed out to catch a cab and realized that Zipcar was providing rides. Free, chauffeured service straight to my door? Check. Overall, I'd say that Yelp definitely knows how to throw a party.