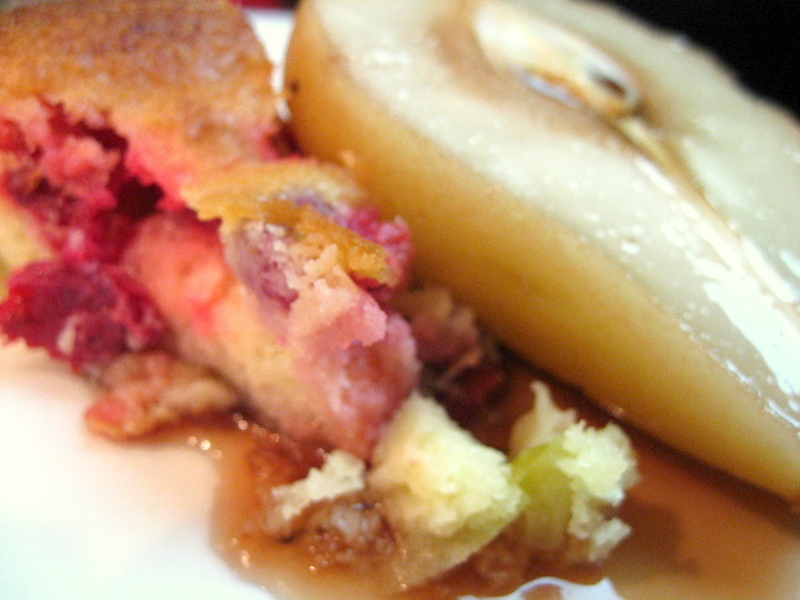 I have a go-to cake recipe that I make for a range of occasions. It comes from one of my go-to cookbooks by one of my go-to bloggers, Clotilde of Chocolate & Zucchini. I make this cake with apples and pears, but imagine it would be delicious with quinces (if I could ever find them in a store!), plums, peaches and any other relatively hearty piece of fruit.
I make this cake for potlucks, birthdays, family dinners, dinner parties with friends and on random weekends when I want a dessert that's quick and guaranteed to be delicious. This cake never does me wrong.
Sometimes, I find myself trying out a recipe and thinking, "this is fantastic, I've got to make it again!" Well, upon the second attempt, something will go wrong and the recipe will be a failure. Sometimes, I'll try a recipe for the first time and it crashes and burns (case in point: unsuccessful, burnt granola I made last night). I'd show you a picture, but I doubt you want to see black oats and oil-spill-disaster raisins.
For Thanksgiving, I knew I wanted to make dessert–and inevitably, I thought I'd stick to my favorite apple cake. Only this time, I thought I'd try a little experiment. I bought a bag of fresh cranberries from the market and I really, really wanted to make something with them in time for Thanksgiving. A thought occurred to me: I like cran-apple things, so why not throw some cranberries into my favorite cake? I hesitated, and worried when I accidentally defrosted my frozen bag of cranberries instead of just rinsing them with water. When I later read the bag, it specifically instructed NOT to defrost the berries. They were puckered and deflated and I lamented that I had made the wrong choice and should have just stuck to my apples.
Alas, I moved ahead with my plan. I had to wait a whole day and a half (baked on a Tuesday night, brought the cake to work, carried it home on the train to San Jose and then sliced into it on Thanksgiving) to see what had really come of my experiment. It sure looked pretty, but would it taste good? Boy did it. I think the picture speaks for itself, but let me elaborate. The cranberries added a fresh zing to the sweet cake and the balance was perfect.
Conveniently, my mom had picked out a recipe for pears poached in wine to make for dessert. I improvised on the poached pears and decided that the honey, ginger and cinnamon syrup that they were cooked in was the perfect accompaniment for the cake. Side by side, these two desserts blended beautifully. And what can I say? Sometimes experimentation isn't such a bad thing. Sure, it might lead to a few batches of burnt granola here and there, or too much salt in your tacos, but sometimes, it gives you wine-poached pears alongside cran-apple cake that makes you forget all your troubles and realize that there's a lot in this world to be thankful for.
Cranberry Apple Cake
1 stick of butter (plus extra for greasing the pan)
1/2 cup of flour (regular or white whole wheat)
1 teaspoon of baking powder
1/4 teaspoon fine sea salt
1-2 medium sized apples (I like Granny Smiths for baking) Clotilde recommends Braeburns, Jonagolds or Pippins
1/2 cup of fresh cranberries
3/4 cup of sugar
2 eggs
1. Preheat oven to 350 degrees F.
2. Melt butter in a small pan and take off the burner. Meanwhile, grease a round cake pan with some additional butter.
3. Combine flour, baking powder and salt in a small bowl.
4. Wash, peel and core the apples. Rinse the cranberries.
5. Arrange apple slices along the bottom of the pan and sprinkle about 1/4 cup of cranberries over them, evenly.
6. In a separate bowl, whisk together the sugar and eggs until the mixture is fluffy. Add the flour mixture and continue to whisk until smooth and combined. Add the melted butter and whisk again until creamy. Stir in the remaining cranberries in the batter.
7. Pour batter into the pan, making sure to cover the fruit.
8. Bake for about 40 minutes–until the top is a golden brown and a toothpick inserted into the center comes out clean.
You can flip the cake and serve it with the fruit on top, or do as I do and just serve it with fruit on the bottom. I like how when you cut into the cake, you can see a clear distinction between the pillow-like yellow cake and the thin, golden brown crust.
Poached Pears in Honey, Ginger and Cinnamon Syrup
*adapted from a recipe by Giada De Laurentiis

1 bottle of dessert wine (I used a blackberry red dessert wine, but any kind of Muscat would work great)
2 cups of simple syrup
1 teaspoon of cinnamon or 1 cinnamon stick, broken in half
2 tablespoons of honey
1 piece of fresh ginger, peeled and finely chopped
1 teaspoon of vanilla or 1 vanilla bean, split lengthwise (I used extract)
6 firm pears (the original recipe calls for Anjou, but any kind will do), peeled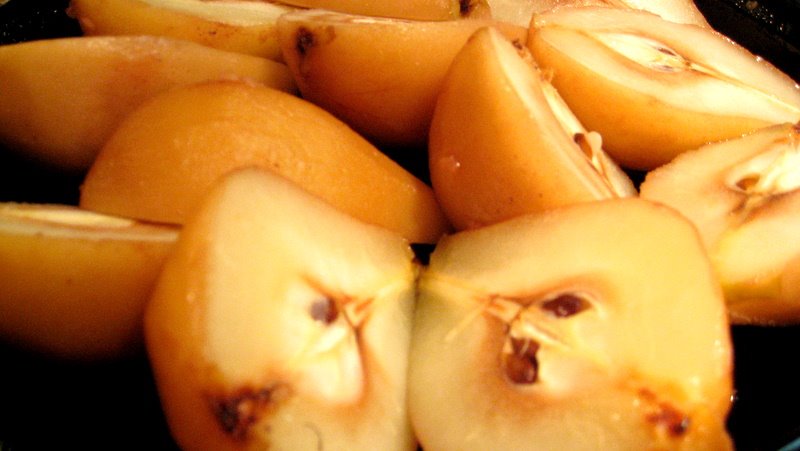 1. Make the simple syrup: combine 2 cups of water with 2 cups of sugar in a saucepan over medium heat. Stir until the sugar dissolves, then take off the burner.
2. In a large pot, combine the wine, simple syrup, cinnamon, honey and minced ginger. Add in the vanilla extract (or the seeds from the vanilla bean). Bring to a simmer and stir until the honey melts.
3. Add in the pears and simmer for approximately 20-30 minutes, turning them over until they are tender enough for a fork to easily slide in.
4. Remove the pears from the pot and let them cool.
5. Meanwhile, keep the liquid on the stove and simmer until it is reduced by half the pot and starts to become slightly thicker (about 20 minutes). The syrup won't get thick.
6. If you used a cinnamon stick and vanilla bean, remove these and throw them away. Let the syrup cool to room temperature.
To serve, cut the pears in half. Place a slice of cake on each plate and accompany each slice with half a pear. Drizzle the syrup over the pear (the cake will sop up some of it too). Be sure to put out the extra syrup on the table, for additional drizzles.
Giada recommends serving the pears with a scoop of ice cream or gelato, topped with syrup, which I'm sure is also delicious.