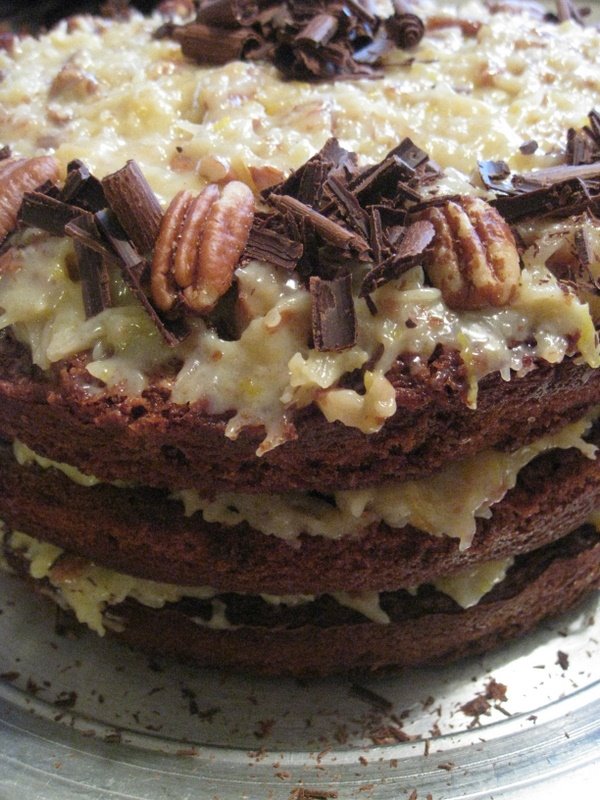 I've never been a fan of German Chocolate Cake–largely, because of the coconut content. It's one of the few things (besides cauliflower) that I simply can't stand. But, my boyfriend Matt claims this cake to be his absolute favorite. In fact, back home in Ohio where he's from, he heads to the Dorothy Lane Market to pick himself up a Killer Brownie (trust, it's the largest, richest brownie you could imagine)–the German Chocolate one, of course.
October 31st, All Hallows Eve, also happens to be his birthday–and this year–a momentous one (30!). Of course, for his party, I knew there had to be cake. I knew I wanted to make the cake. I knew this couldn't be just any cake. So, I decided to take on my biggest cake-making challenge: a 3-tiered German Chocolate Cake. While baking is definitely part of my repertoire, making 3-tiered cakes is certainly not (at least up until this point). Adding to the difficulties, was the fact that I had to make the cake 2 days before the actual party, due to day-of birthday visitors and festivities. I worried. Should I wrap the individual layers in cellophane and leave them out? Should I frost the whole cake and refrigerate it? Should I make the frosting in advance, too? Should I freeze the cake? Is it ok to use salted and roasted pecans in place of the raw version? Why is there no WebMD for baking at 11 o'clock at night, I wondered.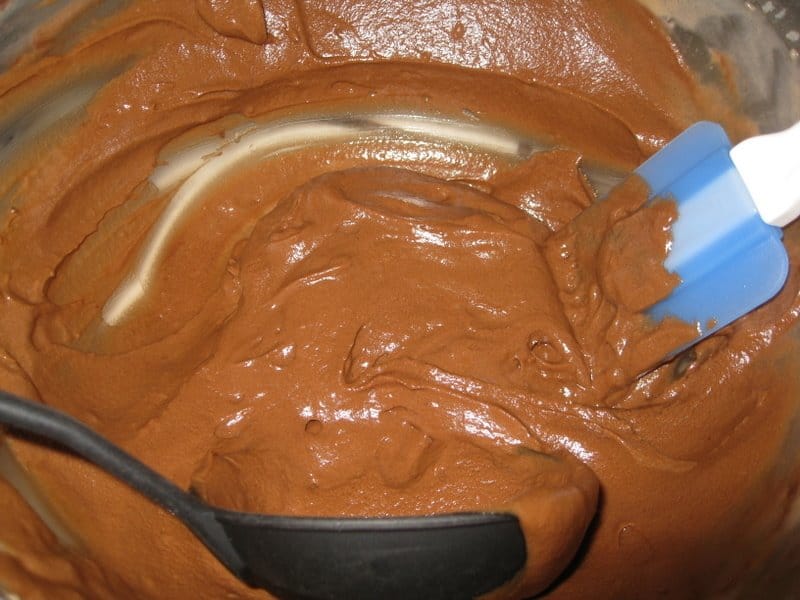 In the end, I ended up baking the three individual chocolate cake rounds, tightly wrapping them in several layers of cellophane, placing them on a plate and then topping each individual cake with another plate.
I pulled the frosting together (an artery-clogging list of ingredients that included a stick of butter, condensed milk, coconut, pecans and vanilla) the morning of the party. Once the frosting had some time to cool, I frosted the individual layers while our new couch was being brought into the apartment. For added effect, I shaved bittersweet chocolate with a vegetable peeler and sprinkled it around the top layer of the cake. I also decorated the top with pecans around the entire edge of the cake.
Leading up to the big baking event, I spent many, many hours, scouring food blogs, Epicurious.com, Foodtv.com, etc. searching for the perfect recipe. I found this, this and this. In the end, I decided to stick to the classic–with a few twists. I deferred to this recipe from Baking Bites baker Nicole Weston.
Rather than using Baker's German Chocolate (the baking chocolate brand I used in my brownie baking days of yore) or semi-sweet chocolate, I used a mix of half semi-sweet chocolate chips and half chopped bittersweet chocolate. I also upped the sugar content just a bit and as earlier noted, used roasted and salted pecans (though I did give them a nice swipe to get a fair amount of the salt off). I also used sweetened shaved coconut.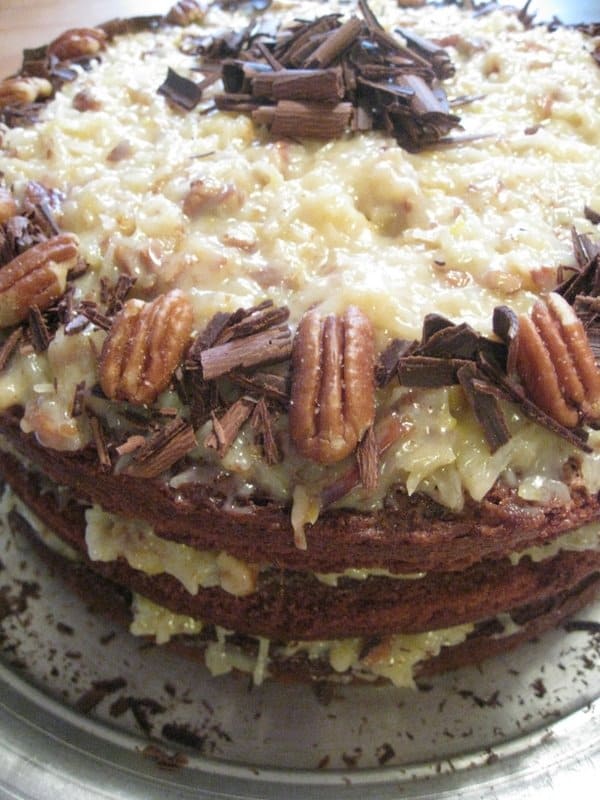 The night of the party finally arrived. We had the private JJ Russell's Cigar Shop room at Bourbon & Branch. Our fantastic Australian bartender concocted a bevy of specialty drinks that included liquors made by monks, coffee bitters, aged Scottish whiskey and more. The guests mingled in 'old' costumes–including 1920's zoot suits and flapper dresses, as well as my take on old (old lady!), modeled after my ever-stylish grandma, of course. We brought in four trays of sushi, which were thoroughly enjoyed by the guests (and make for great finger party food!). And, finally, the cake arrived. While I didn't indulge in a whole piece due to my dislike of coconut, I did have several bites and swipes of chocolate. The layers were perfect. Moist, flavorful and rich. While I did get a bite of the frosting, I won't sway your opinion of it. Let's just say, though, it was very well received.
The great thing about this culinary experience is–in the end, my worries were unfounded. By letting the cake layers sit for a day or two, it actually help meld the flavors and created a richly decadent cake. I can't make any promises, but I do think that it's fair to say: 3-tiered cake, you do not scare me anymore.