One of the things I love about food blogging is the real feel of community out there. The sharing of information. I constantly read blogs that cite other bloggers' recipes, tips and recommendations. Often times, I myself refer to other bloggers' advice.
Chocolate chip cookies are about as standard as you get with a cookie. The best thing about this humble cookie, though, is that it can be redefined in a million different ways. Since I discovered food blogs, my go-to recipe for this classic has been this recipe that I found over at 101 Cookbooks (as it happens, it comes from another food blogger & writer–David Lebovitz).
Chocolate Chip Cookies with Salted Pecans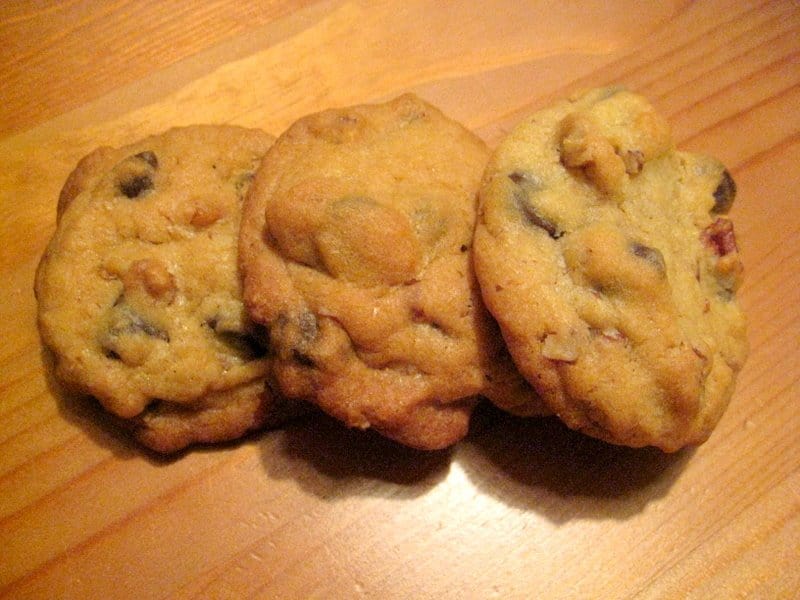 I've made this recipe at least three times–following the recipe exactly, partially swapping whole wheat flour for white flour, not toasting the walnuts (toasted are definitely better!), smaller, bigger. A few nights ago, though, to welcome our house guest, I made these with pecans. The real reason I bought these pecans was for a cake. I find that often times, I go to the store, read the label only partially in a hurry, only to find myself in a pickle when I get home. This was such an occasion. I've done this with yogurt (vanilla v. plain), cereal, even toilet paper (extra large rolls v. normal sized). This time, I brought home roasted and salted pecans rather than the raw kind. I sulked. And then I thought, if I'm going to use these pecans, why not try throwing them in a cookie?
As much as I love the salty/sweet mixture, I figured the worst that would happen would be an interesting experiment. I followed the recipe to a tee, but used a cup full of roasted, salted pecans in place of my usual walnuts.
The results? Surprisingly delicious! The salt was not overwhelming at all. In fact, it was barely noticeable. Fresh out of the oven, I have to say, was the best time to eat these. Unlike past experiences, these cookies got crispy pretty quickly. Perhaps the whole wheat flour added to the moisture factor? Regardless, aside from pecan pie, I rarely think of pecans as a key ingredient in a recipe. For these cookies, they were definitely a highlight.