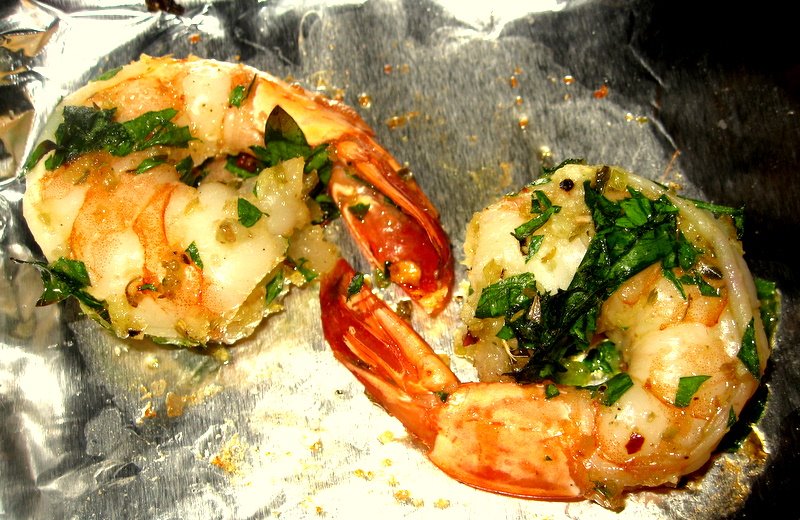 This post is devoted to my favorite partner in crime and sidekick in the kitchen–Matt. While Matt is often relegated to the sous chef position (we've taken to referring to ourselves by real kitchen terms since we've been religiously devoted to Top Chef), when he takes on the executive role, he executes. I'm often impressed by his mad cooking skills, so I think it's only fair to acknowledge that I'm not the only cook in our kitchen.
We're big fans of frozen shrimp–and fresh shrimp, too. When we can, we try to buy giant Mexican prawns and serve them with variations of couscous and quinoa, as well as inventive tossed salads, toasted tortillas, chopped veggies and pasta.
When we've got large or giant shrimp, I often request "Matt's Famous Shrimp." He claims that he originally found a similar recipe in the New York Times and has since adapted it. We've made plenty of variations of the below recipe, including making spicy shrimp (with smoked paprika, chili powder and cayenne pepper or with lime, cilantro and garlic). We also sometimes leave the shells on, though this is purely for aesthetic. Most often, the flavors meld better if the shells are peeled off. I'm not sure how he gets these shrimp to always have the perfect texture and flavor, but I've never had a bad batch.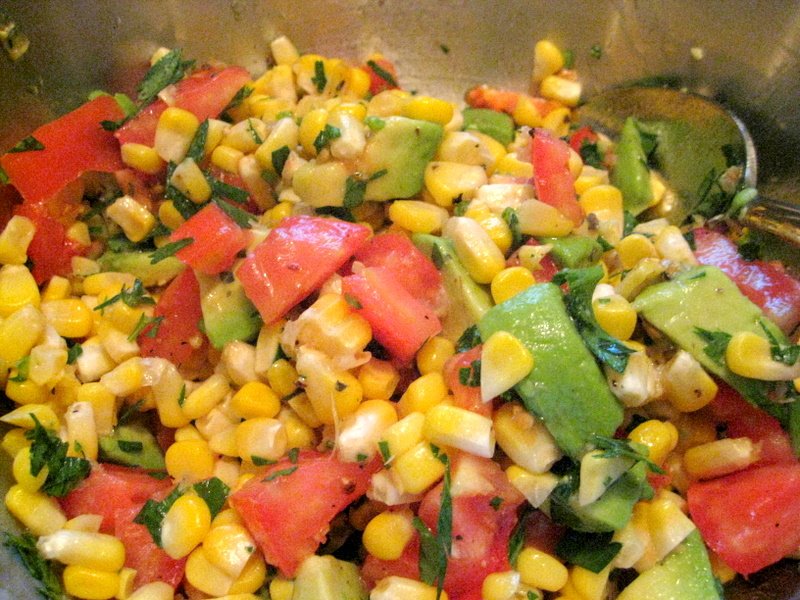 Since I've been really into corn lately, I recently made a variation of my corn salad by tossing in some avocado and served it alongside these shrimp for a light and refreshing dinner. Try these shrimp wrapped in some warm tortillas (just throw them in for about 2 minutes in a 350 degree oven).

Matt's Famous Shrimp
*Serves 2
14-16 large shrimp
1-2 tablespoons olive oil
2 tablespoons fresh chopped parsley
1 clove crushed garlic
1/2 teaspoon red chili flakes
1/2 teaspoon dried oregano
salt & pepper
light sprinkling of breadcrumbs (optional)
Pre-heat broiler. Clean shrimp (remove legs, veins, shells). Once fully cleaned and defrosted (if frozen), toss with all above mentioned ingredients and let marinate for 5-10 minutes. Line baking sheet with foil and lie out shrimp. Place in the over on top rack and broil for 2-3 minutes. Flip shrimp and put back in the oven for another 2-3 minutes until cooked (firm and pink in color–so long as they are no longer translucent).