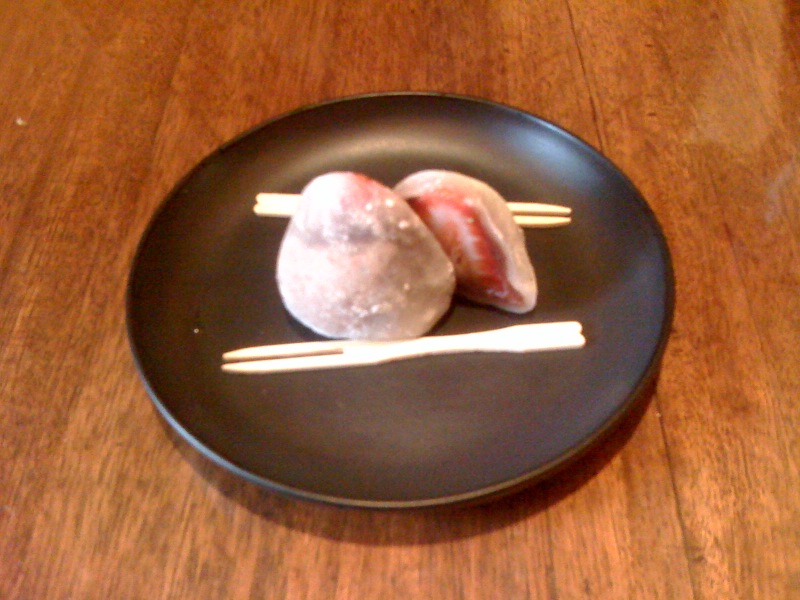 A friend of mine has been talking about checking out this little sushi joint in the Castro all summer. We tried to go back in June, I believe, but they were closed for a summer break and we were so disappointed, especially after having looked through all of the amazing pictures on Yelp. Homemade tofu, homemade mochi desserts, glistening fresh fish and unique starters.
I've been running around a lot (Labor Day weekend getaway, San Diego trip) so I was really looking forward to a relaxing dinner to catch up with my friend and have some qu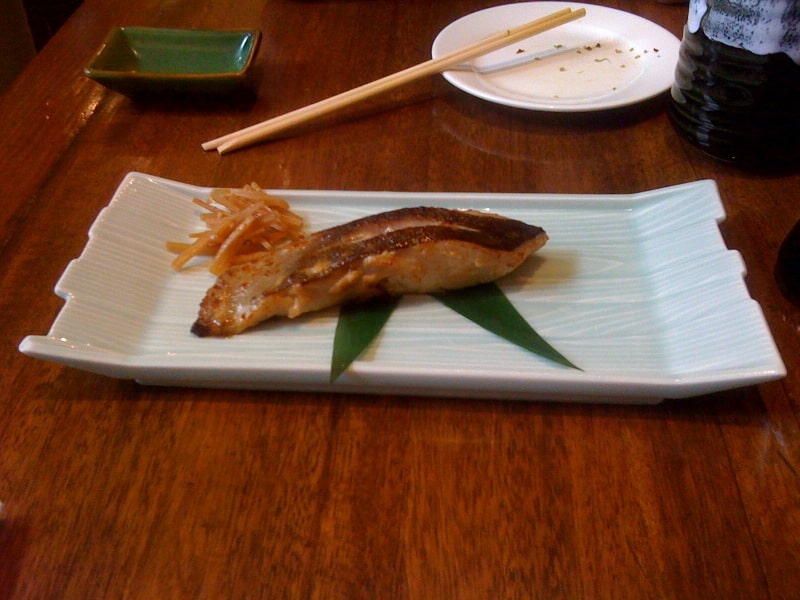 ality girl time. We had a 6:30 reservation after work, but got there a bit early and were immediately seated. I was impressed by the warm towels we received at the start of the meal. The cooking of the tofu was happening right behind the counter, to the right of our table and we had already spotted a plateful of mochi-covered strawberries. Specials were neatly written on a whiteboard above the counter. We both decided to go big and share all of our goods: seaweed salad, sake-marinated black cod, nigiri sampler with 1 roll, amberjack nigiri and a last minute addition towards the end–eggplant with miso and walnuts.
The fish was incredibly fresh–every piece melted in my mouth. My favorites, as usual, were of course the salmon and amberjack nigiri. The black cod was tender and flavorful and a great start to our meal. When we were nearly done eating, we simultaneoulsy exclaimed, "I can eat more!" so we went ahead and ordered the eggplant special, which came out looking like a little mini pizza. Topped with a dessert-like creamy miso and nut topping, it was so delicious I immediately burned my mouth biting into my first piece.
Of course, we couldn't leave without the much-talked-about homemade mochi, so we split a strawberry. I expected it would be good. I didn't expect it to be THAT good. The strawberry was covered in what I believe to be fresh red bean paste and dipped in soft, tender mochi. If you've ever had mochi before, you probably can imagine a rubbery and firm consistency. This was nothing of the sort. It was jello-like and tender, almost dripping off the strawberry.
With sushi, I tend to be very loyal to my favorite joints, but checking out Eiji reminded me that Japanese food is extremely varied beyond sushi and there are plenty of things I still haven't tried (homemade tofu!).