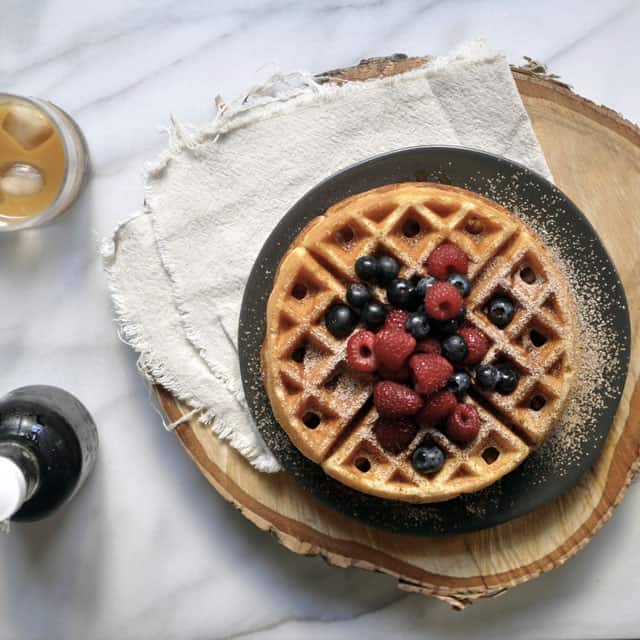 Melissa and I have never met in person but like many of my other 'blogger friends' she feels like a real life friend. We're emailed about babies and motherhood and nursery decor. We share a love of gray and yellow, and we're both really into waffles.
Since Melissa is about to embark on this crazy wild adventure of motherhood, I thought I'd toast her with some waffles, and a few tips for surviving the first few months.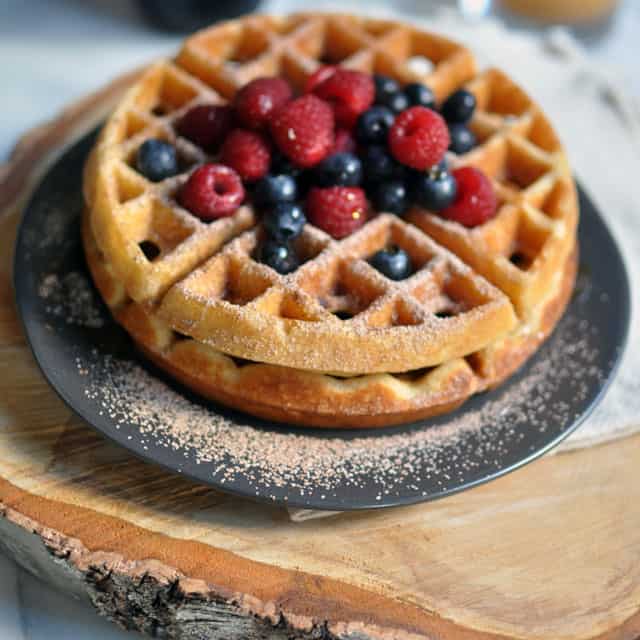 1. Remember that every challenge is fleeting. No matter how hard your day might feel like on any given day, remind yourself that it will all pass.
2. Don't try to be everything to everyone. When I first had Neko, I tried really hard to still be the same person I was before I had her. I had these grand visions of working on my portfolio, getting ahead on Pairings Box recipes, freelance writing, etc. I managed to do a lot, but I put an insane amount of pressure on myself! In the early days, don't worry about responding to every email, tweet, client, etc. Let it go and tell yourself you're going to do your best.
3. Don't expect it to all go according to plan. And know that no matter what decisions you make, they are the right ones for you and your baby. Don't let anyone tell you otherwise!
4. Parent from the gut. Related to #3. People are going to give you all sorts of good-intentioned advice. Ignore most of it, unless your gut tells you it feels right for you and your family.
5. Eat plenty of waffles. When Neko was first born, she slept a lot. I still kick myself for not enjoying those hours when she would literally fall asleep in or on anything. Take this quiet time to sit down to some delicious waffles, a book, your iPad, and allow yourself to enjoy this brief little bubble.
Melissa, I am so excited for you. Your little girl will melt your heart, I guarantee it. Congratulations, friend!
Yeasted Waffles with Berries and Cocoa Sugar
adapted from Aida Mollenkamp's Keys to the Kitchen
2 cups of milk
1 tablespoon of sugar
1/4 ounce package of active dry yeast
1 cup of all-purpose flour
1 cup of whole wheat pastry flour
6 tablespoons of unsalted butter, melted
1 tablespoon of pure vanilla extract
2 large eggs, beaten
2 teaspoons of kosher salt
2 tablespoons of cocoa powder
2 tablespoons of confectioner's sugar
assorted berries
1. Add the milk to a small sauce pot and heat over low heat until it reach 115 degrees Fahrenheit (about 5 minutes). Remove the pot from the heat and transfer milk to a small bowl. Stir in the sugar and yeast and set aside until the mixture begins to bubble.
2. Add the flour to a large bowl. Add in the milk mixture, butter and vanilla, whisking to combine.
3. Cover the mixture with plastic wrap and place in the refrigerator for 8-24 hours.
4. In the morning (or whenever you're ready to make the waffles), remove the batter from the fridge and whisk in the eggs and salt. Let rest at room temperature for 15 minutes while you preheat a waffle iron.
5. Brush your waffle iron with oil and heat it according to the manufacturer's instructions. Pour about 1/3 cup – 1/2 cup of batter into your iron (the amount you pour in will depend on your iron; you want to make sure you leave an inch or so border around to allow the batter to spread).
6. Close the waffle iron and cook for 3-5 minutes, until the top of the waffle iron lifts easily and the waffles are crisp and golden brown on the outside. I usually place cooked waffles onto a baking sheet, then place it in a warm oven while I make the rest.
8. When ready to serve, divide waffles among bowls. Sift together the cocoa powder and confectioner's sugar, lightly dusting the waffles. Top with berries.
More Waffles Around the Web
It's a waffle-fest! I wish this shower wasn't virtual because every one of those waffles would be in my belly!
Whole Wheat Chive Waffle with Poached Egg from Sonja and Alex of A Couple Cooks
Almond Chia Seed Waffles from Nicole of Eat this Poem
Banana Nut Waffles from Kathryne of Cookie and Kate
Whole Wheat Chocolate Chip Waffles from Alison of This Homemade Life
Vanilla Vegan/Gluten Free Waffle Ice Cream Sammies from Laura of The First Mess
Monte Cristo Waffle Sandwich from Heidi of Foodie Crush
Whole Grain Vegan Flax Waffles from Jeanine of Love and Lemons
Waffles with fig compote and orange-honey crème fraîche from Sarah of The Vanilla Bean Blog
Spelt Waffles with Cinnamon Peaches from Naturally Ella