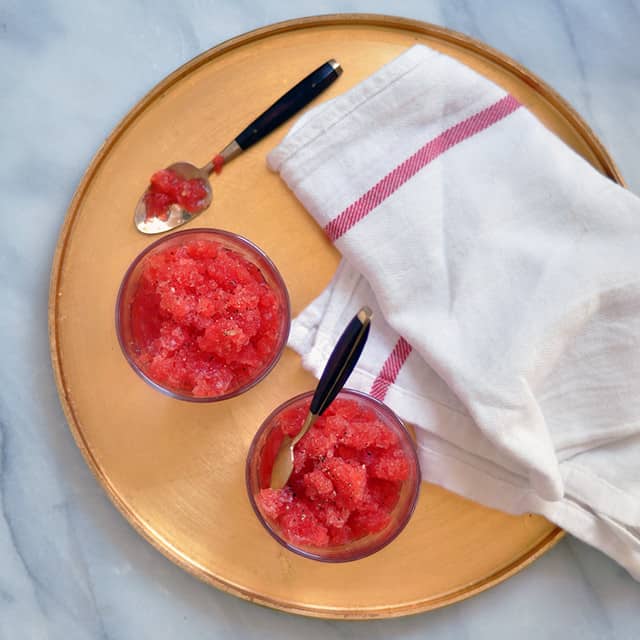 I know. It's September 3rd, and here I am posting about watermelon. Late to the party, much? This summer, I've found myself picking up a small watermelon from the farmer's market almost every weekend. Each week, I swear, they get sweeter and juicier. This one tasted almost like candy, which inspired me to turn it into a granita.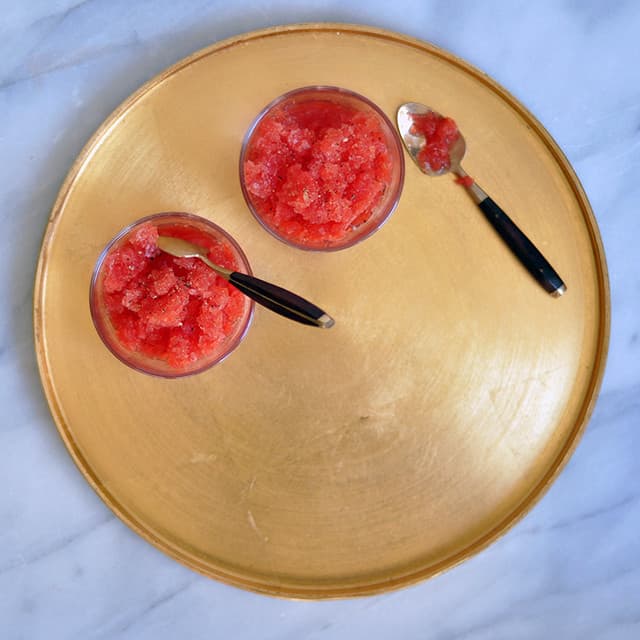 Granitas are the sort of dessert I never order out (unless I'm in Sicily, where they are served with brioche) but one I love making at home. They require few ingredients, are incredibly refreshing, versatile, and delicious. This one can be made with — dare I say it — ONE ingredient. Two, if you choose to go the 'adult' route and sprinkle it with some freshly grated black pepper.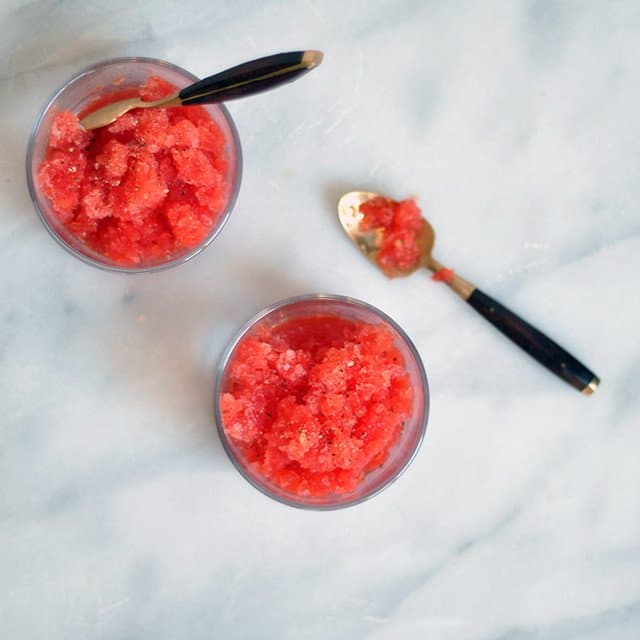 Watermelon is the quintessential summer fruit. In some cases, it's a meal. To me, it holds so many memories, all rolled into one. Of summer camp. And sticky fingers. Beach days. The boardwalk (so many boardwalks). Endless reruns of Saved by the Bell (do you even remember that show? Please say yes.). Unrequited love. My dad, mowing the lawn. Trampolines. Claw machines.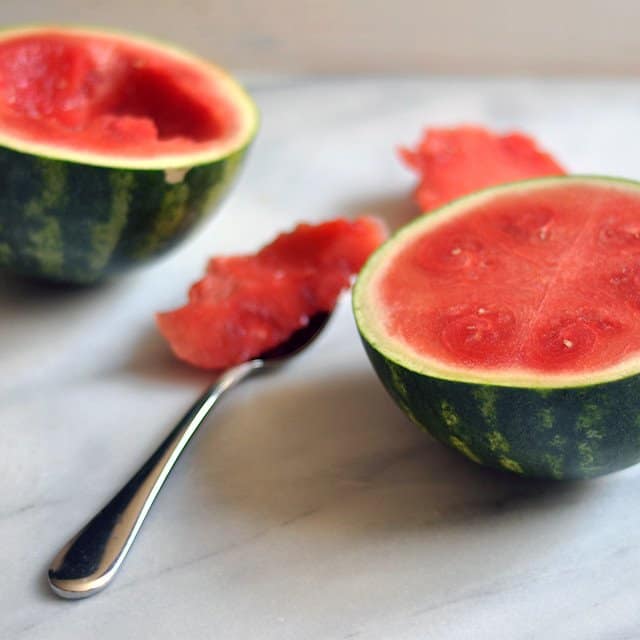 It takes concentration to eat a watermelon — a determination to finish the whole damn thing, preferably with your face close to the edge of a plastic bowl. Similarly, I'd argue a watermelon granita is the best of both worlds: unpretentious and whimsical, childish and grown-up at the same time.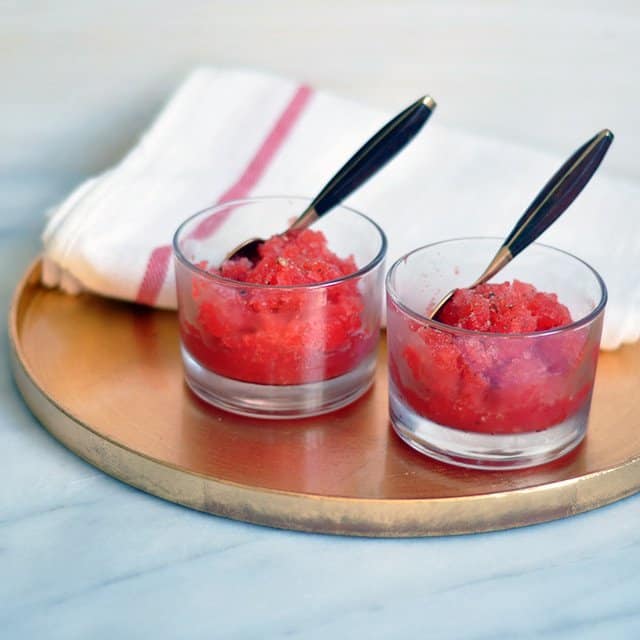 So here we are. September. This month, we are headed to Seattle to celebrate the marriage of two lovely people, the same weekend we celebrate our 5 year wedding anniversary. The same weekend, we'll catch up with a dear old friend. There are dinner plans on the calendar, and a potential trip to Tahoe to round out warm weather this fall. I hope we make it to wine country for the harvest.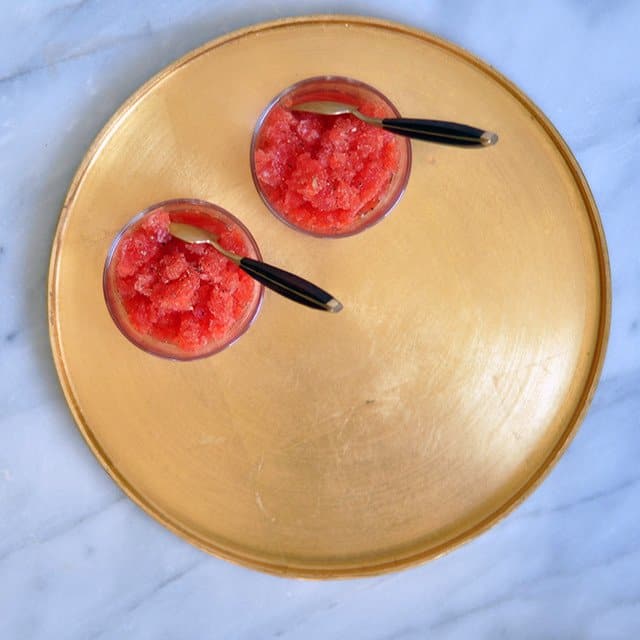 In the meantime, let's squeeze every last bit of summer that we have because, well, we've got it, don't we?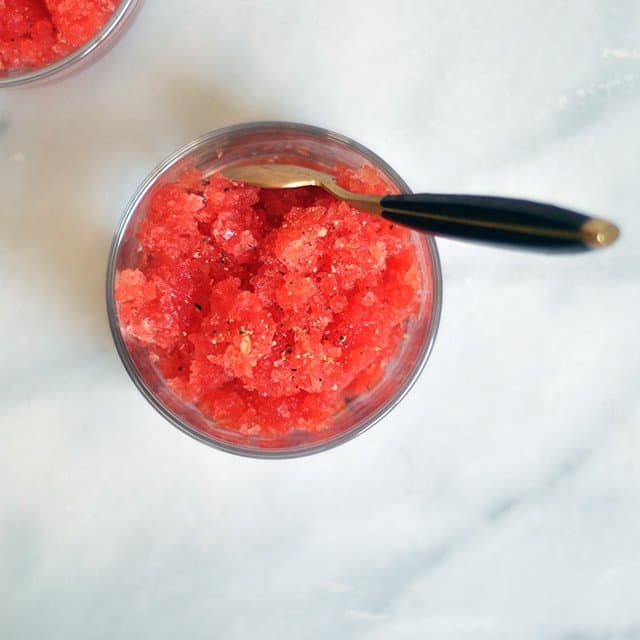 Watermelon Granita with Black Pepper
inspired by this recipe
1 small watermelon, sliced in half
freshly grated black pepper (optional)
1. Use a spoon to scoop out the flesh from the watermelon and transfer it to a blender. Blend until smooth.
2. Transfer the puree to a shallow glass baking dish and place in the freezer. After about 30 minutes, use a fork to scrape up the ice, breaking up any large chunks and place the dish back in the freezer. Continue to scrape up the ice formations every 20-30 minutes for the next 2 hours or so, until the granita reaches your desired consistency (it should be fluffy and light — like shaved ice).
3. To serve, divide granita among bowls. Sprinkle with a bit of freshly-grated black pepper.
I haven't tried it, but a touch of salt might be nice, too.