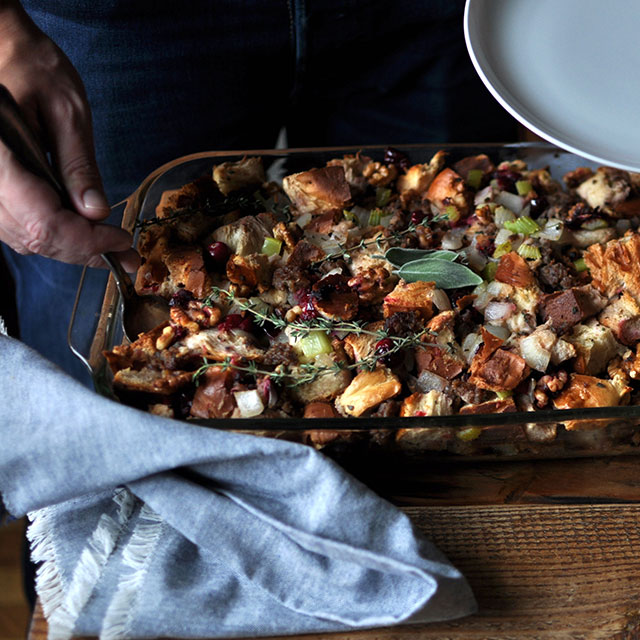 This is a sponsored post in partnership with the California Walnut Board.  All words and opinions are our own. Thank you for supporting the brands that help us do what we do!
There is no holiday I love more than Thanksgiving. Every year, we sweat and pant and cook and cook all day only to devour our feasts like savages and then fall asleep on the couch at 3 pm. But it is SO WORTH IT.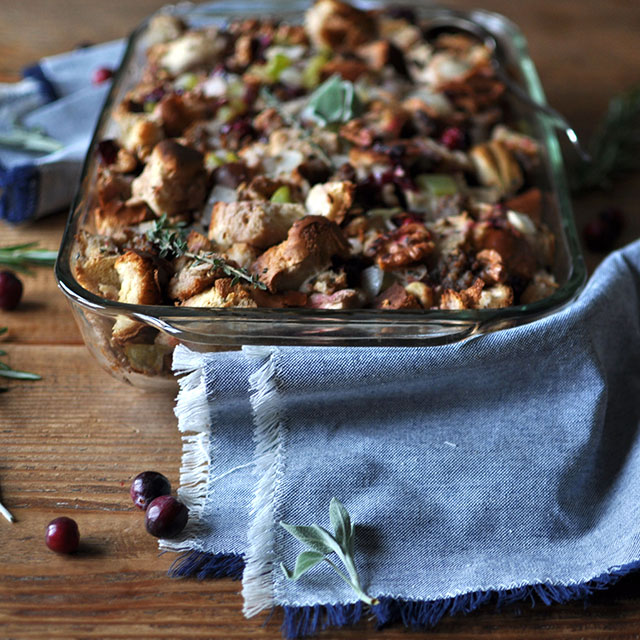 This Thanksgiving marks our second Thanksgiving in our house in Seattle, which is pretty hard to believe. Last year, we had literally just moved into a construction zone that was our home. Three-fourths of our main level was covered with plastic and unsafe for inhabitants. I still remember picking out our Thanksgiving feast from the deli section of our local grocery store.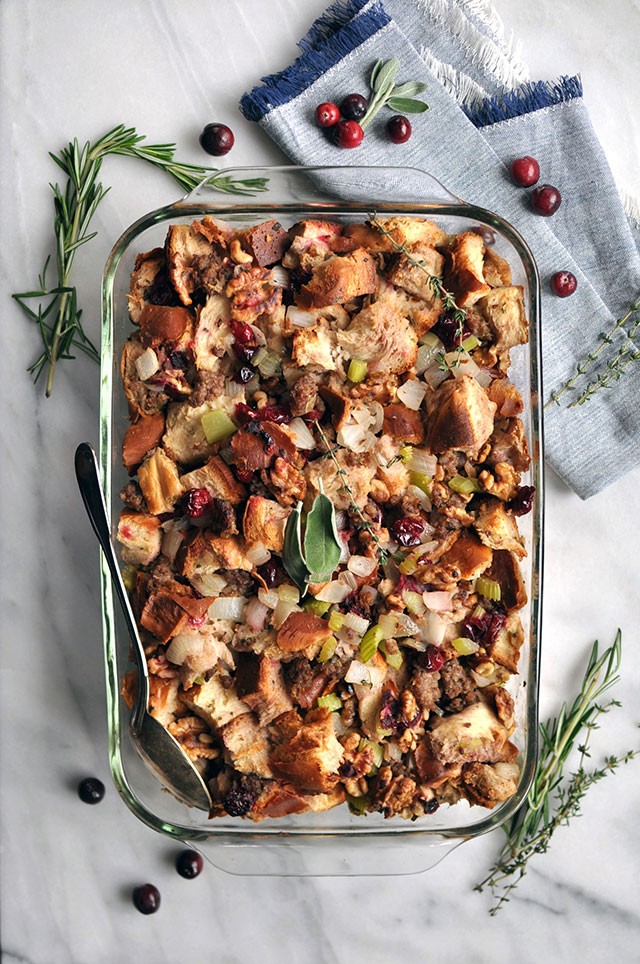 We ate our meal on our Ikea patio table, which we had temporarily set up in our dining room, which had just had its textured walls removed and was painted a bright white. The chandelier was a remnant from the old owners, barely hanging from the ceiling. We ate on paper plates and drank fancy wine from plastic cups. The only thing I cooked was roasted green beans. In so many ways, it was a true Thanksgiving holiday. We had so much to be grateful for: two healthy babies, one rambunctious toddler, our new home, a successful move (albeit some hiccups with the contractors), and a completely new life.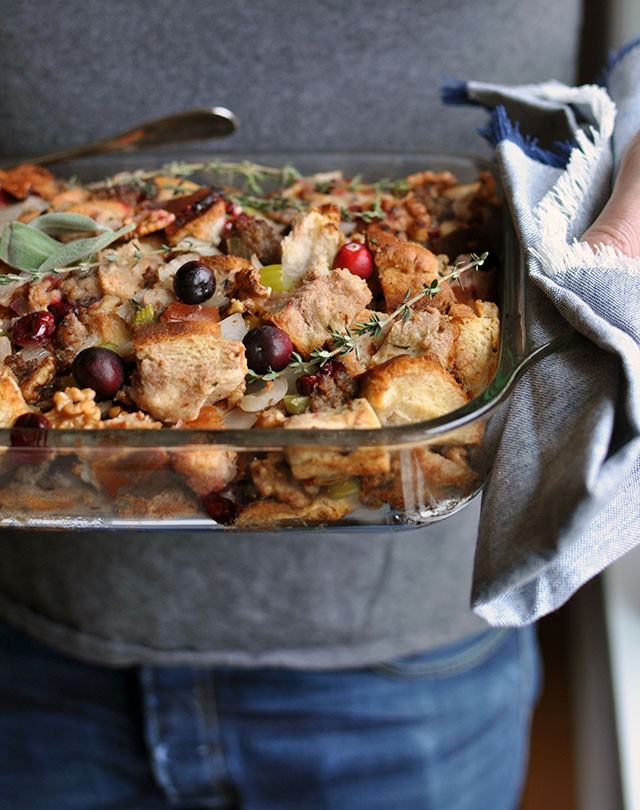 It's crazy to think how much we've been through over the last year, but one thing has remained the same: our appreciation of our families. This year, we'll be sitting down at our actual dining room table and thankfully, our house won't be a construction zone. Our babies are no longer teeny tiny newborns, which I am grateful for, too. My parents won't be here with us like they were last year. And while I'll miss them, I'm glad to know they'll be enjoying the sunshine and warmth of Palm Springs. This is the first Thanksgiving we'll be away from my family in a long while, which is weird. But I can't help but marvel at what it means to be a real adult with enough children to literally fill our dining room table. Maybe next year, we'll have to have a 'kids' table.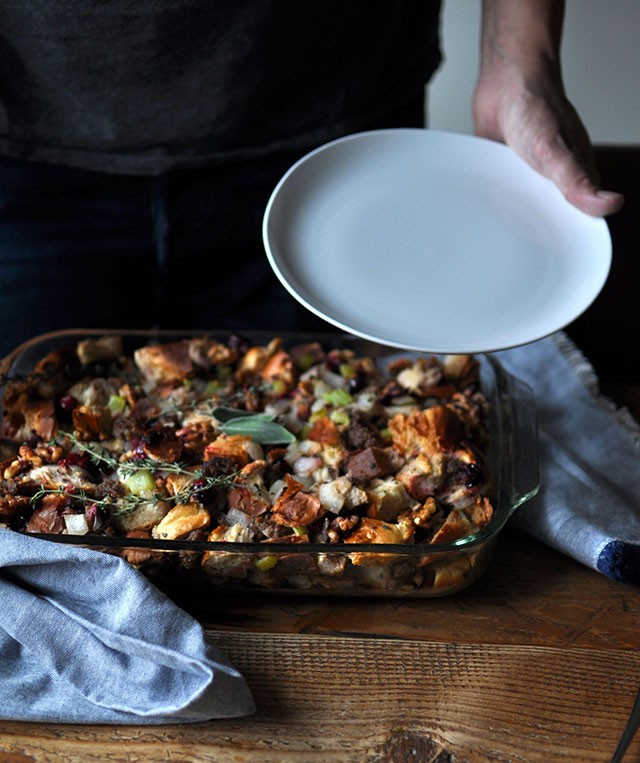 I actually can't believe that Thanksgiving is THIS week. If it's snuck up on you as it has on me, I think you'll appreciate today's recipe. Our Mushroom and Challah Stuffing was one of our most popular recipes but we believe that you can never have too many stuffing recipes. If your loved ones love stuffing as much as my husband, then you might want to consider making both!
We love using challah for stuffing but we wanted to experiment with mixing savory and sweet, and really playing up holiday flavors. So we incorporated fresh cranberries and walnuts into this stuffing recipe. In addition to being delicious, it's beautiful! The bursting red cranberries and toasty walnuts really make it a sight to be seen on your holiday table.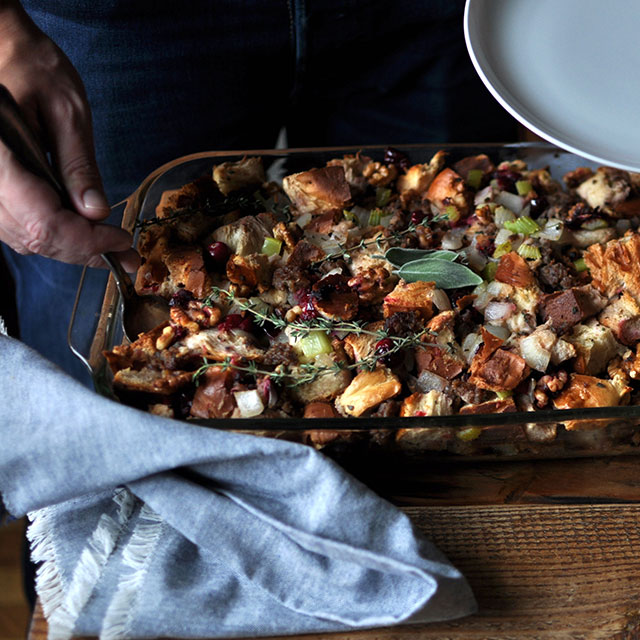 We hope you have a wonderful holiday out there. Be kind!
Walnut and Cranberry Stuffing
1 loaf of challah, diced into 1" cubes
1 medium yellow onion, roughly chopped
2 celery staks, roughly chopped
1 tablespoon of fresh sage, finely chopped
1 teaspoon of fresh rosemary, finely chopped
1 teaspoon of fresh thyme, finely chopped
1 1/2 cups of walnuts
1 1/2 cups of fresh cranberries
3 tablespoons of sugar
8 oz of sausage, casings removed
3 cups of chicken stock
1. Preheat your oven to 350 degrees F.
2. Spread the bread crumbs on a baking sheet and bake until slightly toasted, about 12 minutes. Remove the toasted breadcrumbs from oven and set aside.
3. Saute the walnuts in a dry sauce pan over medium-high heat for about 3 minutes, or until lightly toasted. Remove the toasted walnuts from the sauce pan and set aside.
4. Add the cranberries and sugar to the same sauce pan. Cook for about 5 minutes over medium-high heat or until the cranberries begin to burst.
5. Add the butter to a large skillet and heat over medium-high. When the butter is melted, add the sausage, breaking up any large chunks.
6. When the sausage is browned (about 5 minutes), add the onions and celery.
7. Cook until the onions and celery are soft, about 8-10 minutes. Stir in the herbs.
8. Mix the bread crumbs, sausage mixture, walnuts, and cranberries in a mixing bowl. Add the  chicken stock and toss to combine.
9. Transfer the stuffing mixture to a lightly buttered oven-safe glass baking dish.
10. Cover the baking dish with foil and cook for 20 minutes. Remove the foil and cook for an additional 25 minutes.