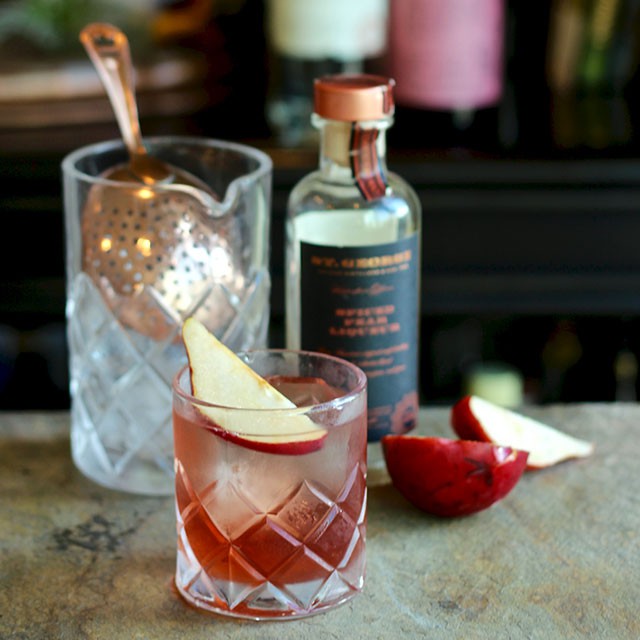 One of the most entertaining booze-filled days in recent memory was spent inside of a large, converted hangar, now occupied by copper stills, fermentation tanks, barrel storage, and a bottling line. It was a weekday, and I took off of work to spend time with the folks at St. George Spirits, including distillers Lance Winters and Dave Smith. They had invited me and a friend for a behind-the-scenes tour of the operation and granted us access to their secret, very well-stocked bar as inspiration for some new video content. Our trip also happened to coincide with the delivery of thousands of pounds of pears that they'd be using for their next batch of brandy. I only wish that the internet was truly a time capsule, because Lance posed for us like a pig on a spit with a pear in his mouth as he laid on a crate… to express his love for the pears, of course.
As we tinkered around with the ingredients behind the bar, we were inspired to make use of the end product for those pears: spiced pear liqueur and pear brandy. We ran a few variations behind the bar before settling on the final recipe. We encouraged Lance to "step behind the stick," as they say in the bartending world, to mix up a cocktail featuring two of his products in one delicious drink. The end result is an awesome Spaghetti Western style how-to video for the cocktail (and serves as a reminder that I used to have hair) :
http://www.breadandgin.com/cocktails/a-fistful-of-pears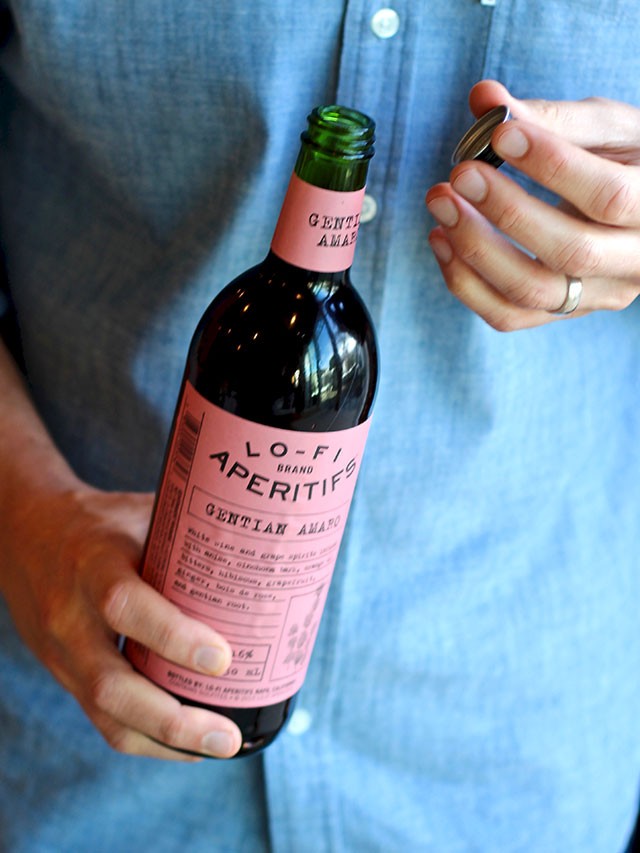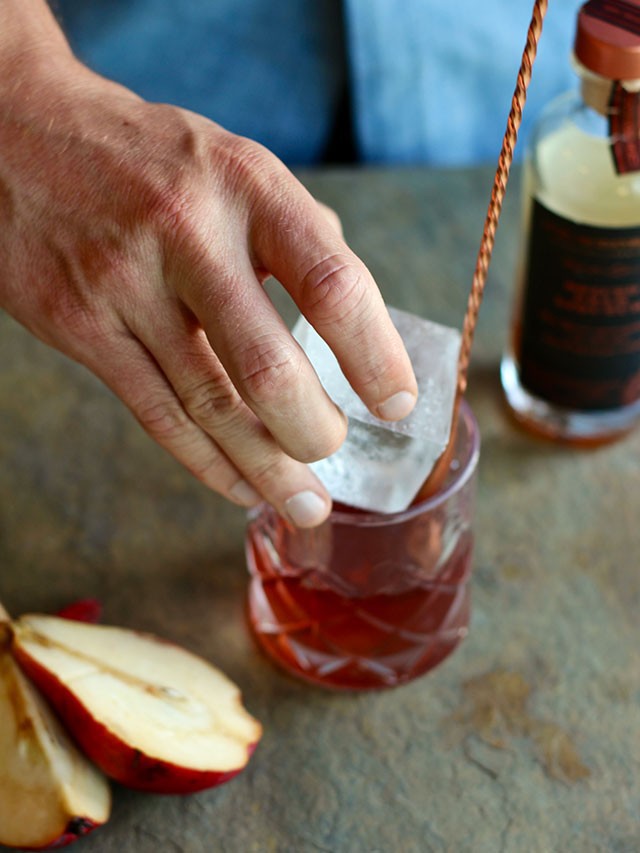 A while back, I ran into Dave Smith at a new product release tasting. We caught up a bit and he shared with me that he has instituted an annual tradition of mixing this drink for friends and family during the holiday season. The spiced pear liqueur, with its heavy dose of baking spices, is the perfect way to warm up and the closest thing that exists to drinking a fresh-baked pie. Maybe that sounds a little weird, but you'll understand when you taste it!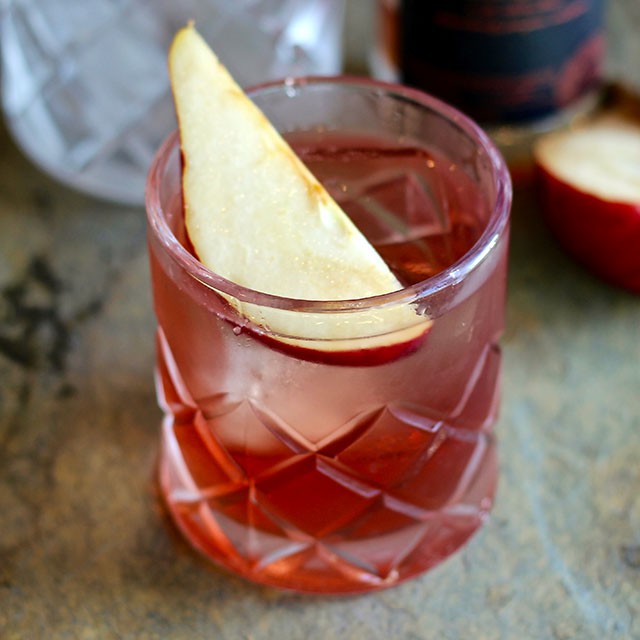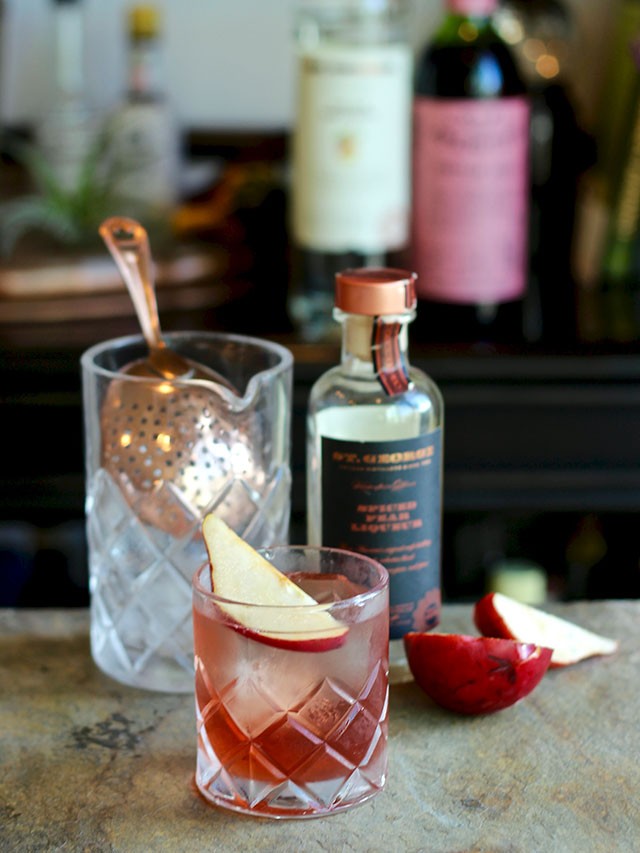 GLASS
Old-fashioned glass or just a plain old tumbler
RECIPE
I took the liberty of refreshing the drink ever so slightly
1 oz St. George Spirits Pear Brandy
1 oz St. George Spirits Spiced Pear Liqueur
1 oz Lo-Fi Aperitifs Gentian Amaro
Grapefruit zest and (optional) pear garnish
Add all liquid ingredients into mixing glass or directly into an old-fashioned glass. Add ice and stir for about 15 seconds to chill, dilute, and combine all ingredients. Squeeze the zest of the grapefruit, skin side down, to add the oils of the skin, but do not drop the zest into the drink as a grapefruit's zest tends to be overpowering in cocktails. If you're feeling fancy, add a slice of pear as garnish.  
Photography and styling by Hannah Levy.