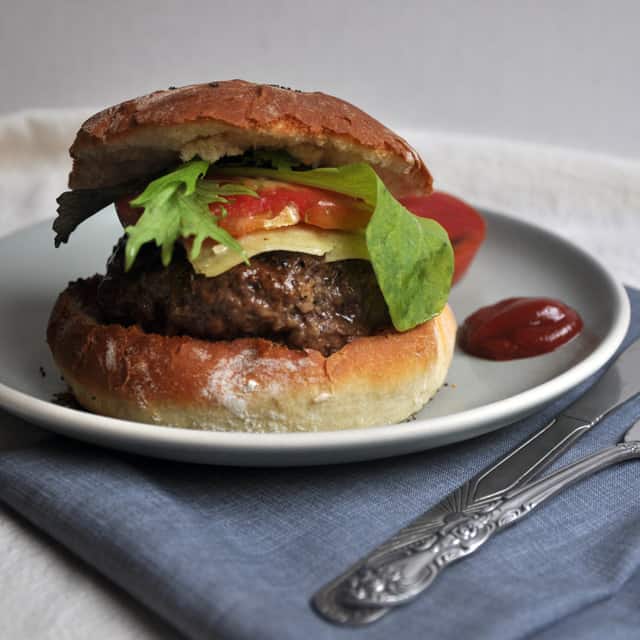 An American burger welcomes every immigrant with open arms. Sure, people have invented and reinvented it; they put foie gras and chickpeas in it. They top it with hot sauce or brie. But the foundation is simple: ground beef between a split, fluffy bun; a glorified sandwich. Therefore, I would argue that the most important elements of the burger are the meat and the bread. Everything else is just decoration.
The first burger I ever had was from McDonald's. You, too? It was the most delicious thing that ever entered my mouth. Except, maybe, Bazooka Joe. There wasn't much to it: a limp, greasy patty, plastic-looking orange cheese, and a surprisingly flat, seeded bun. The last McDonald's burger I ever had was when I was 19. I was in Pisa, Italy, in a train station, trying to satisfy my hunger before I had to rush onto the platform. It didn't taste the same, or evoke any of the memories that I had of trying a burger for the very first time. In fact, there was a kind of sadness about it. This American burger, globalized and mass-produced. Made with who-knows-what-kind-of-meat. A spiritless burger. A burger with no visible identity or affiliation with any specific place. A burger completely out of context. A burger with a lost vision. I vowed to myself then and there that I would never eat a mass produced burger again. And I haven't.
Thing is, the handmade, hand-assembled burger made with organic, grass-fed beef, a homemade bun, high-quality cheese, and a variety of condiments, is a thing of beauty. Yet, the majority of the world probably has no idea. Dear world, here's the burger of my dreams. A patty made of the highest quality ground beef, flavored only with salt and pepper. A homemade bun, light as air and buttery. And a few of the freshest accents: heirloom tomatoes and fresh greens. And ketchup, of course. There is no burger without the ketchup. I see more restaurants putting 'Ultimate Burgers' on their menus but the best burger is one made on a grill, or a grillpan, in your own home. It doesn't make you feel like you're gonna die. It makes you feel like you're gonna LIVE.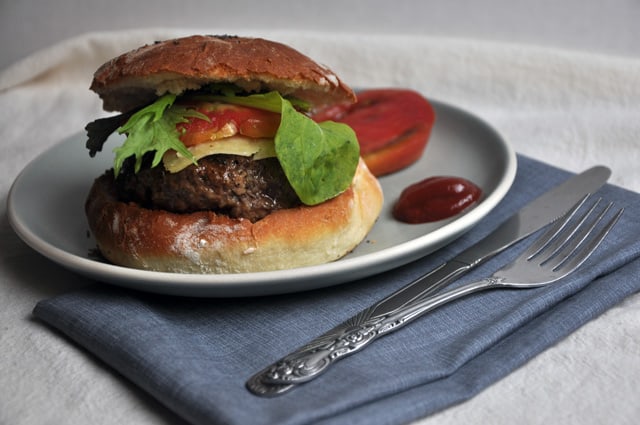 The Burger
*adapted from Big Sur Bakery Cookbook
For the house-made buns:
3 1/4 cups of flour (plus 2 tablespoons)
1 cup + 2 tablespoons of milk
1 1/2 tablespoons of active, dry yeast
2 tablespoons of butter, at room temperature, plus extra for the bowl
2 1/2 tablespoons of sugar
2 teaspoons of kosher salt
1 large egg
sesame seeds or poppy seeds
1. Slowly heat the milk in a small pot over low heat until it is lukewarm. Stir in the yeast and let sit for 5 minutes to activate. Butter a large bowl.
2. Combine half of the flour with the yeast/milk mixture in the bowl of a stand mixer fitted with a paddle attachment. Mix on low speed, then slowly add the rest of the flour, sugar, salt, butter and egg. Increase the speed and mix until all of the ingredients are fully incorporated. Switch to a dough hook.
3. Continue mixing, raising the speed for a few minutes, until the dough becomes slightly elastic. If it's super runny, add a little bit more flour and continue to knead (it will be sticky).
4. Pour the dough into your prepared bowl and cover it with plastic wrap. Let it sit at room temperature for about an hour (until it is doubled in size).
5. Put the dough onto a floured work surface and divide it into 6 or 7 balls. Cover them with a kitchen towel and let them rest for another 10 minutes. Next, place the buns on a lined baking sheet. Place the baking sheet into a loose plastic bag and let the buns rise for another 30-40 minutes (until doubled in size). Preheat your oven to 375 degrees F.
6. Remove the baking sheet from the bag. Brush the buns with a little bit of water and sprinkle with sesame or poppy seeds (or both). Bake for 20-25 minutes (until golden brown). Let cool before slicing.
For the burger:
1 pound of highest quality ground beef
kosher salt
freshly ground black pepper
aged cheddar
heirloom tomato slices
handful of greens
ketchup
1. Preheat your outdoor grill or indoor grillpan.
2. Divide the meat into patties.
3. Generously season the patties with salt and pepper on both sides.
4. When your coals are red-hot (or your grillpan is heated to medium), place the patties down. Let them cook for several minutes without moving them or touching them. Flip and continue cooking until the burgers move easily at your touch. Top with a slice or two of aged cheddar. The outside of the patties should be caramelized, while the juices will be trapped inside. We prefer our burgers on the rare side.
To assemble:
1. Split open your buns and put one cheese-topped patty on top of each bottom slice. Top with a slice or two of heirloom tomato and a few greens. Serve with ketchup.
Pickles, optional.
Musical Pairings: The Black Keys – Brothers + The Burger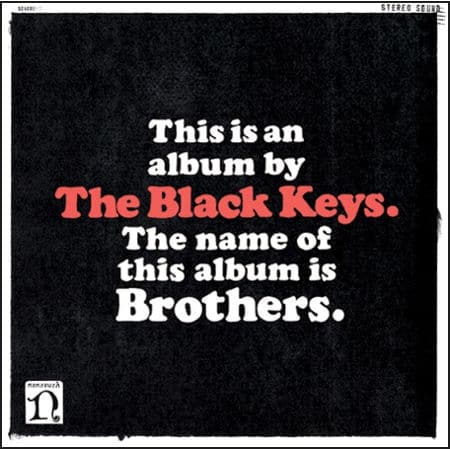 Your Musical Pairing is on the Turntable.