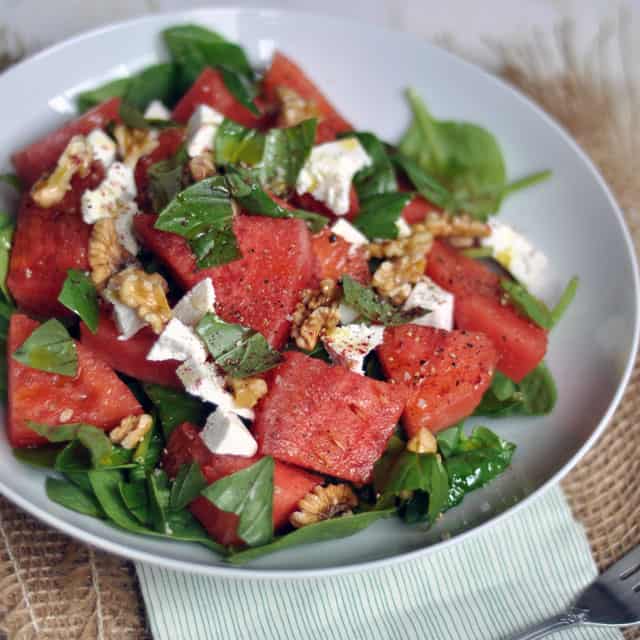 I remember these summers when I'd wake up well into the hotter part of the day, pour myself a bowl of cereal and plop down in front of the TV for God knows how many hours while the air conditioning blasted through my parents' house. I worked my way through multiple seasons of 90210, reruns of Saved by the Bell and Dawson's Creek, and even dabbled in daytime talk shows and soap operas. When I wasn't watching TV, I was lounging around by my parents' pool, or hanging out at the mall with my friends. This was before I had a driver's license. It's funny how much I hate malls nowadays and can't imagine wanting to go to one for entertainment.
Those summers (and I should specify, those were the early years of high school), every day felt so long. By the time July would roll around, I'd begin to feel like the start of school was still an eternity away. I eagerly anticipated the return of rallies and dances, back-to-school shopping and dance practice. Sometimes, I think back to that time and get angry at 14 year-old me for wasting so many days. For not reading as many books. For not writing as much. For not learning how to speak Spanish. It's hard to know, as a 14 year-old, how valuable that time is and just how fleeting it is.
The last few years, summers have flown by faster than ever. Before I've had my fill of cherries and peaches, they've disappeared from the market, or are past their peak. Before I've had more than a few opportunities to check out some new hiking trails in Marin, the air becomes a little chillier. Somehow, the weddings, the birthdays, the bridal showers, the picnics of summer transition into holiday festivities and Thanksgiving potlucks. It's not a bad thing, this constant move forward, but it's shocking how many summers have come and gone, no matter how hard I try to hold on, they rush past me in a way they never did before. More than any other season, the end of summer marks a time of mourning. I like to think it's a tribute to the amazing summers I spent growing up beachside, pool-side, in parks and forests, at malls and amusement parks.
As much as I love to complain about summer in San Francisco and our constant fog and chilly nights, I've grown to love it as much as any other season. The way the light lingers well into the evening and looking straight down Judah Street at sundown, the sky fills with purple and pink streaks. I love how my farmer's market is overflowing with berries and heirloom tomatoes, bursting at the seams. And I love how, every once in a while, I wake up to a perfectly warm and sunny day, and everyone in the neighborhood is out riding bikes or sitting outside of Arizmendi Bakery noshing on a treat fresh from the oven. These are my new memories of summer, the ones that, years from now, I'll mourn as much as those lazy days at my parents' house. Then, these will be the summers I think lasted forever, filled with our lives' peak experiences (mature love and engagements, baby announcements and cross-country trips).
The month of August is ahead, friends, and I'm trying to make the most of it — to not mourn it before it's gone, and to look forward to the best month of the year here in San Francisco — September. There are still cherries and peaches. And plenty of watermelon, too. I've found creative new uses for it, and it's just as satisfying as it was years ago, when it dripped down my arms as I sat eating it over a seemingly bottomless bowl.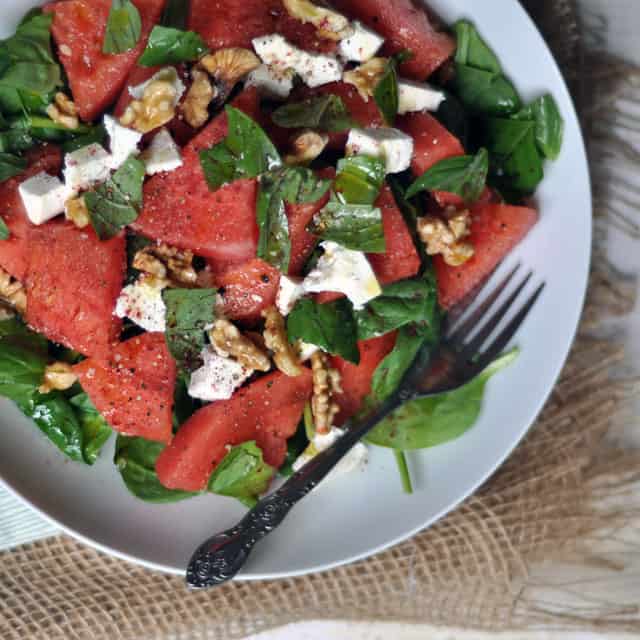 Watermelon, Ricotta Salata and Sumac Salad
*serves one, can easily be doubled tripled, or quadrupled
Note: this recipe is hardly a recipe but rather, a guide for building a delicious salad for one. It's my preferred way of eating in the summer. You can easily increase the amount of greens, herbs, watermelon and cheese used. Sumac is a Middle Eastern spice that has a slightly tart, lemony flavor that I find adds a refreshing surprise to the salad. You can sub feta for ricotta salata, but I really like this salty Italian cheese here. Lastly, use really good ingredients here. This salad is meant to be eaten in the peak of summer, when watermelon is incredibly sweet and juicy and basil abounds. Let's face it: this salad is just an excuse to eat watermelon.
few handfuls of baby spinach
4 basil leaves, roughly chopped
1/4 of a baby watermelon, sliced into triangles or cubes
good quality extra virgin olive oil
sumac
sea salt and freshly ground pepper
1/4 – 1/3 cup of cubed ricotta salata
toasted walnuts
Place baby spinach in a serving dish. Top with watermelon and ricotta salata. Sprinkle with chopped basil and season with salt and pepper, to taste. Sprinkle salad with sumac (I used about a teaspoon of sumac for mine; feel free to adjust to your taste). Top with toasted walnuts and a hearty drizzle of olive oil. Serve with bread.
Musical Pairings: Seamonster – Baldessari + Watermelon, Ricotta Salata and Sumac Salad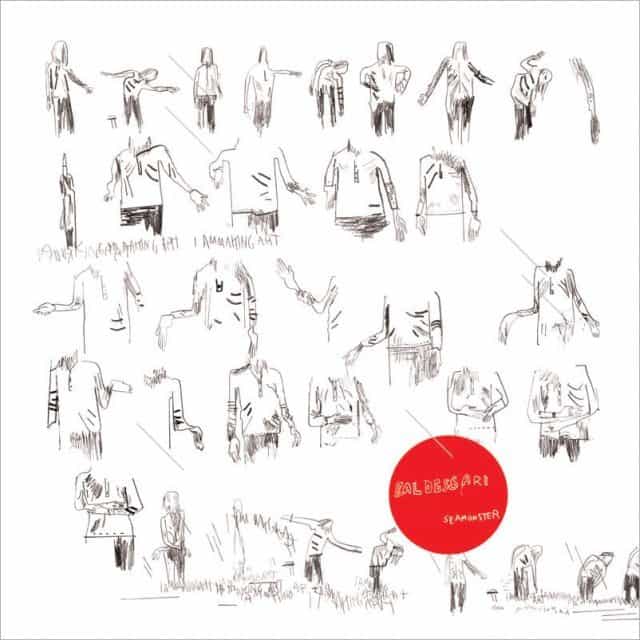 More on the Turntable.