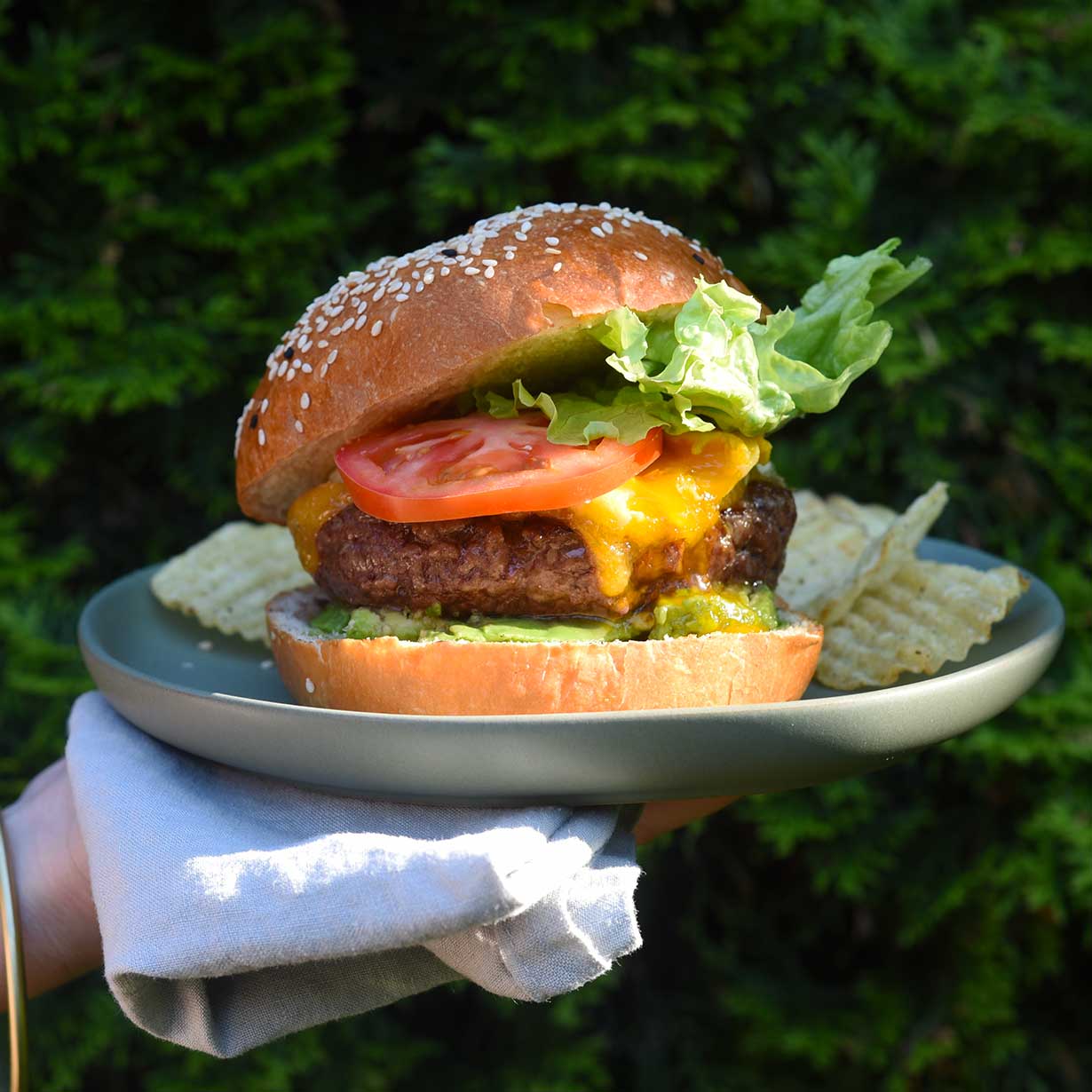 This is a sponsored post in partnership with Oregon Country Beef, a family ranch owned Co-Op, and PCC Community Markets. All words and opinions are our own. Thank you for supporting the brands that help us do what we do!
As two people who spent over a decade living in an apartment with no backyard, Matt and I naturally went a little overboard when we made the decision to relocate to Seattle. We bought a house in the city with a huge backyard — the biggest we could find. In some ways, the yard sold us even more than the house. And every summer, I count my lucky stars to have this space for my family and I to roam.
We immediately invested in planting a garden. And I kid you not, the first pieces of furniture that we bought were for our backyard. Because even before we moved here, we knew that we wanted to entertain outdoors. Grilling our dinner outside in the backyard made us feel like giddy college kids who were having people over at our first "adult" apartment. And I have to say, the feeling hasn't really gone away. We love cooking and eating outside. You really don't take it for granted when you live in the Pacific Northwest.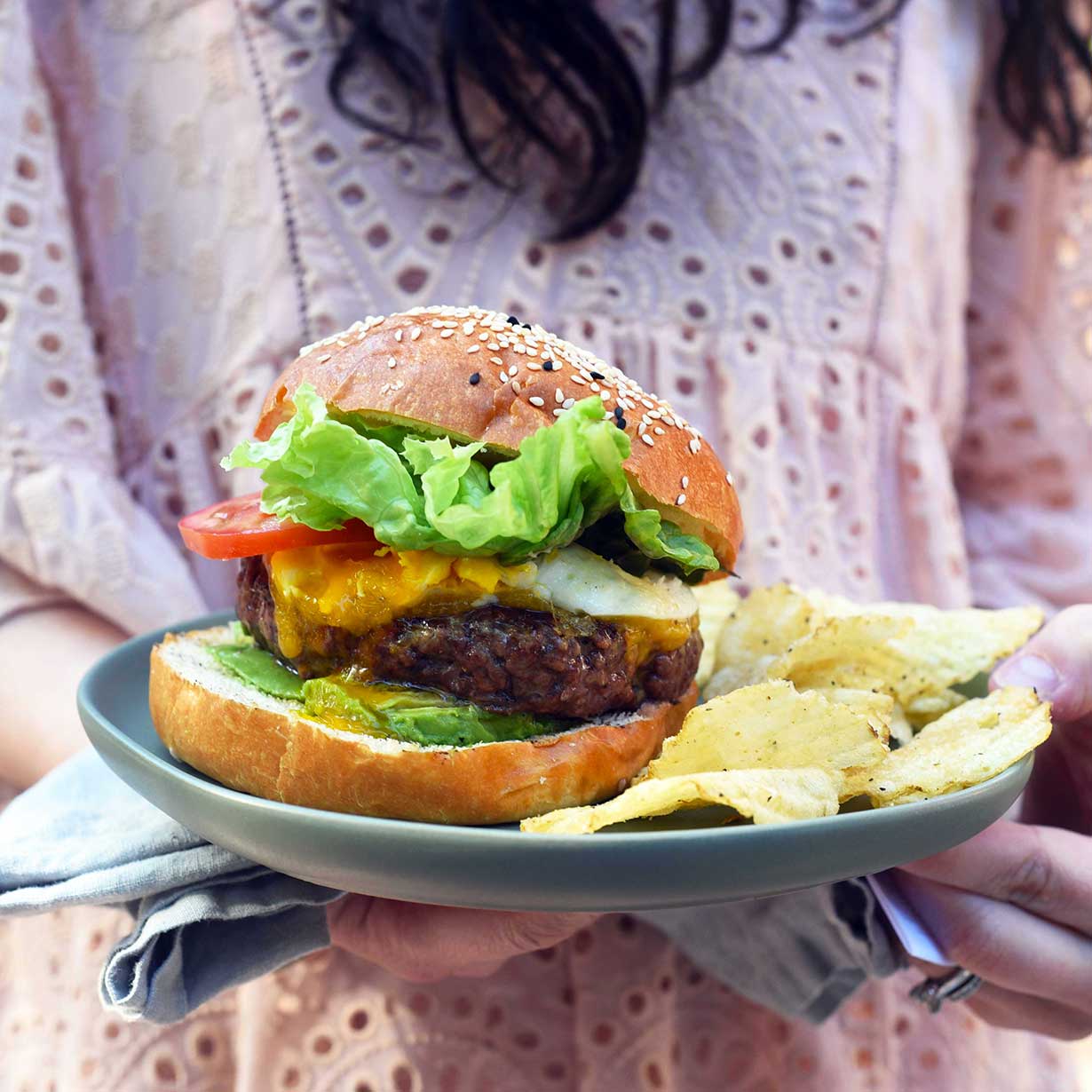 Even on a day when it's barely 65 degrees Fahrenheit and questionably "sunny," you throw on a denim jacket…and you sit in the backyard until long after dusk. Ironically, the lights we put up back there hardly get used because it stays light out so late.
When Oregon Country Beef  and PCC Community Markets asked if we would like to share a grilling recipe with our readers, our answer was an enthusiastic "yes!" and the first recipe that immediately came to mind was a classic: a cheeseburger…with a Turntable Kitchen twist, of course. For those of you new to Seattle (like I was!), PCC is a locally grown, community-owned market here in the PNW, and it's a go-to for its fantastic bulk bin section and fresh and organic produce, dairy, meat, and seafood.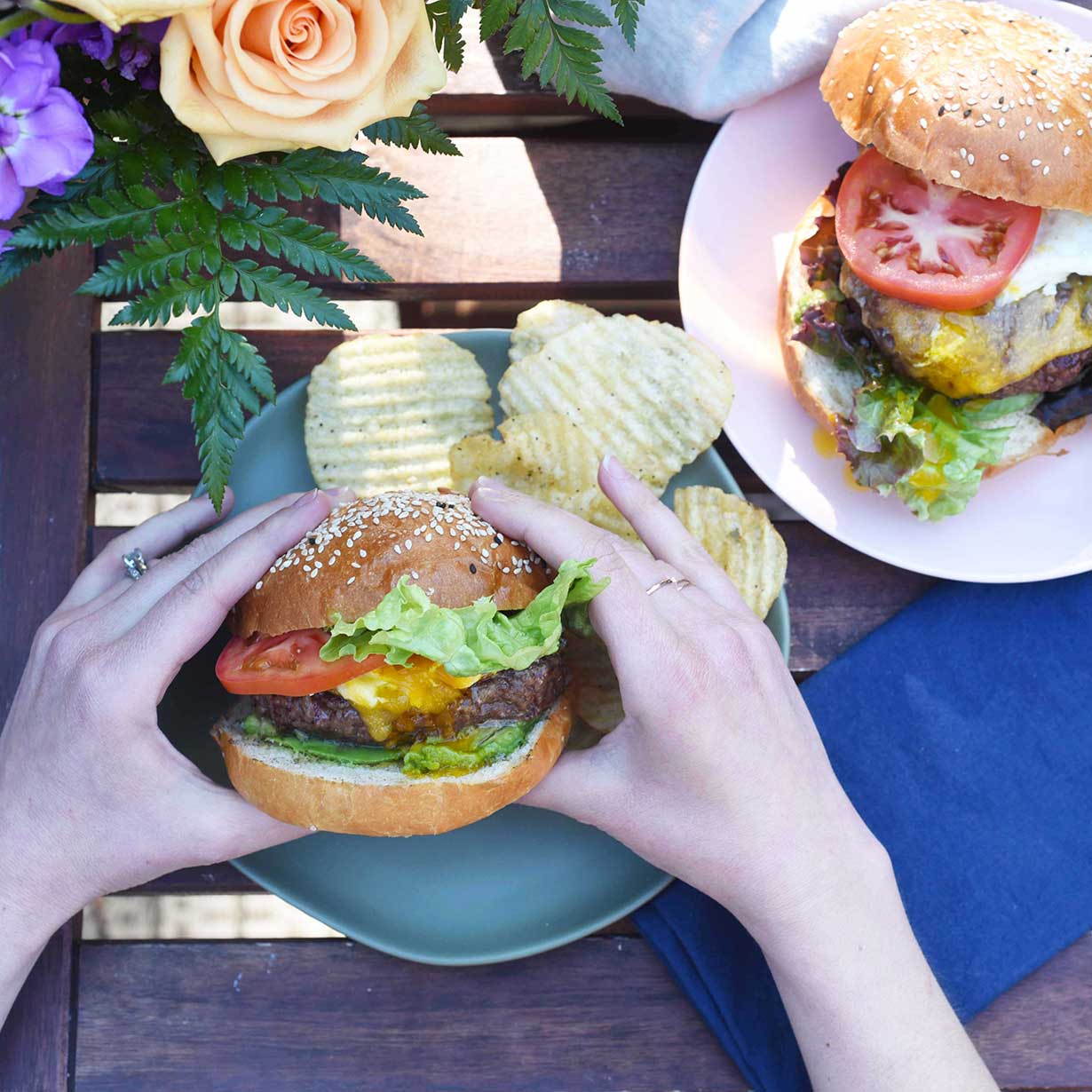 For my family, beef is synonymous with celebration. My dad is always ready to throw a steak on the grill, while my mom whips up the most delicious sides. As Russians, we never have a shortage of pickles, breads, and salty little bites. But I've grown pretty particular about my meat, which is why I was excited to partner with Oregon Country Beef, a family ranch-owned co-op comprised of 80 ranchers that produces GAP certified and Non-GMO Project Verified meat. Their beef is never given antibiotics or hormones, and all of its cows are treated humanely – so you know what you're eating doesn't just taste good.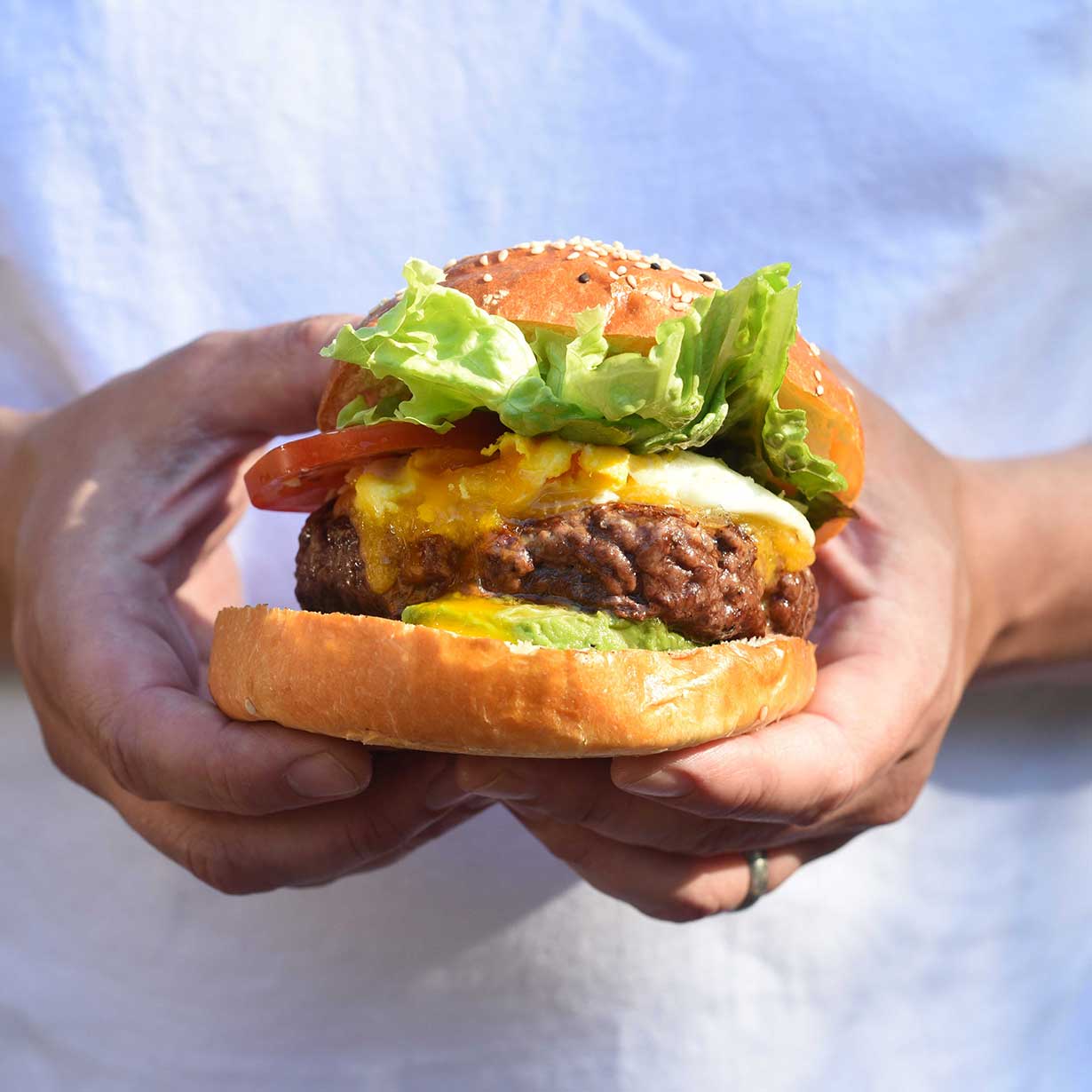 This West Coast Burger is a loving ode to our coast (from San Diego to Seattle!), and particularly, the Upper Left Coast, where putting an egg on it is a way of life. Thankfully, we can still stock up on our California avocados at PCC, and when we're feeling fancy, brioche buns delivered fresh from local bakeries. Whether or not you've had your grilling season opener yet, you best add this to your summer bucket list.
The West Coast Burger
2 lbs of Oregon Country Ground Beef, 85% lean/15% fat
Kosher Salt, for Seasoning
4 brioche buns, sliced in half
2 avocados, sliced
4 slices of cheddar cheese
4 lettuce leaves
1 tomato, sliced
4 large eggs (preferably best you can find)
1. Preheat your grill to medium-high heat.
2. Using a scale, weigh out four 8 oz portions of ground beef.
3. Without over handling the beef, form the meat into patties roughly the same diameter as your burger buns.
4. Generously salt and pepper the patties shortly before you're ready to grill.
5. Place the burgers on the grill, flipping every few minutes. We recommend using a meat thermometer to gauge when the burgers are ready. You're looking for an internal temperature of 120 degrees for rare, 130 degrees for medium rare, or 140 degrees for medium. Your burgers should be done in about 4-8 minutes, depending on your preferred redness level.
6. Top each patty with a slice of cheddar cheese shortly before removing from grill.
7. While the burgers are cooking, place a cast iron skillet on the grill. Crack the eggs into the pan and cook, flipping once, until the whites are no longer runny. You can move the burger patties to a cooler part of the grill while you do this, if necessary.
8. Also while the burgers are cooking, lightly toast the buns on the grill.