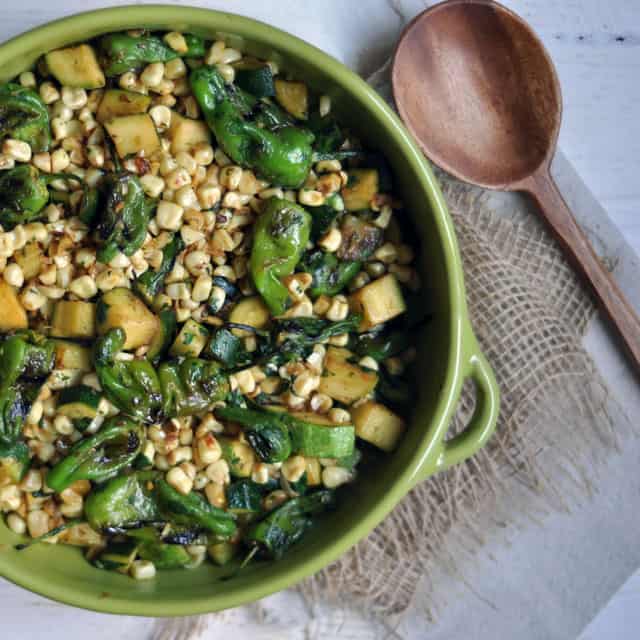 September has a way with me. It has, in the last few years, become one of my favorite months. If you are considering a trip to San Francisco, I would encourage you to do it in September. The fog is usually light, the days are generally warm, and the summer sun continues to linger in the evening sky. Cooking in September is the most fun of all. Our late summer produce — peaches and strawberries, zucchini and heirloom tomatoes — begin to play with early Fall treasures. I have already tasted the first of the season's apples, and soon I'm sure I'll begin to spot the fall squashes and little baby potatoes, dug up fresh from the ground.
I'm cherishing this Fall more than ever as I know that come winter, I'll be heavily pregnant and less mobile. I've been dreaming about finding a small orchard around these parts so that Matt and I could go apple picking and enjoy some fresh cider. My Pairings Box recipe themes of late bring up rich colors — vibrant reds, earthy browns and lively oranges.
Feverishly, I'm trying to share all of the summer dishes that we've been indulging in the last couple of months. I'm not kidding when I say I've been cooking more than ever; photos and recipes are accumulating. I keep telling myself that there are peaches, apricots and corn all begging to be let loose here, before they disappear from our parts and yours. For the next two weeks, they'll be uncovered. And then we'll move onto the warm, rich foods we love in the Fall and Winter. It'll be the last hurrah of summer because, technically, we've still got a few more weeks of it.
To start, I'd like to share a simple side dish that was inspired by Sheena's post. A few years ago, I discovered Padrón peppers at my farmer's market, and I've been hooked ever since. You may be familiar with a similar variety called Shishito. Small and vibrant green, these little peppers are best tossed with oil and sea salt, and then grilled until blistery. They make a fantastic snack, particularly while you're standing around the kitchen, cooking the rest of your dinner. While generally not spicy, one in about every ten is hot. Matt and I refer to eating a bowl of these grilled peppers as 'the Padrón roulette.' In this recipe, the peppers are first grilled, separately, then stirred into a bright, herbed corn and zucchini hash. It's generally wonderful served with some fish, chicken, or grilled steak, but also makes a fantastic filling for a vegetarian taco. Try it plain, or toss in some pan-seared tofu cubes. If you are going to use this hash in a taco, consider cutting off the Padrón pepper stems.
This is the kind of meal that's been gracing our summer table, and I hope makes its way to yours.
Making this hash for vegetarian tacos? Kelsey of Happyolks inspires with this recipe for homemade tortillas.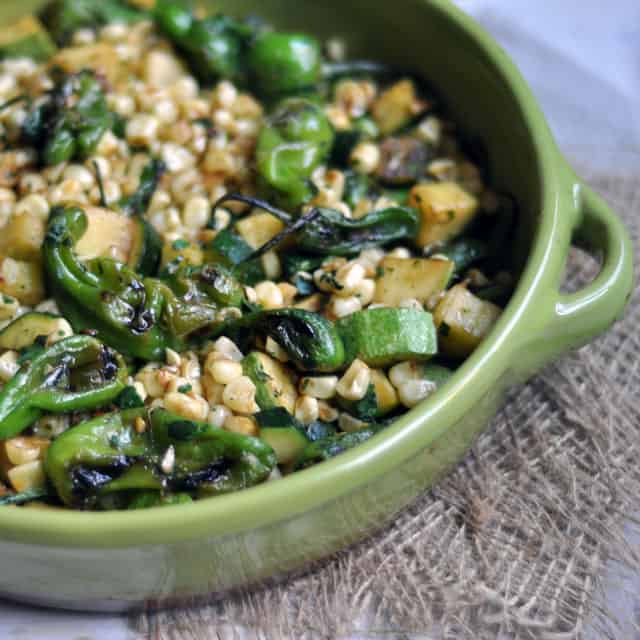 Corn, Zucchini, and Padrón Pepper Hash
*serves four
2 cobs of corn
3-4 small zucchini (variety)
1 pint of padrón or shishito peppers
extra virgin olive oil
kosher salt and pepper, to taste
1 tablespoon of fresh basil, roughly chopped
1/2 tablespoon of fresh cilantro, finely chopped
1. In a medium bowl, toss the peppers with oil, salt and pepper. Cut the kernels off the cob and set aside. Dice the zucchini into bite-sized pieces.
2. Heat an indoor grill pan to medium-high. Use a pair of tongs to place the peppers on the hot grill and char, occasionally turning, until the peppers are blistered. Transfer peppers back to the bowl and set aside.
2. Add a tablespoon or so of oil to a large, cast iron skillet. Heat over medium heat. Stir in the the corn and diced zucchini. Cook, adjusting the heat and stirring occasionally, until the zucchini is soft and the corn begins to color (about 6-8 minutes). Season with salt and pepper.
3. Add the peppers and herbs to the skillet. Toss to combine and serve warm.
Musical Pairings: BRAINSTORM – Heat Waves + Corn, Zucchini, and Padron Pepper Hash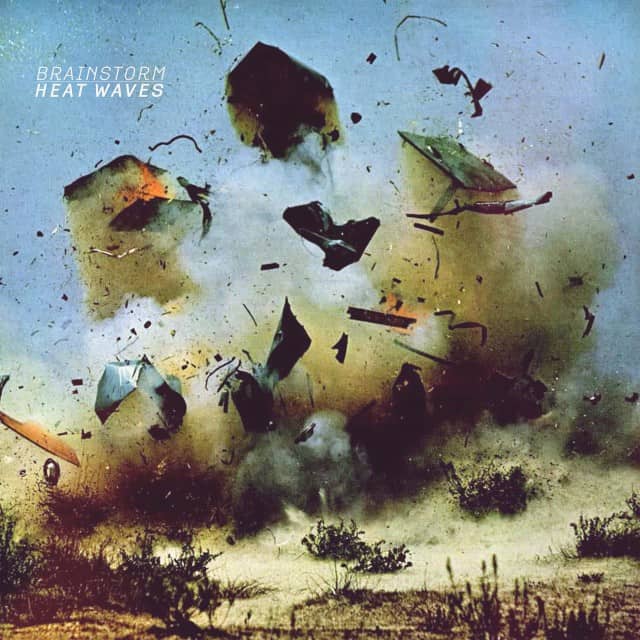 More on the Turntable.