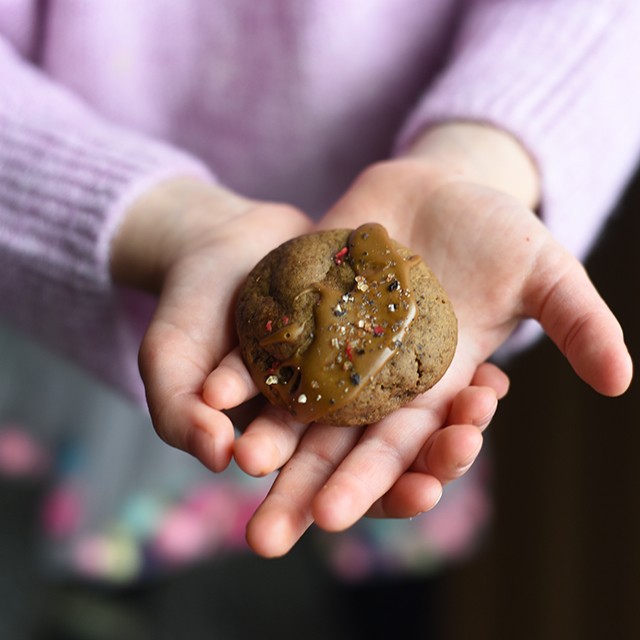 Matt got an Amazon Echo for his birthday this year and naturally, it's proven to be equally useful as it is entertaining for our kiddos. For the last three weeks, Alexa has been forced to alternate between the My Little Pony soundtrack and two Christmas songs: Mariah Carey's "All I Want For Christmas" and "Jingle Bell Rock." Watching the three of them bob up and down in the middle of our kitchen is pretty darn cute.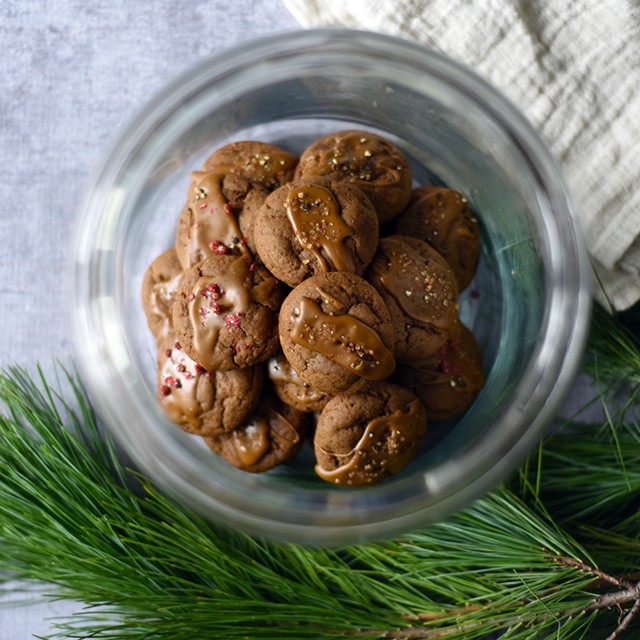 Once in a while, Matt and I get to squeeze in a few requests, but now that our almost-five-year old has mastered Alexa-friendly commands, it's hard to find the opportunities.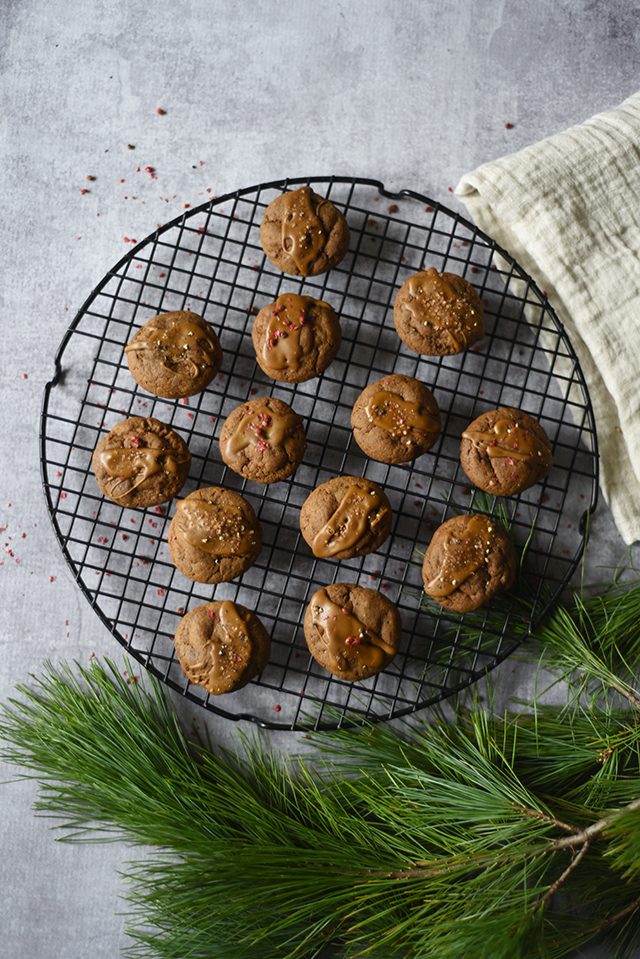 Needless to say, we've been in the Christmas spirit for a while now and it felt *right* to start making some festive treats. Last week, we shared our recipe for mulled wine, and today, molasses cookies! I know that molasses cookies are not everyone's cup of tea, but I absolutely love them, and am thrilled my family does, too. Molasses has a fascinating history (it was brought to the U.S. in the 1600s); it's made from from "juice extracted from sugarcane stalks and boiled down to a syrup." It's delicious added to pancake batter but most people know it as a key ingredient in molasses spice cookies.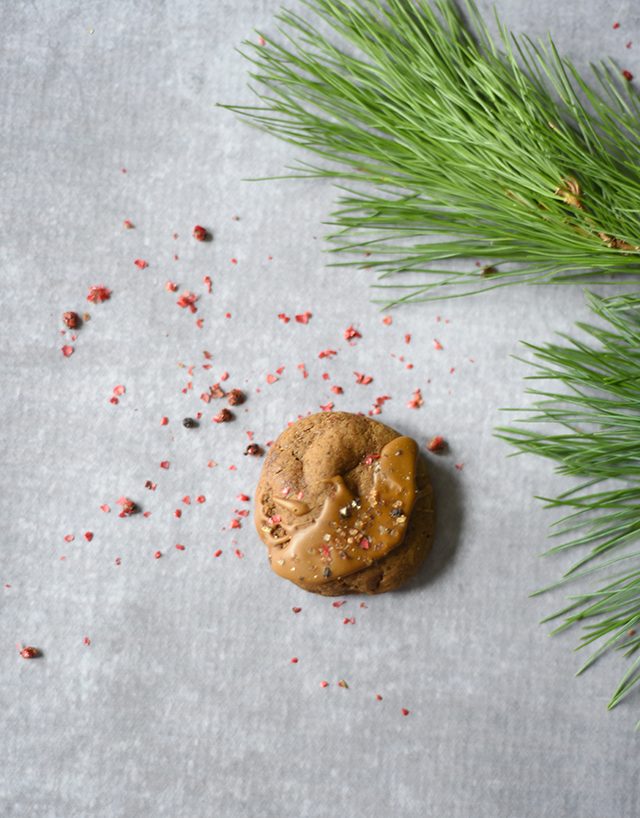 As far as cookies are concerned, I'm very much in the "soft" camp, though I make an exception for Swedish ginger snaps. For me, a good molasses cookie is well-rounded: not too bitter, not too sweet, bold on spices, particularly, cloves and ginger. I've made recipes that have used freshly-grated ginger and ground cardamom, but when you're making holiday cookies, I find that simplicity is best. I noted this recipe from Bon Appetit as soon as I saw it, intrigued by the glaze and the sprinkling of pepper.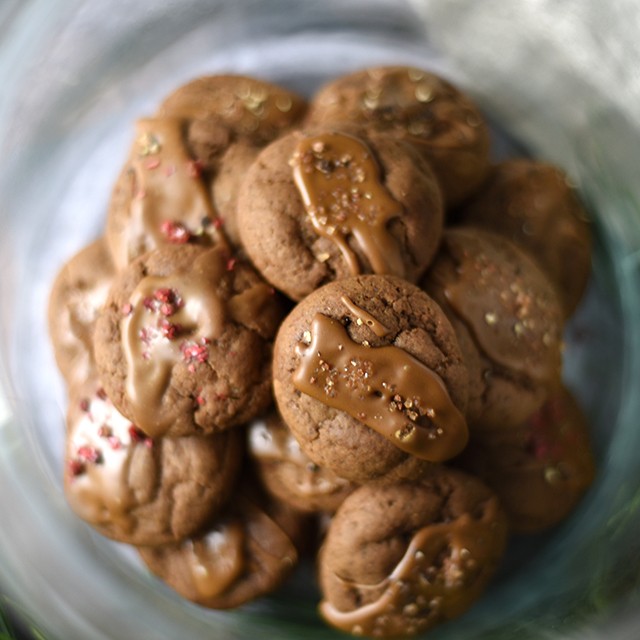 If I'm being honest, baking is therapeutic for me, and sometimes, the idea of baking with children stresses me out! But my kids (particularly my girls) love to help me cook. This recipe made a big batch of cookies, and I was able to give each of them (and myself!) our own batch to glaze. Neko even got to decorate hers with gold sprinkles while I opted for black pepper, pink peppercorns (ground, using a mortar and pestle), and turbinado sugar.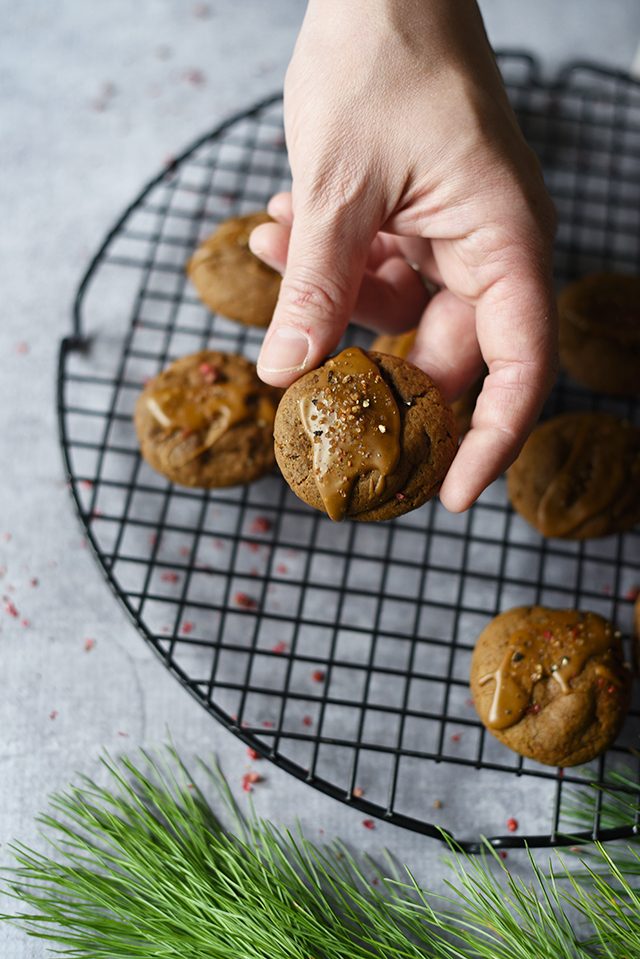 I've been thinking a lot about traditions this year. As my kids get older, I know they'll begin to notice what we do and how we do it. So this year, I've been extra focused on making our home feel celebratory, and trying out things I hope will become traditions, including making latkes on the first night of Hanukkah, something I've never done before! Next up: Christmas morning cinnamon rolls, hot chocolate…and probably a few things in between 🙂
Soft Glazed Molasses Cookies
adapted from Bon Appetit
I didn't feel the need to wrap the dough; just stuck the bowl in the fridge to save myself one extra step.
1 1/4 cups of all-purpose flour
1/2 cup of whole wheat pastry flour
1 teaspoon of baking soda
1 teaspoon of kosher salt
2 teaspoons of ground ginger
1 1/2 teaspoons of ground cinnamon
1/2 teaspoon of ground cloves (use a spice grinder to grind the whole ones for bolder flavor!)
1 teaspoon of freshly grated black pepper
1 cup of brown sugar
1/2 cup (1 stick) of unsalted butter, at room temperature
1 large egg, at room temperature
1/3 cup of molasses
For the glaze:
3/4 cup of powdered sugar
1 tablespoon of milk, plus more, as needed
1 tablespoon of molasses
Raw (turbinado) sugar, freshly ground pepper, and ground pink peppercorns, cocoa nibs for sprinkling
1. Add the flours, baking soda, salt, and spices to a medium bowl and whisk to combine.
2. Add the brown sugar and butter to the bowl of a stand mixer fitted with a beater attachment and beat until fluffy (about 3 minutes). Beat in the egg, scraping down the sides of the bowl, as needed. Add in the molasses, mixing until it's just incorporated. Next, mix in the dried ingredients. Cover the bowl with plastic wrap and transfer to the refrigerator for about an hour.
3. Preheat your oven to 350 degrees F and line two baking sheets with parchment paper. Scoop the dough by the tablespoon, rolling each into a ball. Place balls about 2 inches apart. Bake for about 9 – 12 minutes, rotating the sheets midway through (mine were done at just about the 10 minute mark). Let cool for a few minutes on the baking sheet, then transfer to a cooling rack.
4. Once the cookies have cooled, make the glaze by combining the glaze ingredients in a small bowl and whisking to incorporate. You can add more milk, a 1/2 teaspoon at a time, until your glaze reaches your desired consistency.
5. Glaze cookies and sprinkle with desired toppings. Let the glaze set before transferring the cookies to a storage container.