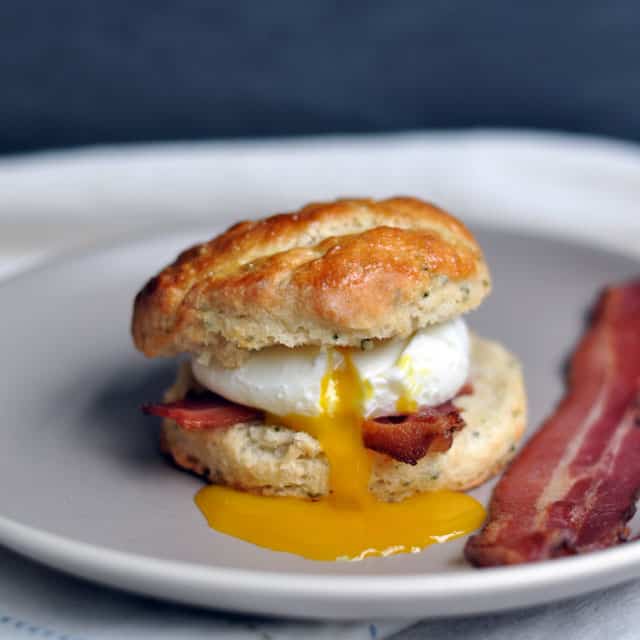 Fluffy, tender biscuits have been eluding me for years. You see, I'd find recipe after recipe, tweak here and there, in the hopes that I could recreate those towering, cracked rounds that I'd see in magazines and cookbooks. But they would never come out the way they looked in those images. Frustrated, I had given up on biscuits. Stupid things.
And then, one bright Saturday morning, they called out to me again. But this time, I had no expectations. I jumped in without hope, without fear. I chopped a hearty amount of fresh sage. I whisked my flour. I cut in my butter. I stirred in my homemade yogurt. Wearing a thick pair of socks and leisurely drinking coffee as I prepped, still in my pajamas, I worked in my kitchen at ease. Frankly, I didn't care if my biscuits came out tender or fluffy or rose high. I just wanted a nice, warm, doughy bed for my morning eggs. Something to chew on. I'm like that with bread sometimes. It's comfort: stale, crusty, crunchy, chewy, nutty, buttery, hearty, holey, flat, and thick. I threw the biscuits in the oven, without holding my breath. And that's when they came out of the oven; the most beautiful biscuits I had ever created. They rose, they cracked, they stayed tender. They came out of nowhere, seemingly. As did this breakfast biscuit sandwich. My sophisticated version of the Egg McMuffin.
Trying to create perfection is a pretty hard thing. Us writers, photographers, designers, artists, crafters, and musicians know a thing or two about that. Sometimes you just want something that's good enough for the moment. A brief satisfaction. I'm learning that there's nothing wrong with that. To all the perfectionists out there: it's worth noting that good enough can turn into something pretty damn good. So better to try again, than to close the door on past failures.
I just returned from an amazing gathering of creative people at the Alt Summit. The event was educational, exhilarating, thought-provoking, fun and absolutely inspiring. I'm looking forward to sharing my thoughts around it, but I'm still processing. In the meantime, you can check out my friend Tracy's photo roundup.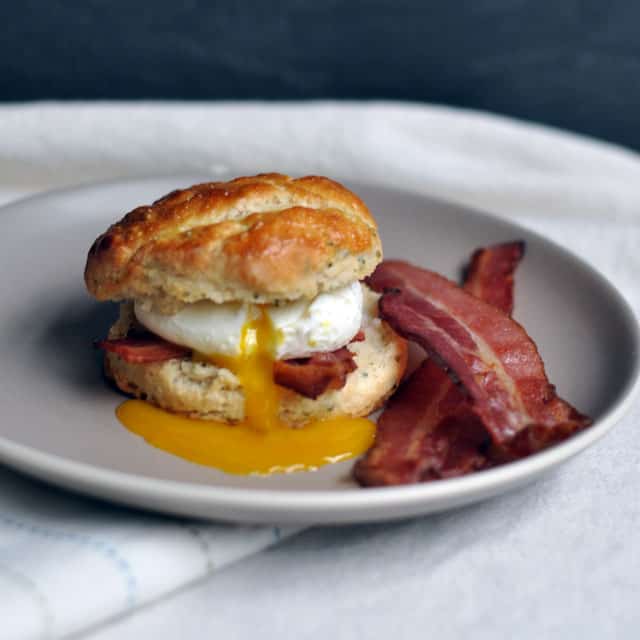 Sage Biscuit Egg Sandwich
*makes 4-5 biscuits for 4-5 biscuit sandwiches
Note: I like to add barley flour to my baked goods because I find that it helps make my baked goods softer and more tender, and adds an element of whole grains without being 'grainy.' You can certainly replace the barley flour with regular flour (or whole wheat, if you don't mind a tougher biscuit). Barley flour can be purchased from the bulk bin section at some grocery stores, and Bob's Red Mill also makes it (you can find it at Whole Foods).
1/2 cup of all-purpose flour
1/2 cup of barley flour (sub all-purpose if you don't have this kind of flour on hand)
1 tablespoon of finely chopped fresh sage
1 teaspoon of baking powder
1 teaspoon of sugar
1/2 teaspoon of baking soda
1/4 teaspoon of salt
6 tablespoons of cold unsalted butter, cut into pieces
6 tablespoons of plain yogurt
1 egg, lightly beaten, for brushing
4-5 poached eggs (Use the technique described here)
8 pieces of crispy bacon
salt and pepper, to taste
1. Preheat your oven to 450 degrees F.
2. In a medium bowl, whisk together the flours, sage, baking powder, sugar, baking soda, and salt. Use a pastry blender to cut in the butter (or use your fingers) until the mixture has the texture of coarse meal.
3. Add the yogurt, and stir until the mixture forms into a dough. Transfer the dough to a lightly floured surface and knead it gently a few times (don't overwork the dough — you'll end up with heavy, dense biscuits).
4. Add more flour to your work surface, if needed, and then flatten the ball of dough until it is about 3/4 – 1 inch thick. Use a biscuit cutter (or the open side of a glass) to cut out the biscuits. Flour the edges of your biscuit cutter so the dough doesn't stick.
5. Combine the scraps and repeat the process of flattening the dough and cutting out the remaining rounds.
6. Transfer the rounds to a lined baking sheet and brush the tops of the biscuits with the whisked egg. Bake for about 12-15 minutes (until the tops are golden and the biscuits are cooked through).
7. To create the biscuit sandwiches: allow the biscuits to cool slightly. Then, carefully slice them in half. Break a few pieces of bacon (if using) in half and place on the bottom halves of the biscuits. Top each with a poached egg, season with salt and pepper, and cover with the biscuit top. Serve with extra pieces of bacon and fruit.

Musical Pairings: Quilt – Quilt + Sage Biscuit Egg Sandwich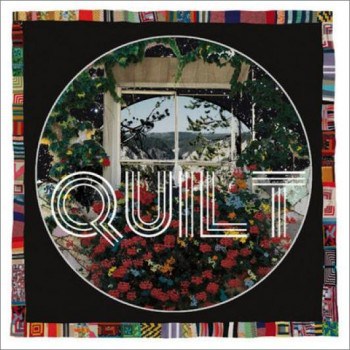 Find the Pairing on the Turntable.