On the first sunny day following my last day at my full time job, I took Neko in the car and we drove two giant bags filled with clothes to Goodwill. All of us — Neko, Matt and myself — had been sick for days, stuffy and congested. My head felt like a balloon, floating above my body and for the first time that week, my nose had cleared and our summer-like weather took over our house.
Although I have spent many days with my daughter, there was something different about having her all to myself on a Wednesday afternoon. We were a newly-formed team in some ways. I glanced back at her as we drove out toward the ocean. She held on to her stuffed animal, peering out the window. Quiet and content. It felt good to clean house. The shelves in my closet looked more organized, leaner. I made a light lunch, which I photographed just in case, spent some time organizing myself for the week, and tidied up my bedroom.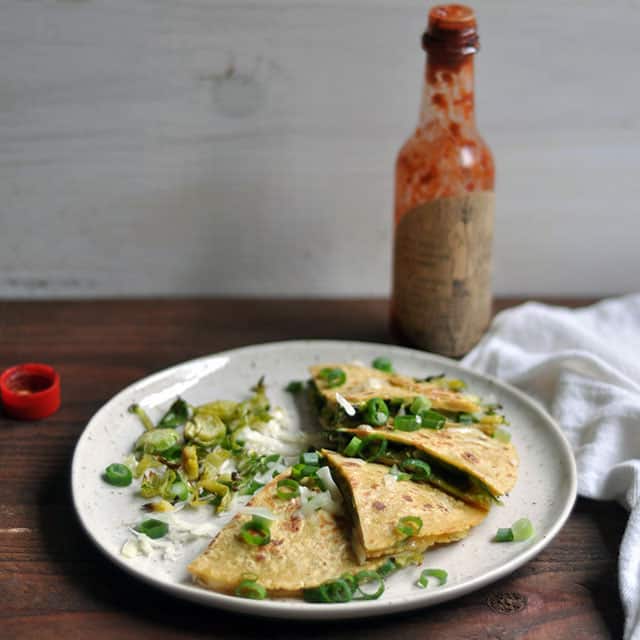 I've never been much of a to-do list maker, but I'm realizing to-do lists are actually useful when trying to form a new routine. A routine which involves working for myself, making my own hours, prioritizing my priorities. It's scary and wonderful at the same time, as all great things are in life. And, eventually, it becomes not the new routine, but the routine. As this lunch has.
I've made it several times now, with jalapeño and without, with Monterey Jack and also with Gruyere. Sometimes, I toast the tortillas a bit too much, or let my brussels sprouts get more golden than usual. I lose track of time. Regardless, I've found these oversights to be forgiving. And I am thankful for that.
I should mention, this dish was yet another inspired by one of my favorite neighborhood restaurants, Nopalito (more neighborhood favorites here). If you haven't already, you must try these Totopos with Salsa de Arbol.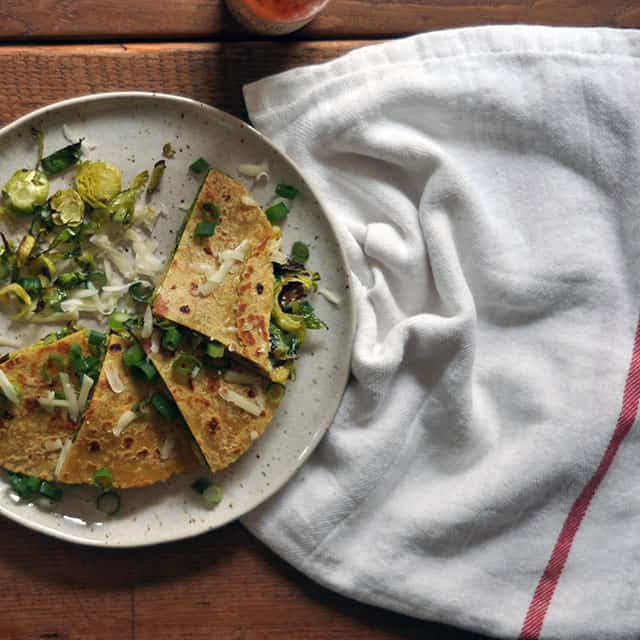 Roasted Brussels Sprout Quesadillas with Monterey Jack and Scallions
*serves one – two, depending on appetite
8-10 brussels sprouts, thinly sliced
1/2 jalapeño pepper, cored and seeded (optional)
4 corn tortillas
1/2 cup of shredded Monterey Jack cheese
2 tablespoons of thinly sliced scallions
salt and freshly ground pepper, to taste
olive oil
1. Preheat your oven to 400 degrees F. Thinly slice the pepper. Add the jalapeño pepper slices and brussels sprouts to a bowl and toss with a tablespoon or two of olive oil and some salt and pepper. Transfer to a parchment paper or foil-lined baking sheet and roast, tossing occasionally, until the sprouts are tender and lightly golden (about 15 – 20 minutes or so).
2. Heat about 1/2 tablespoon of oil in a small skillet over medium-high heat and place one tortilla down on the skillet. Top with shredded cheese, roasted brussels sprouts and jalapeño pepper. Sprinkle with a bit of sliced green onions and top with second tortilla. Brush the top with some oil.
3. Use a large spatula to gently press down the quesadilla and cook for a few minutes, or until the cheese begins to melt and the bottom tortilla begins to brown slightly.
4. Flip carefully and cook for another minute or two. Transfer quesadilla to a cutting board and cut into wedges using a sharp knife.
5. Repeat steps 2-4 with the remaining ingredients. Serve any leftover brussels sprouts on the side. Sprinkle quesadillas with any remaining cheese and green onion slices. Serve with salsa or hot sauce, as desired.
Musical Pairings: Dum Dum Girls – Too True + Roasted Brussels Sprout Quesadillas with Monterey Jack and Scallions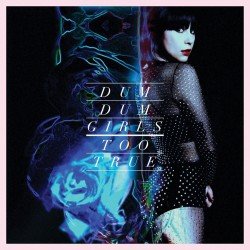 More on the Turntable.