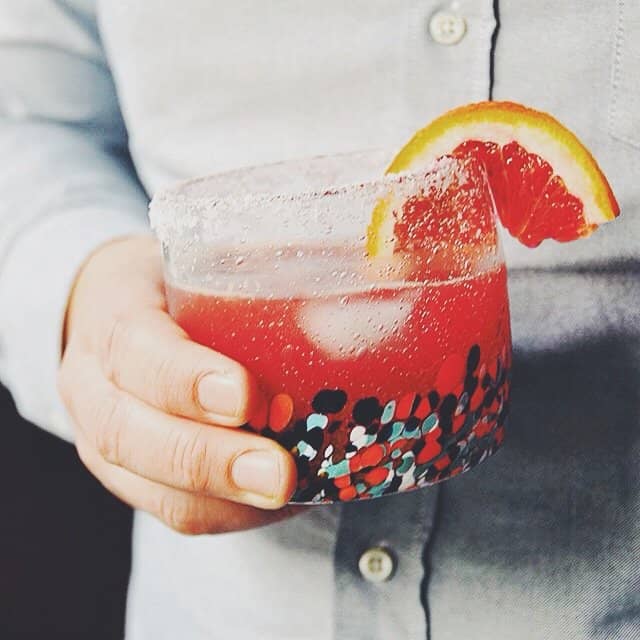 Before I became a parent, the last time I made a cocktail was for a holiday party which I declared would be a 'cocktail party.' I was adamant that we would have signature drinks because who doesn't have a signature drink? Mine was made with rye whiskey and maple syrup and lasted about four cocktails, until we ran out of ingredients and just started pounding back the wine. I am convinced it was because people totally didn't follow my carefully handwritten instructions. "Ah, shit," I thought, as I drank copious amounts of wine without worrying about having to wake up at 6:30 the next morning.
In fact, the only liquor we'd ever stocked in our house was bourbon and whiskey (exclusively for Matt, to drink on the rocks). Deep in the back of our kitchen cupboard, above the sink, are several bottles of rum, cognac, and vodka that have accumulated over the course of years of parties. I believe the bottle of congac is topped with a mysterious cap from some other un-identified bottle of booze. These are not the sort of bottles you pop open on any given night; they're the sort intended for a 20-something rager that ends with a hangover. I think you know what I'm getting at.
These days, the sacred hours of 8 – 11 p.m. mean either work or drinking at home. Sometimes both! Every night, regardless of how easy or tough the day has been, putting Neko to sleep in her crib gives me a sense of accomplishment, a reason to celebrate — with a drink!
Now I don't mean to suggest we drink every night, but many of those evenings out with friends have been replaced with evenings in, and have thus contributed to my new-found discovery, or should I say, re-discovery, of cocktail-making. I'm not quite to the point of making my own bitters, or experimenting with too many ingredients; I equate this stage of my learning to finally discovering how to make pancakes or meatloaf. I'm a novice mixologist, so bear with me here.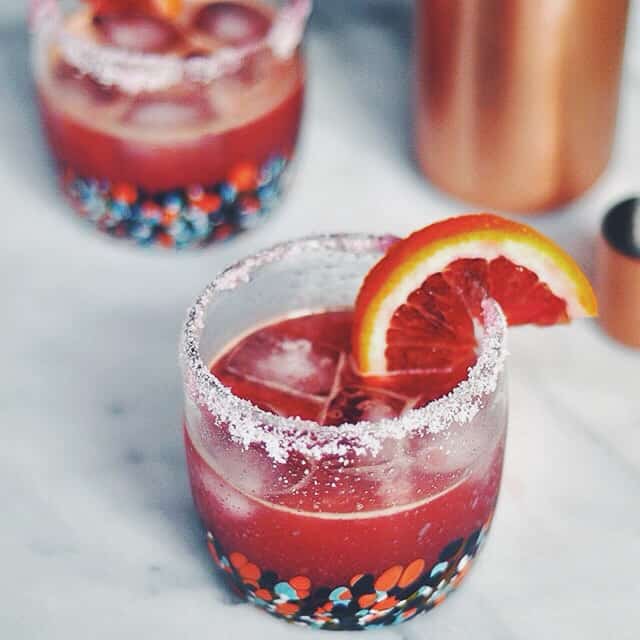 It's no secret that Mexican food is probably my favorite cuisine to cook at home, so it's no surprise that my favorite cocktails are inspired by those south of the border. A good margarita does not come from a bottle: it comes from fresh-squeezed limes, good quality tequila, cointreau (or triple sec), and maybe a little bit of sweetener. It has, in fact, become my favorite cocktail to drink and make at home.
Inspired by the abundance of citrus fruits (hello, you'll find me under a pile of Sumo mandarins and satsumas this week), I've been making a striking version with freshly-squeezed blood orange juice. Personally, I like my glass rim to be a salt lick (I'd re-salt it if I could, but then I'd spill the damn drink!) but you decide how much salt you like. Agave syrup has become a go-to drink sweetener that melts perfectly into cold elixirs; we seem to always have some on hand these days.
I will not lie: all this talk of margaritas has me dreaming of a little inspiration trip to Mexico…
Blood Orange Margaritas
adapted from White on Rice Couple
*makes two
6 ounces of fresh-squeezed blood orange juice fresh
4 ounces of high-quality tequila (we use Patron)
2 ounces of cointreau
1-2 teaspoons of agave nectar
kosher salt, for rimming the glasses
1. Pour a generous amount of salt on a small plate. Next, wet the rims of your glasses either with water or the edge of a blood orange slice. Place the glass, rim side-down, on the plate and swirl to get an even distribution of salt on the rim. Repeat with the second glass. Place several ice cubes in each glass.
2. Combine all cocktail ingredients in a cocktail shaker, along with a handful of ice. Shake for 15 seconds or so.
3. Strain cocktail into the glass and garnish with a thin orange slice.
Musical Pairings: St. Vincent – St. Vincent + Blood Orange Margaritas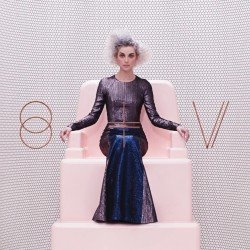 More on the Turntable.