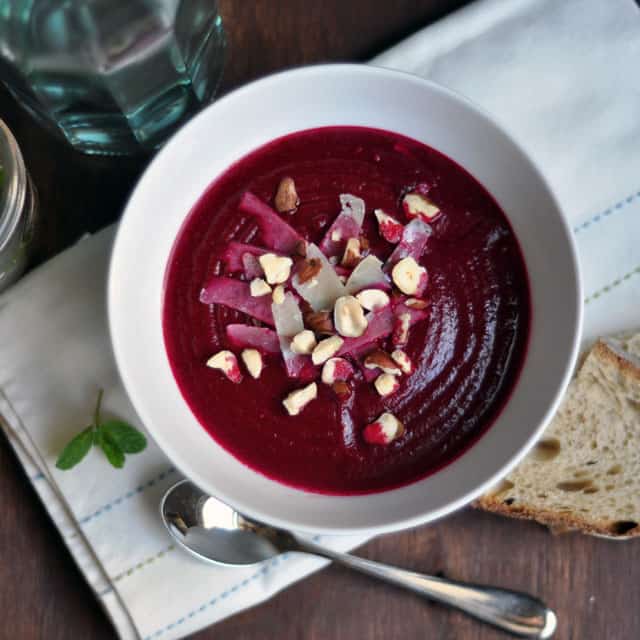 Whenever I go skiing, I often find myself in the following position: standing at the top of a big hill, staring down and being completely taken by fear. Now, having skiied since I was about fourteen, you'd think there would have come a time when I wouldn't feel this way and maybe some of you skiers and snowboarders out there can't relate. Maybe I'm just a scaredy cat? I can't help it.
There's something about the moment before you're off that you think, "I can't do this!" "This is crazy!" But once your pounding heart is overcome by your legs, which push you over the edge, you stop looking at the very bottom and start looking only a few feet ahead. About thirty seconds in, you start enjoying yourself, and after five to seven minutes, you find yourself skiing up to the back of the chair lift line, ready to do it all over again.
It's a strange feat we put ourselves through. Pushing ourselves to face our fears and doing it over and over again just to experience that short-lived and fleeting feeling of pure adrenaline. With skiing, it's a repetitive motion. Throughout a day on the slopes, I can have this same progression of fear, excitement, adrenaline, followed by relaxation and an opportunity to sit back on the chair lift and take in the silent beauty of the mountains and snow-dusted treetops. But it is not so with so many other things. By the time you stop looking at the bottom of the hill, you realize that you've already reached it, and there is no other opportunity to do it all again.
I suppose there's a sadness about this sort of perspective, but also a great energy in knowing that thinking too much about the grandness of things — the way to the bottom — is scarier than just making your way down, looking only a few feet ahead. We make so many plans and predictions. Take so many precautions. Ingest so many vitamins. Spend so much energy on staying on the given path. The only thing we have to fear, as FDR so famously said, is fear itself.
This soup recipe is a flexible one, as I find that sometimes, cooking is best through feeling, not rigid instruction. You take beets, roast them, add some toasted fennel seeds, salt and pepper, vegetable stock, heavy cream. Some nuts. A little bit of salty cheese. You can skip the fennel, if that's not your thing. Or omit the heavy cream, if you're worried about that sort of indulgence. Use Parmesan instead of Pecorino. Walnuts instead of hazelnuts.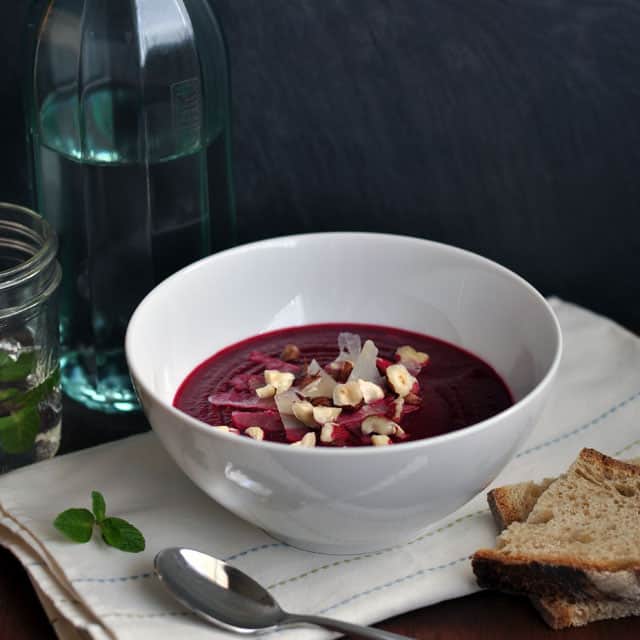 Roasted Beet and Fennel Soup
*serves four
5-8 red beets (depending on their size), greens removed
salt and pepper, to taste
olive oil
1/2 teaspoon of fennel seeds
handful of hazelnuts
3-4 cups of vegetable stock
1/4- 1/3 cup of heavy whipping cream
Grated Pecorino Romano cheese, for serving
1. Preheat your oven to 400 degrees F. Trim the beets and toss them, unpeeled, with a tablespoon or two of olive oil, salt and pepper, to taste. Prick each beet with a fork a few times. Individually wrap the beets in foil, place in a baking dish or on a baking sheet and roast in the oven for approximately one hour (until they can easily be pierced with a fork). Remove from the oven and let cool.
2. In a small skillet, briefly toast the fennel seeds over medium heat until they release an aroma. Transfer the fennel seeds to a mortar and pestle and grind them.
3. Add the hazelnuts to the same skillet you used to toast the fennel seeds and briefly toast them over medium heat until they release an aroma. Transfer nuts to a cutting board and chop roughly.
4. Once the beets are cool enough to handle, peel them and slice them into 1 inch thick slices. Combine the beets, ground fennel, 3 cups of vegetable stock, salt and pepper in a medium pot and puree with a hand blender until velvety smooth. Add more stock to thin out the soup, if you'd like. Bring the soup to a slow boil, then remove from the heat and stir in the cream (use more or less, to taste). Add more salt and pepper, if needed.
5. Serve soup topped with toasted hazelnuts and grated Pecorino Romano cheese.
Musical Pairings: Choir of Young Believers – Rhine Gold + Roasted Beet and Fennel Soup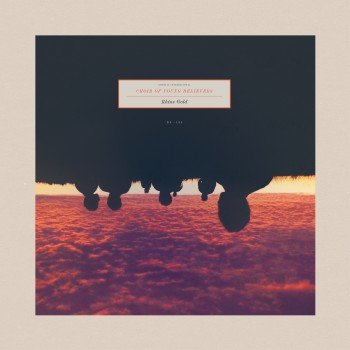 More on the Turntable.