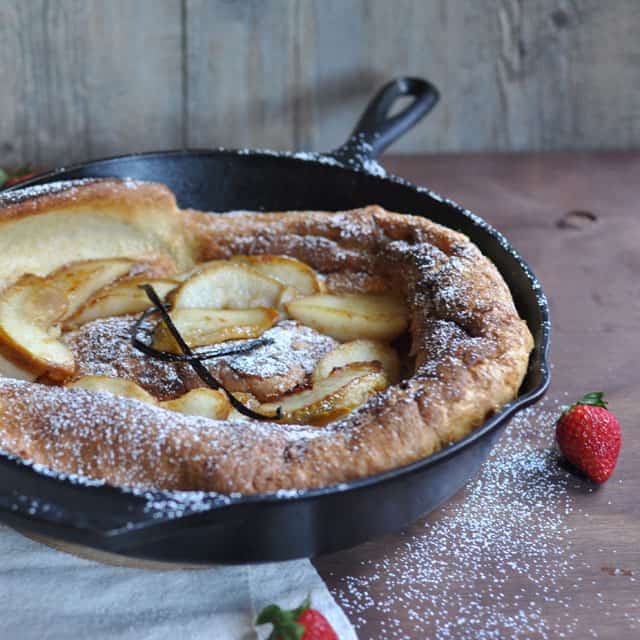 My hair stylist told me the other day that the mullet is coming back. I'm not sure how to feel about this, but if the mullet means scrunchies, neon colors and leggings, I could be ok with it. Since the turn of the century (how crazy does that sound?!) we've gone through the 70's hipster phase and I suppose it's not unreasonable to expect that the mullet is just around the corner.
Let's talk about the 80's. I was born in the 80's and caught most of the decade. I remember my dad hand-built his own computer. He had a mustache AND a beard that connected to the edges of his mustache. My mom wore bright pink lipstick (Mom, you may or may not realize it's totally back in style now). She also had a number of pastel-colored clothes (also, back in style!). We lived in Moscow at the time. I loved bubble gum — the pinker, the better. I collected Bazooka Joe comic strips. My favorite television show was Tom & Jerry. My favorite food was bread. My favorite food group was sweets. Not much has changed.
I looked forward to going to my grandmother's apartment because it meant she'd be cooking up a big batch of blini with sugar (just for me!). For years, even long after we had immigrated and no longer lived in the same city, my grandmother would bake me batches and batches of blini — when I'd come to visit, when she'd come to visit. If she could, she probably would have mailed them to me in a vacuum-sealed bag. Her blini were so consistent, it was mind boggling. It didn't matter what type of flour or butter she used — they were all the same thickness and size so that a stack would resemble a perfectly proportional tower. She'd stand at the stove, pouring batter, flipping, and stacking, buttering every so often. Maybe it was all that butter, that would make each thin round glisten from every angle.
I ate my blini without much variation — always with extra butter and a hearty sprinkling of sugar. I've adapted her technique since to make my own, though I tend to call them crepes and top them with everything from Nutella to fresh fruit, jam to maple syrup. But recently, I've discovered a new way to enjoy the simple combination of flour, butter, eggs, and milk: the puffed pancake.
I imagine that when I have kids, this will be my version of my grandmother's blini. Unlike her blini, the puffed pancake doesn't require nearly as much skill or precision; once your batter is mixed, you simply pour it into a hot, buttery skillet, stick it in the oven and let it puff and rise. It's soft and pancake-like in the center, with delicious little pieces of crust. You could eat a puffed pancake any way you'd like, really, but one of my favorite indulgent breakfasts is this one. Topped with buttery, vanilla-bean sautéed and caramelized pears. Those of you who received the March Pairings Box received several organic vanilla bean pods (one of the most expensive spices in the world!). Here's another recipe you should splurge on.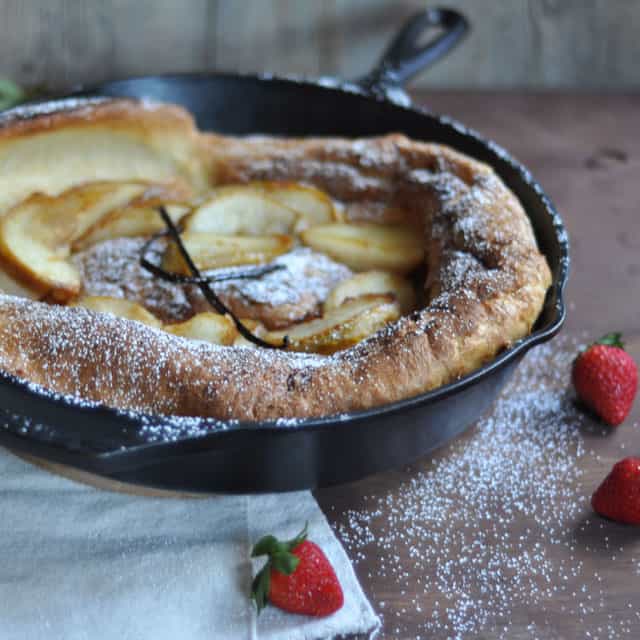 Dutch Baby with Caramelized Vanilla Bean Pears
*serves 2-4
1/3 cup of sugar
3 large eggs, at room temperature
2/3 cup of milk, at room temperature
1/3 cup of all-purpose flour
1/3 cup of whole wheat pastry flour
1 vanilla bean pod
1/4 teaspoon of cinnamon
1/8 teaspoon of freshly grated nutmeg
Pinch of salt
1/2 stick + 1 tablespoon of unsalted butter, cut into pieces
1 large pear, cored and cut into 1/2 inch slices
powdered sugar, for serving
1. Place a 10 inch cast iron skillet on the middle rack of your oven and preheat the oven 450 degrees F.
2. Add the eggs to the bowl of a stand mixer and beat on high until pale and fluffy. Beat in the milk, flours, sugar, cinnamon, nutmeg and salt. Slice the vanilla bean pod lengthwise and scrape out the little black seeds. Add the vanilla bean seeds to the batter and beat to combine. Set the vanilla bean pod aside.
3. Add 1/2 stick of butter to the skillet and swirl to melt. Pour the batter into the skillet and place it into the oven, baking the pancake for about 18-25 minutes (until it is puffed and golden). While the pancake bakes, make the caramelized vanilla pears.
4. Add one tablespoon of butter to a skillet and heat it over medium-high heat. Add the vanilla bean pod and stir it into the melted butter. Add the pear slices and cook for a few minutes, without moving. Flip the pear slices and let them caramelize on the other side (dial down or raise the heat if they're browning too quickly or not caramelizing). The total cook time should be approximately 5-8 minutes; the pear slices should soften and be lightly caramelized on both sides.
5. Once the pancake is done, remove it from the oven and tuck pear slices (along with any juices) into its folds. Sprinkle with powdered sugar and serve hot.
Musical Pairings: La Sera – Sees The Light + Dutch Baby with Caramelized Vanilla Bean Pears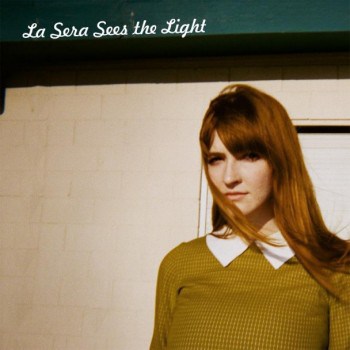 Get more on the Turntable.