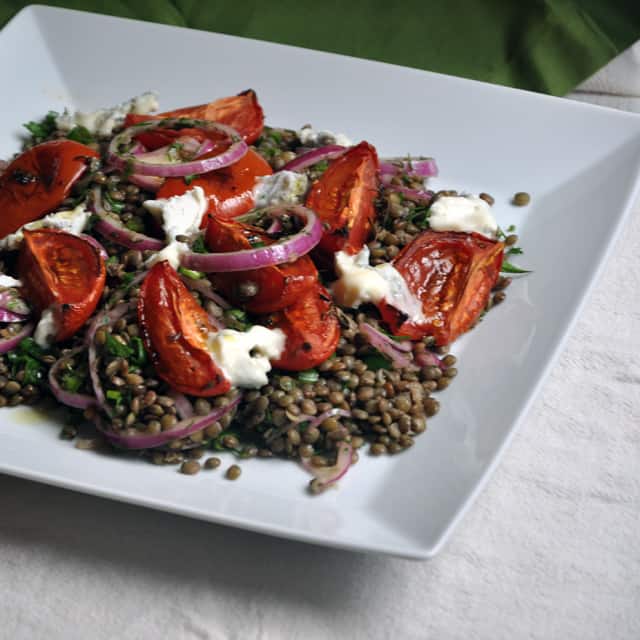 First of all, thank you, THANK YOU to all of you out there who commented, tweeted, linked to, and reached out to us about the Pairings Box. We are SO, SO excited to share this with you, and we can't thank you enough for your support. Even though we went camping this weekend, and didn't have much time to work on posts, I wanted to make sure I could share something special with you to kick off this second to last week of July. So here it is, a beauty from a book I have been obsessing over lately: Plenty.
The other day, I was thinking about what kind of food we eat here, prompted largely by a lot of questions about what sorts of recipes you might expect to see in the Pairings Box. The real answer is: we eat real food.
What is real food to us? It's food that is not heavily processed, or not processed at all. It's food that showcases the seasonality of produce and tries to play with it with the addition of interesting herbs and spices. It's food that sometimes involves fresh seafood, sometimes poultry, and sometimes meat. It tends to not be fried or stripped of its natural nutrients (though, sometimes, we can't help frying things, too). It's food that doesn't rely only on processed white flour or rice but rather, occasionally uses these processed grains when the environment calls for them. It's food that is inspired by our surroundings: the cookbooks and blogs I read, the food we eat with friends and at restaurants and at our families' homes, and food that we are inspired to create in our kitchen based on the ingredients we have on hand or have specifically selected based on their quality and season.
I believe that all recipes can be adapted, some don't need to, some can be entirely re-created, and others still can be dreamed up anew. So that's the food we eat, and what I believe to be is real food. I understand that not everyone has the same feelings about food, or has different beliefs about what real food is to them. It's a personal subject. But that's the food we're dealing with. Whether it's American, Spanish, French, Italian, Indian, Russian, or Moroccan. The core of our food is that it is real. Sometimes it's vegetarian because that's what tastes good or feels right.
If you do decide to subscribe to the Turntable Kitchen Pairings Box, you'll find recipes that you won't find on this site, but they'll all be focused on real food. Some of them will be adaptations of recipes we have come across in our lives and tweaked to our liking and others will be things we have dreamed up in our kitchen. We don't promise to stick to one type of cuisine, but we can promise that they'll be things we are really excited to eat. The trio of recipes will include substantial dishes, lighter dishes, sides, cocktails, and sweets, depending on each month's theme and meal type (dinner, lunch, brunch, breakfast).
And now, let's talk about one man who knows real food. Yotam Ottolenghi, whose gorgeous book, Plenty, has been on many cooks' favorites list for months now. A Londoner who owns Ottolenghi, Yotam claims that he is not specifically a vegetarian, but has become known for doing beautiful things with vegetables. Plenty is a vegetarian cookbook and is one of the few cookbooks I own that has no dessert section. Rather, the recipes in the book are broken out into sections of vegetables and grains ('zucchini and other squashes', 'the mighty eggplant,' and 'pulses'). Most recipes are hearty enough to make a filling meal, but some are refreshingly light starters. Some require hard-to-find ingredients while others require very few.
I have been making variations of Ottolenghi's soba noodles with eggplant and mango ever since I read about it on Heidi's blog, and I have frankly been drooling over the cover recipe (eggplant with buttermilk sauce) ever since I saw it in Bon Appetit (before I had the book). Choosing which recipe to make first was a hard decision, but was easily resolved: I had a bag of beautiful lentils, summer tomatoes and creamy, aged goat cheese in my fridge. Only a few ingredients to go and I was set.
Roasted tomatoes are one of my favorite things — I'd eat them plain. But throwing them on top of earthy lentils, tossed with plenty of herbs and marinated red onion? Well, there's just one thing that could make that dish even better: an oozy, goey cheese. If you're looking for real food, I'd look no further than Yotam Ottolenghi's book.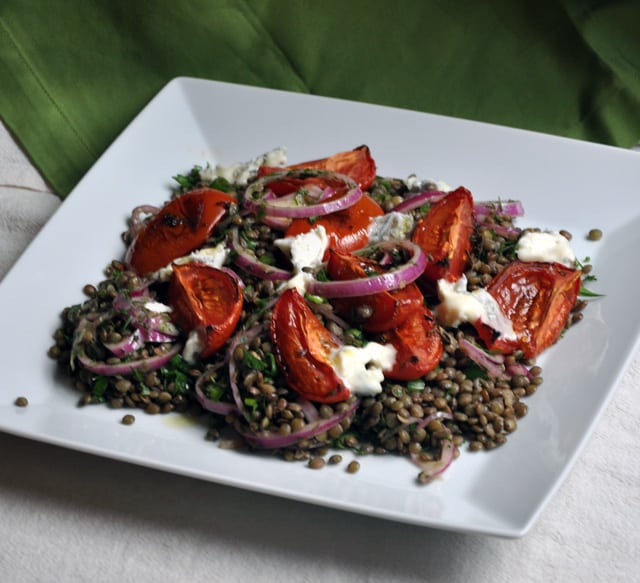 Lentils with Roasted Tomatoes, Marinated Onions and Creamy Cheese
adapted from Plenty by Yotam Ottolenghi
*serves 6 as a side dish, 4 as a main
For the oven-roasted tomatoes:
5 Roma tomatoes, quartered
6-8 sprigs of fresh thyme
olive oil
balsamic vinegar
salt
For the lentils:
1 1/3 cups of small lentils (French green or Castelluccio)
1/2 large red onion, very thinly sliced
1 tablespoon of red wine vinegar
Maldon sea salt
3 tablespoons of olive oil
1 clove of garlic, peeled and crushed
freshly-ground black pepper
3 tablespoons of finely chopped flat-leaf parsley
3 tablespoons of thinly sliced scallions or chives
4 tablespoons of finely chopped dill
a creamy, oozy cheese (we used a delicious aged goat cheese but you can use Gorgonzola, brie, or taleggio)
1. Preheat your oven to 300 degrees F and arrange the tomatoes on a lined baking sheet with their skins facing up.
2. Scatter the thyme springs on top of the tomatoes and drizzle the tomatoes with a few tablespoons of olive oil and balsamic vinegar. Sprinkle them with some salt and roast for about an hour and a half to two hours (until the tomatoes are shriveled and blackened in places).
3. Remove the tomatoes from the oven and let cool as you prepare the rest of the ingredients.
4. Arrange the red onion slices in a shallow bowl and add the vinegar. Add the salt, stir with a fork and set aside.
5. Add about 3-4 cups of water to a medium pot and bring it to a boil. Add the lentils (the water should cover the lentils by an inch and a quarter). Pour off some water if there is too much. Cook the lentils for approximately 20 minutes (until they are tender but not falling apart). Drain the lentils and add them to a large bowl.
6. Add the olive oil, sliced onion, crushed garlic and freshly-ground pepper to the lentils and mix. Let the mixture cool a bit before adding the herbs and mixing to combine. Add more salt and pepper, as needed.
7. Arrange the lentils on a large platter and top with tomatoes and pieces of cheese (the warm lentils will cause the cheese to melt into the tomatoes and the rest of the salad). Pour any juices accumulated from the roasted tomatoes on top.
Musical Pairings: Other Lives – Tamer Animals + Lentils with Roasted Tomatoes, Marinated Onions and Creamy Cheese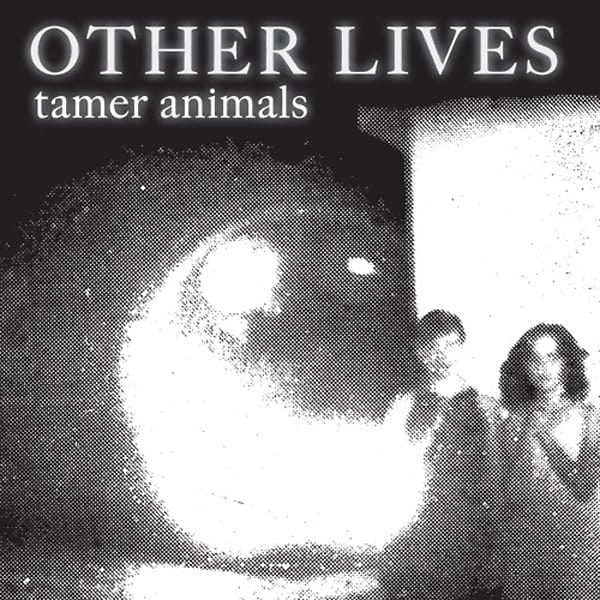 Read the full review here.
The Turntable Kitchen Pairings Box: sign up to get your name on the list today!