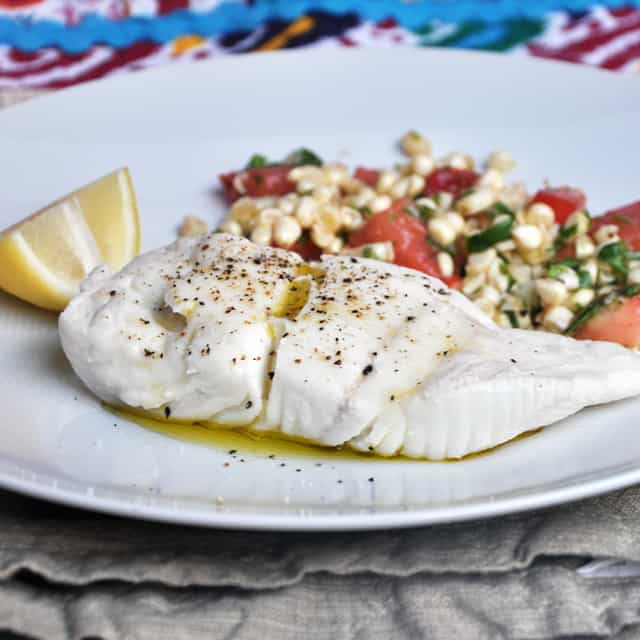 My drive to work is approximately an hour and twenty minutes long. Each way. In the summer, I start my day around 7:30 am, wearing a coat. I walk several blocks to my car, which I park wherever I happen to find an open spot, place my coffee mug in the cup holder and proceed to listen to a mixture of NPR, my iPod, and the radio. Most days, I call my mom. When I get to work, I strip off my layers and head into the office and at the end of the day, I blast the air conditioning on my drive. At some point along the way, I hit a layer of fog that is gray and thick as a wool blanket, hanging over my city. I park, bundle up, and hurry home. This is the difference between where I grew up, and where I live now and it is my split-personality summer. It's fussy and indecisive, taunting and yet, surprisingly doable.
I live in the city and work in the suburbs — the opposite of what I always thought was 'normal.' But the experience has given me an opportunity to get to know my city, not just as a place where I live, but as almost another person in my life. I complain about having to leave a beautifully-warm summer day only to drive into a dark and gloomy winter night. "My last summer in San Francisco," "The coldest place in California," "The year I really leave my apartment." But I've been all talk. Six years later, I'm still in the same place, and our relationship continues. We fight and we argue, we kiss and make up. My San Francisco is easy to love upon a brief fling, but it takes time to appreciate in a long-term relationship.
For every dreary day, San Francisco will surprise me with something beautiful: a perfect sunny day. The kind of day when I am reminded of elementary school days when I would have to be forced to come inside and sit down to dinner, or get out of the ocean or pool, or stop eating watermelon after I already felt like I could explore. The kind of day that, for the adult I am now, calls for a cold corn salad, with plenty of lime juice and cilantro, and a fish that's cooked in an aromatic broth and is meant to be eaten — if not outside — then by the nearest window. I wait for my next opportunity.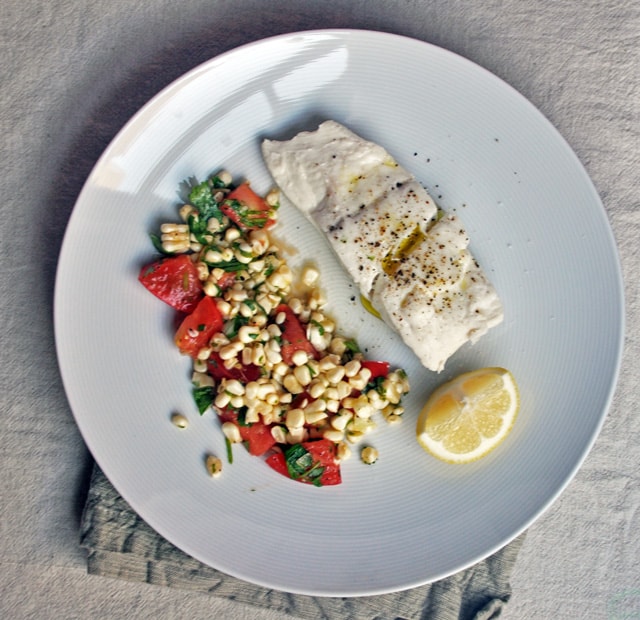 Poached Halibut
adapted from Orangette
*serves 2
For the fish:
2 6 ounce halibut fillets (skin removed)
4 garlic cloves, peeled and crushed
8 sprigs of flat-leaf parsley
1 teaspoon of salt
extra virgin olive oil, sea salt, pepper, and lemon, to serve
1. Fill a large saute pan with about two inches of water. Add the garlic, parsley and a teaspoon of salt.
2. Bring the poaching liquid to a simmer, cooking for about 5 minutes.
3. Gently place the fish fillets into the poaching liquid, cooking them for about 10 minutes per inch of thickness. Be sure to keep the poaching liquid to a very light bubble as the fish cooks. The fish will be done when the fish is no longer opaque.
4. Transfer the fillets to plates using a slotted spatula. To serve, drizzle with a bit of extra virgin olive oil, season with salt and freshly ground pepper and a squeeze of lemon juice.
For corn salad:
inspired by Bon Appetit
2 cobs of corn, kernels cut
1 large heirloom tomato, diced
juice from 1 lime
olive oil, to taste
salt and pepper, to taste
1/4 cup of cilantro, finely chopped
1. Toss all of the ingredients together in a medium bowl. Let sit for 10-15 minutes before serving alongside the fish.
Musical Pairings: Beirut – The Rip Tide + Poached Halibut with Corn Salad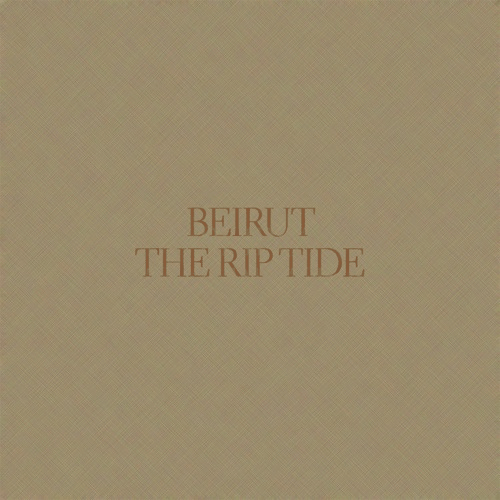 Read the full review on the Turntable side of things.