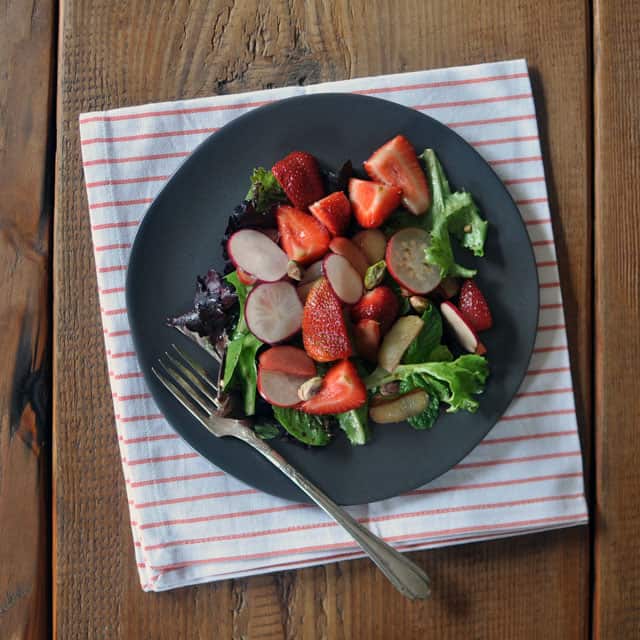 Discovery is one of the greatest gifts life has to offer. Occasions when we as adults feel like we've tried something for the first time are truly thrilling, don't you think? As a food lover, I get great joy in tasting something I've never tasted before. My brain immediately kicks into high gear trying to figure out what exactly this food reminds me of. Often, this first taste is a walk down memory lane; it evokes emotions related to places I've been, people I've met, and other delicacies I've tasted.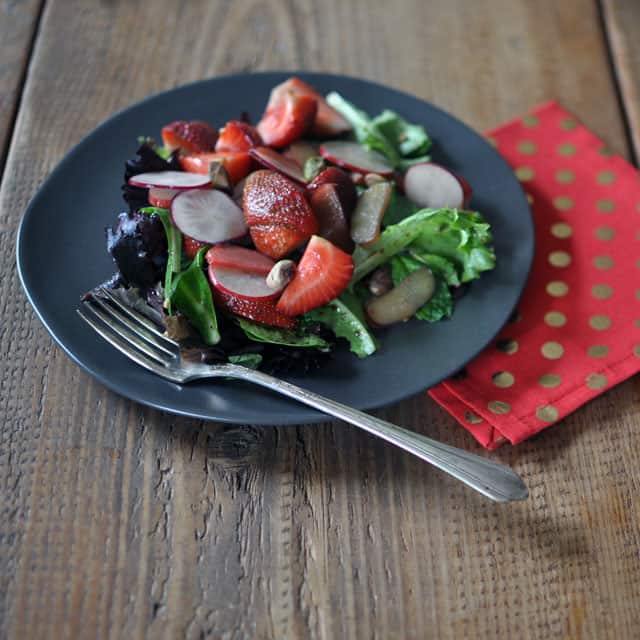 Does this bite make me feel the sun's heat on my skin? Is my hair wet from the ocean? Do I breathe in the spices of chili wafting out from an open doorway? Are my fingers sticky from fruit juice that's now running down my arm? Is there rain pelting on my windows? Do I smell my grandmother's perfume or lilacs?
My mother used to tell me stories about rhubarb. How it grew in her grandfather's yard, tall and persistent. How he loved its tart taste, unmasked by sweet strawberries. Truth be told, this fruit, which used to be considered a vegetable, is more known for its medicinal uses than it is as a stand-alone delicacy. You may have tried it, hidden underneath a pie crust, or stewed with lots of sugar and spices.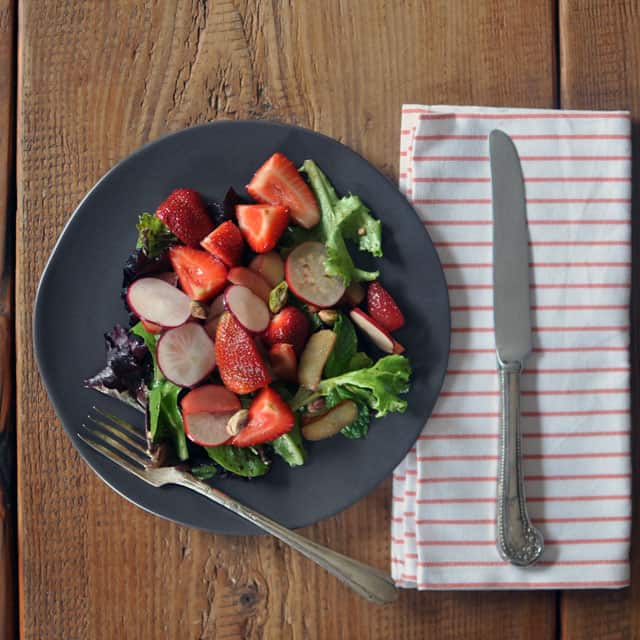 When rhubarb stalks (which look like celery stalks dyed magenta pink) first begin to appear at the market in early Spring, I am immediately transported to a garden setting. I sit on a porch stoop with a glass of something refreshing in hand. The only sounds I hear are those of birds and bees. A wrinkled paperback sits untouched by my side. The sun warms my skin just so, as a light Spring breeze unnerves my hair. I want to dig into a salad, followed by a cookie and sleep the afternoon away. It's not quite summer, so I cannot justify a total exit from the day, but I dream because as far as the eye can see there are fields and fields and a picnic basket awaits me.
I've never thought to cut off a slice of rhubarb and eat it raw until this book arrived on my doorstep. This salad is a revelation indeed.
On an unrelated note, I'd just like to say how terribly sad I was to hear about the awful events that went down at the Boston Marathon yesterday. It's unnerving to think that a celebration of human strength, camaraderie, perseverance and friendship would be the sight of such a horrific attack. You're in my thoughts, friends, and the lovely city of Boston.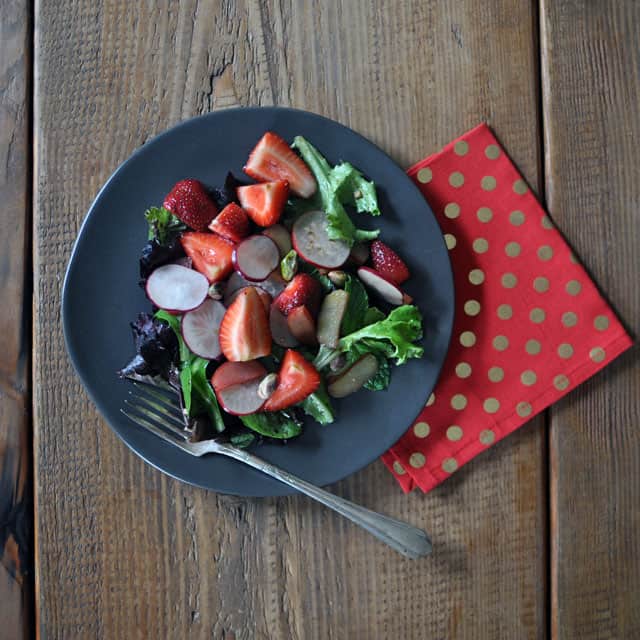 Radish, Rhubarb, and Strawberry Salad
adapted from The New Persian Kitchen
serves four
3 tablespoons of olive oil
2 tablespoons of balsamic vinegar
1 garlic clove, minced
1 rhubarb stalk, thinly sliced crosswise
5 radishes, thinly sliced crosswise
1 cup of strawberries, hulled and quartered
handful of fresh mint leaves
toasted pistachios (for garnish)
sea salt and freshly ground pepper
4 cups of salad greens
1. Add one tablespoon of vinegar, two tablespoons of oil and garlic to a large bowl. Whisk to combine, then add the salad greens and mint. Toss to coat, season with salt and pepper then divide among plates.
2. Next, combine the rhubarb, strawberries, and radish slices. Add one tablespoon of vinegar and one tablespoon of oil. Season with salt and pepper then stir with a wooden spoon to mix.
3. Top the greens with the rhubarb, radish and strawberry mixture. Sprinkle with pistachios.
Radish, Rhubarb, and Strawberry Salad + Musical Pairings: Kurt Vile – Wakin On A Pretty Daze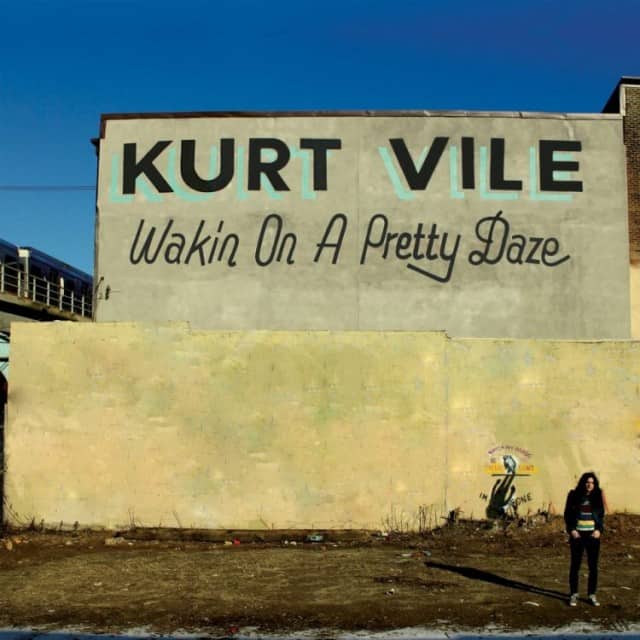 More on the Turntable.