Who knew I had a thing for pumpkins. They've never been a staple of my diet, nor something I've sought out in the past, but it seems like they've managed to work their way into many a dinner, dessert, and even breakfast. While catching up on my favorite food blogs over morning coffee, I came across a recipe that I just couldn't pass up. I told myself that my blog does not need any more pumpkin recipes. But I still had two cans of pumpkin puree in my pantry, and only a few short days until the real, official start of winter. What was a girl to do? More, I was headed to a Thanksgiving potluck, and brownies just seemed like the perfect seasonal dessert to bring.
So let's be clear about one thing: the fact that I used a whole can of pumpkin (nearly double what the recipe called for), made these brownies more part cake-part brownie. Super gooey and moist, not to mention, intensely pumpkin-y. You're welcome to follow the recipe exactly, cutting down on the pumpkin, if you prefer a denser, more cooked brownie. But I kind of liked the cakiness of the ones that came out of my oven, and the bright orange coat that they wore.
The pumpkin brownies were such a hit at my potluck that I decided to bake a batch for my coworkers, some of whom clearly turned out to be pumpkin lovers, while others carefully ate the chocolate pieces around the pumpkin–a difficult task, given the marbled effect that mixing the two batters created. Take note: you should like pumpkin to really love these brownies, and if you are a pumpkin lover like me, you're in for a special treat. A treat worthy of pre-Thanksgiving get togethers, and post-Thanksgiving recovery. My mantra is, once you start eating for the holidays, you keep eating through the holidays. So make yourself a batch, and maybe your coworkers, too. Can't hurt to be loved.
For more Thanksgiving-inspired ideas, head to my mini guide.


Pumpkin Swirl Brownies
Original recipe from Martha Stewart, I adapted mine from Sassy Radish + The Kitchen Sink
1 stick of butter
6 ounces bittersweet chocolate, broken up into pieces (I used Lindt)
2 cups of flour
1 teaspoon of baking powder
1/4 teaspoon of cayenne pepper
1/2 teaspoon of salt
1 3/4 cups of white sugar
4 eggs
1 tablespoon of vanilla extract
1 1/4 cups solid-pack pumpkin (I used a whole 14 ounce can)
1/4 cup of vegetable oil
1 teaspoon of ground cinnamon
1/4 teaspoon of ground nutmeg
1. Preheat the oven to 350 degrees F and butter a square 9 inch brownie pan with butter.
2. Melt the chopped chocolate and stick of butter in a metal bowl over a pot of simmering water. Stir until smooth, then remove from heat.
3. Whisk together the flour, pepper, salt, and baking powder in a large bowl.
4. Using a stand or hand mixer, beat the eggs, sugar and vanilla until they are light and fluffy. Add the flour mixture in, beating to combine.
5. Pour half of the batter into the chocolate and stir with a spatula until combined.
6. In another bowl, combine the pumpkin, canola oil and spices until smooth. Add in the remaining batter and stir to combine.
7. Work quickly now. Pour half of the chocolate batter into the pan, smoothing it out to cover the surface. Next, pour half of the pumpkin batter into the pan, and smooth to cover. Repeat with the rest of the chocolate and pumpkin batters.
8. Now take a butter knife and swirl the batters together to create a marbled effect inside the brownie.
9. If you used the recommended amount of of pumpkin, bake for about 40-45 minutes (until a toothpick inserted in the center comes out clean). If you're like me, and like a cakier brownier and used an entire can of pumpkin puree, you'll need to add about 10-15 more minutes of baking time. Expect your brownies to be super moist if you went this route.
10. Cut into 16 slices when cooled.
Musical Pairings: Blondie – Eat to the Beat + Pumpkin Swirl Brownies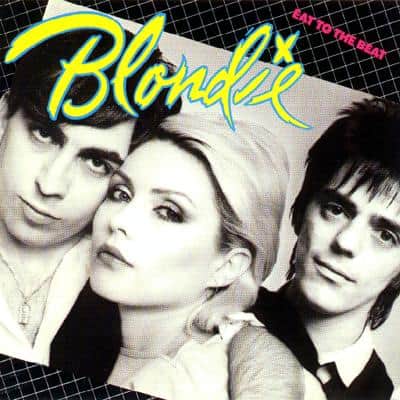 We wanted to leave you with a Thanksgiving-y recipe and Musical Pairing before those of us in the U.S. start heading off to gorge ourselves on good food and good drink tomorrow. So with that in mind, Kasey has presented a recipe for cake-y, chocolate-y pumpkin brownies. I'd bet my copy of the E.T. Read-Along Book and Record that these brownies would be more popular than some store-bought pumpkin pie at most Thanksgiving feasts. So if you are in the mood for a soundtrack to this food-based holiday, we selected an album Kasey described as "pumpkin-y": Blondie's 1979 Eat to the Beat. Although underrated by many critics at the time of its release back in 1979, the sheer number of excellent and well-written pop songs blended with singer Debbie Harry's creamy, upbeat vocals makes Eat to the Beat a great addition to any music library. Click over to Musical Pairings to read more about Eat to the Beat. –Matthew