Most people make pies for Thanksgiving, but not I. No, I make tarts. Tarts or cakes, but preferably tarts. I used to make tarts in pie pans, but the situation simply wasn't ideal. So when I finally acquired a tart pan, I could finally make the tarts of my dreams, with perfectly-shaped crusts that would not tower too high, creating too much room for filling–perfectly thin fresh or baked custards.
We are a family of apple cakes (and tarts), but everyone in the family also loves pears, so I knew that a pear tart, filled with an aromatic vanilla-scented, browned butter baked custard, would be a crowd pleaser. While this tart has several components (the crust, the filling, and the poached pears), they all come together (individually) pretty quickly. If you're making this for a dinner party, you could certainly make the crust (and even the poached pears) ahead of time. In fact, you could double the poached pear recipe right now, because the pears are delicious on their own, and you could certainly serve them for dessert, individually, topped with some ice cream.
All together though, this tart is a beauty–inside and out. The crust is flaky and crumbly and buttery in all of the right ways. The baked custard, infused with orange zest and vanilla, also packs a lot of flavor. And the pears, well they bring everything together, adding a light touch and softness to an otherwise crumbly foundation.
The original recipe, which I found in Food & Wine, called for vanilla beans, but given that they're somewhat hard to come by and pretty pricey, I settled for vanilla extract, which I think totally did the trick. This is a perfect example of a recipe that, at first, seems entirely intimidating, but is actually just a project that depends on accurately following instructions. While Thanksgiving is behind us, there are plenty of reasons to celebrate ahead, so I hope you bookmark this one. Now grab yourself a hot chocolate–not sure how it is where you are but it is cold cold cold for San Francisco, and my hat and gloves are getting a lot of wear.
Poached Pear and Brown Butter Tart
adapted from Food & Wine Magazine
For the crust:
1 and 3/4 cups of white whole wheat flour
1/4 cup of sugar
Pinch of salt
1 1/2 sticks of unsalted butter, diced and chilled
1 egg yolk whisked together with 4 tablespoons of ice water
For the poached pears:
6 cups of water
2 cups of semi-dry white wine (Riesling or Chardonnay)
2 cups of sugar
1 fresh sage leaf
4 cloves
One cinnamon stick
1 teaspoon of vanilla abstract
4 Bosc pears—peeled, cored and quartered
For the filling:
4 tablespoons of butter
2 large eggs
1/2 cup of sugar
1 teaspoon of vanilla extract
1/2 teaspoon of grated orange zest
Pinch of salt
1/4 cup of all-purpose flour
powdered sugar, for dusting
1. Make the tart crust (can be done a day ahead). Preheat the oven to 375 degrees F and butter an 11 inch removable bottom tart pan.
2. Combine the flour, sugar and salt in a food processor and pulse a few times, until combined. Add in the butter, pulsing until the mixture resembles small peas. Pour in the egg yolk-water mixture, pulsing until the dough is crumbly. Add more flour if it is too wet.
3. Press the dough into the tart pan, making an even crust. Tamp it down with a glass. Pierce the crust with a fork a few times and chill for 15-20 minutes.
4. Bake for about 25 minutes, until the crust is set and golden brown. Lower the oven temperature to 350 degrees F.
5. In a large pot, combine the water, wine, sugar, cloves, cinnamon stick, sage leaf, and vanilla extract. Bring to a boil and simmer for a few minutes before adding the pears. Cover the pot with parchment paper and a lid, cooking over medium heat for about 25 minutes (until the pears are soft, but not falling apart.
6. Remove the pears from the pot with a slotted spoon and cut the quarters in half.
7. Now make the filling by cooking the butter in a small pot over medium heat for about 4 minutes (until golden brown, and giving off a nutty aroma). Pour into a cup.
8. Whisk the eggs with the sugar, vanilla, zest and salt. Add in the flour, beating until smooth. Next, add the butter, beating until incorporated.
9. Pour the filling into the crust and arrange the pears in a circle on top, with the thin ends pointing towards the center. Cut a few wedges in half and arrange in the middle.
10. Bake for about an hour to hour and fifteen minutes, until the custard is set, and golden. Dust with powdered sugar, once the tart has cooled. Serve with a scoop of ice cream.
Musical Pairings: The Beastie Boys – Paul's Boutique + Poached Pear and Brown Butter Tart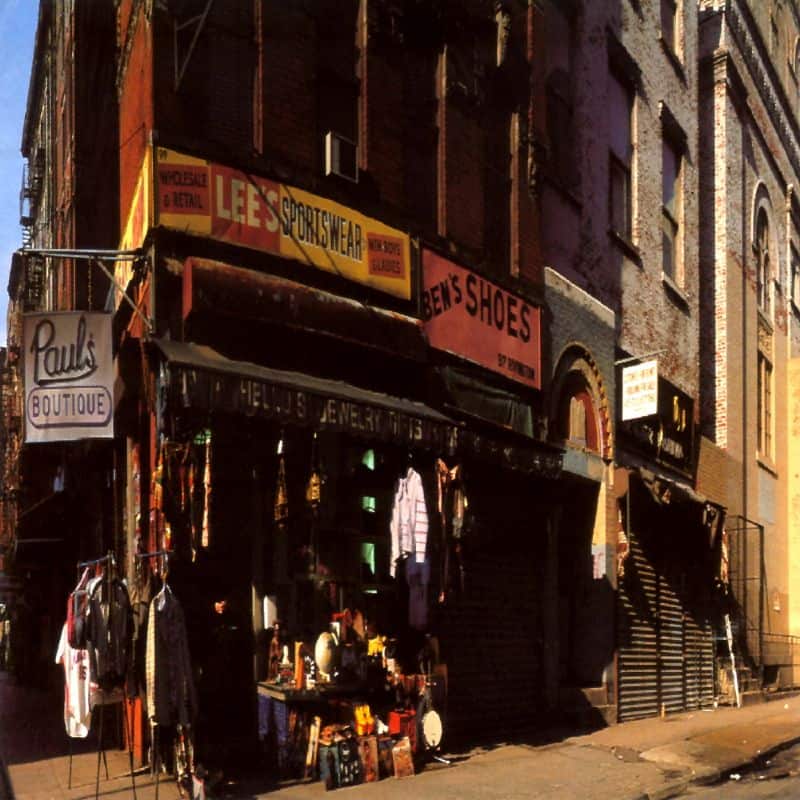 You know a recipe is good when each of its elements are irresistible on their own, and yet compliment one another well. Like with this poached pear and brown butter tart. Kasey prepared more poached pears than necessary for the recipe, and her parents, grandfather and I kept snatching extra little slices of pear because it was just too good to waste. The crust for this recipe is tried and true, and just tastes wonderful. And custard is always a treat in my book – baked or otherwise. Of course, it is as hard to find this winning combination of perfect ingredients in the world of music as it is in the culinary world. And I can think of only a few other bands/groups in the world that can be said to contain that perfect combination of ingredients as well as the Beastie Boys. After all, it is a depressing thought to imagine the Beasties without Ad Rock or MCA or Mick D. And the album where their style comes together most perfectly? Paul's Boutique, of course. To read more about the album, head over to Musical Pairings' home. –Matthew