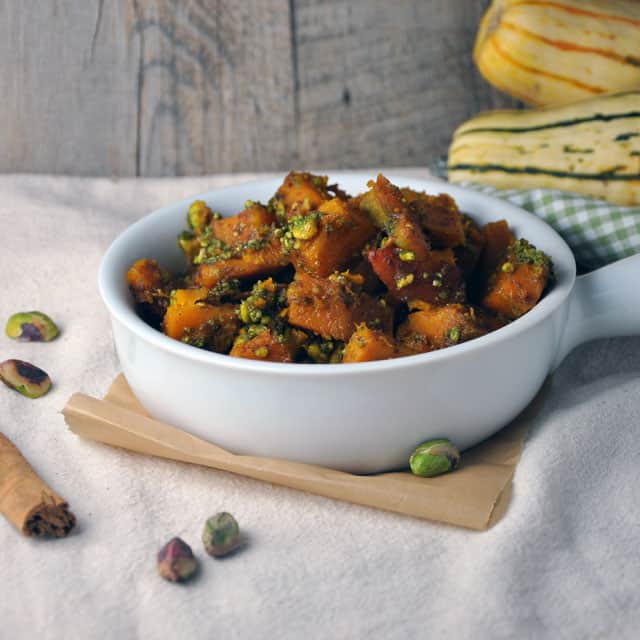 When I was in the 5th grade, my grandpa came to live with my family. At the time, I thought it might be temporary, but by the time I got to high school, it started to feel like forever. I wasn't always so appreciative of him being around all the time. Some days, I felt like he was just lurking around when all I wanted was some privacy. While other kids' parents were at work, I always had a third parent around. Over the years, he chaperoned my parties and literary magazine production nights, and helped fuel my crafting addiction by making me stuff like an Indian beading machine. I wish I had a picture of it. One time, he helped push me into the house through the bathroom window when the two of us got locked out of the house while my parents were at work. Wow, there are so many stories I could tell you about our relationship, and they wouldn't even be the half of it! The other day, Matt and I had him and my dad over for dinner. My grandpa took a look at Matt's record player and then proceeded to tell him about how much technology has evolved. In fact, he had built his own record player back in the day.
Unlike my grandpa, I can hardly build anything. There was that one time I put together an Ikea dresser all by myself. It took me all of 5 hours, and by the time I was done — soaked in sweat — I swore the labor wasn't worth the savings. Cooking is my way of building things. And while putting together furniture makes me want to die, spending all day preparing a meal makes me feel totally content. Good thing there's a holiday for people like me. It's called Thanksgiving, and it's just a few weeks away.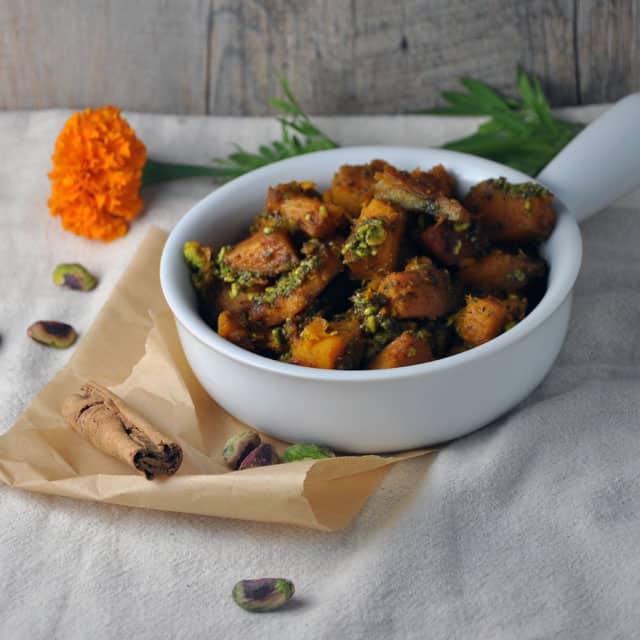 I don't particularly love turkey, stuffing, or any form of pumpkin pie. But, man, I love Thanksgiving. On that one glorious day, turkey with cranberry sauce tastes like the best thing in the world. And sweating away in the kitchen feels like a communal activity; I know so many others are doing the same thing. I'm sure many of you have already started thinking about Thanksgiving, so I thought I'd share a special little side dish that I think would be a nice addition to your table/potluck. Kabocha squash is just a type of pumpkin (not the type you see in the lead photo — that's a delicata squash — another favorite), except it's even sweeter. When roasted, it becomes really tender, and I find it to be particularly delicious tossed with some warm spices. The pistachio 'dust' is really just a hearty sprinkle of pulverized pistachios; it not only adds beautiful color, but also plays off the sweetness of the squash.
Here's the thing about Thanksgiving: you prep and prep and all of a sudden, everyone's passed out on the couch in a food coma. That said, there is something so utterly beautiful about this holiday that makes me feel so American.

Pistachio-Dusted Kabocha Squash
*serves 3-4
1 kabocha squash
1/2 teaspoon of cumin
1/2 teaspoon of cinnamon
1/4 cup of olive oil (approximately)
freshly ground pepper and salt
1/4 cup of pistachios, ground finely
1. Preheat your oven to 400 degrees F. Slice the kabocha squash in half and then continue cutting into 1 inch slices. After you've sliced up the squash, cut away the skin and cut the flesh into cubes.
2. Combine the squash, spices, oil salt and a pepper in a medium bowl. Toss to coat.
3. Lay the squash, in one layer, on a lined baking sheet and roast for about 20 minutes (until the squash is tender when pierced with a fork).
4. Put the squash in a bowl and add the pistachios. Gently toss to coat and then transfer to a serving platter.
Musical Pairings: Jose Gonzalez – In Our Nature + Pistachio-Dusted Kabocha Squash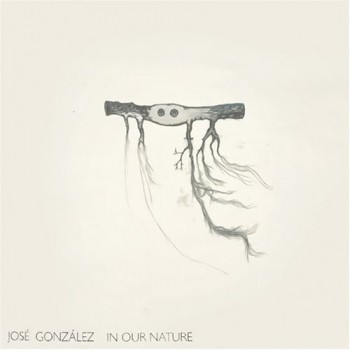 There's more on the Turntable.