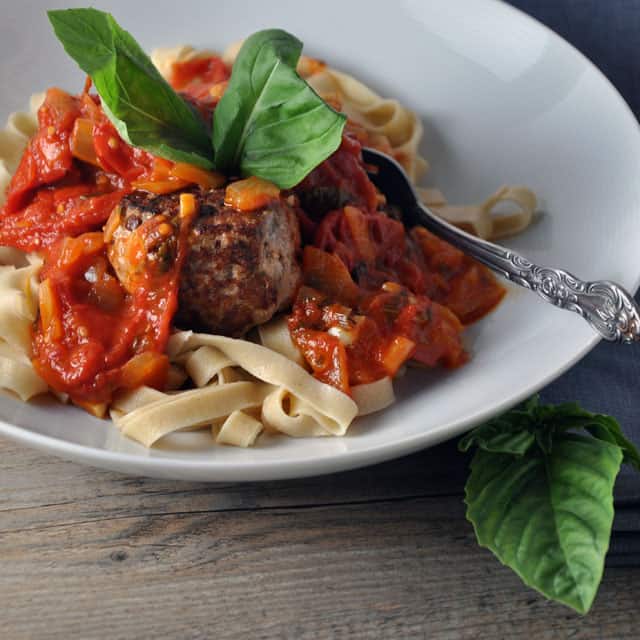 When I was little, my favorite books were Scandinavian fairy tales about a mythical creature called a Moomin, which vaguely resembled a cuter, more cuddly version of a hippopotamus. There were a lot of interesting characters present throughout the series, and the writing romanticized every season, especially, winter. You see, Moomins hibernate in the winter, but one winter, Moomintroll, the lead character, woke up to a world beyond his recognition. Everything about the winter book made me want to move to Finland. It sounded like a magical place where lovable, furry creatures hang out in log cabins or go out in search of adventures with their friends, having fun, all winter long. This was nothing like the world I lived in! I can remember building makeshift forts in my bed, pretending I was holed up, hibernating, with Moomintroll and his friends.
The author of the book, Tove Jansson, managed to make winter, a dreaded time of year, seem like something you could actually look forward to. When you're an adult, no longer dreaming of moving to Finland (though looking forward to a trip there someday), instead of building forts, I recommend creating a transportive meal. On a snow day (or a rain day, as they come to us in San Francisco), a steaming bowl of pasta topped with a smokey, spicy tomato sauce and homemade turkey meatballs faintly smelling of far away places, is the best way to love the soon-to-be-with-us winter months.
My original Moomintroll collection is a hand-me-down from my aunt, who read it as a child. It is the only Russian book that my parents successfully convinced me to read (and enjoy). A few years ago, I found the whole collection — in paperback — on Amazon. I immediately ordered all of the books in the hopes that, one day, my kids will be able to read these stories in English, as I did in Russian. Do you have a favorite wintertime fairy tale? I'm considering digging into Moomin Midwinter on the next rainy afternoon we have here.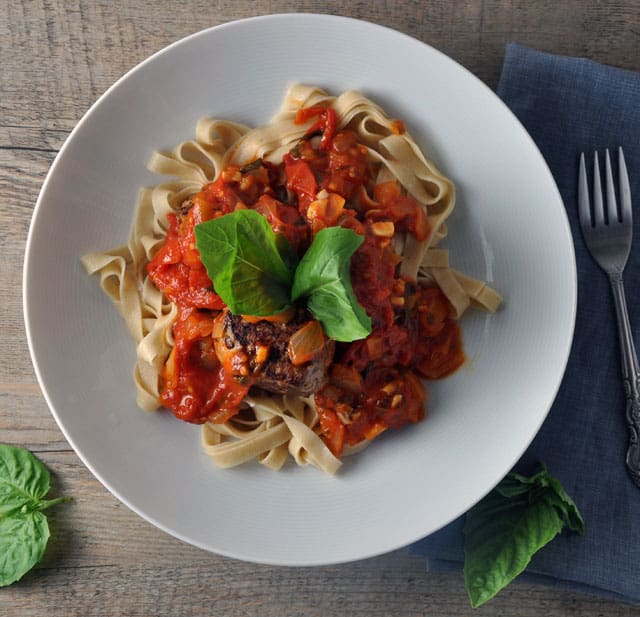 Fettuccine with Turkey Meatballs and Smoky Sauce
*serves 2-3
For the tomato sauce:
1 small onion, diced
3 garlic cloves, peeled and minced
1 pinch of red pepper flakes
1 teaspoon of smoked, sweet paprika
3 sprigs of thyme
1 bay leaf
1/3 cup of vegetable broth
1 tablespoon of fresh basil, roughly chopped
1 pound of medium-sized tomatoes, quartered
1 tablespoon of tomato paste
salt and pepper, to taste
extra virgin olive oil
For the turkey meatballs:
1 pound of ground turkey
1/4 teaspoon of cinnamon
1 teaspoon of smoked sweet paprika
1 teaspoon of cumin
1/2 teaspoon of chili powder
1 large egg
1/3 cup of fresh breadcrumbs
For the pasta:

fresh or dried fettuccine
Parmesan cheese, to serve
1. Add about two tablespoons of extra virgin olive oil to a medium pot over medium-high heat. Add the onion and garlic, bay leaf, and thyme. Cook for about 5-8 minutes (until the onions are soft and translucent).
2. Add the rest of the ingredients and bring the mixture to a boil. Lower the heat to a simmer and continue cooking for about 30-40 minutes, stirring occasionally. Taste and adjust spices to your liking.
3. To make the meatballs: combine all of the ingredients in a bowl and mix with your hands. Form the mixture into balls roughly the size of golf balls.
4. Heat 2 tablespoons of olive oil in a large non-stick skillet over medium-high heat. Add the meatballs, in batches, being careful not to crowd them, and cook for several minutes (until golden brown on one side). Flip to the other side and cook for several more minutes. Continue flipping the meatballs until they're browned on all sides and completely cooked through. Lower the heat if they're browning too quickly.
5. While you're cooking the meatballs, bring a large pot of salted water to a boil. Add the fettuccine and cook according to package instructions. If you are using homemade, fresh pasta, boil for only a few minutes, until al dente.
6. Drain the pasta and distribute among bowls. Top with a few meatballs and sauce. Serve with Parmesan cheese.
Musical Pairings: Motel Beds – Tango Boys + Fettucine with Turkey Meatballs and Smoky Sauce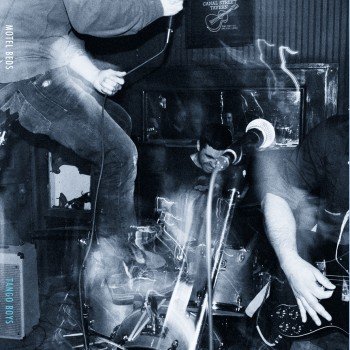 More on the Turntable.