Here's the thing about pancakes: you start with one and then you go for another (maybe with a different topping) and then another…And then you have to unzip your pants.
I, like Joy the Baker, and probably a billion other people can't get enough of them. I could write an ode to a few different foods–chocolate, bread, cheese, figs and pancakes. So when I received the Good to the Grain cookbook from a friend and saw two new-to-me pancake recipes, I started plotting breakfast. I had heard about the book from numerous bloggers and friends including Megan, Heidi, Luisa, and Tim. I salivated at their cookies, scones and tarts.
Typically, I try to keep things healthy-ish. Even when I make pancakes, I do my best to swap in some whole grain flour, oats, etc. Kim Broyce's book, as many in the food-blogging world know, is focused on baking with whole grains. Some, like rye and buckwheat flour, were already familiar to me. But others–like kamut and amaranth where not even on my radar. Now, I eat a fair amount of oatmeal, but I have never baked with oat flour. It's splendid! The recipe I'm sharing with you today is slightly adapted from Kim's book. It's a recipe for oatmeal pancakes made with oat flour, loaded with oatmeal and sweetened with some sugar and molasses.
After successfully consuming four pancakes generously topped with lingonberry jam, I tried a bite of a naked pancake and was saddened that I didn't eat MORE naked pancakes. They were stupendous! The flavors were very discreet, but played beautifully together and just as Kim notes in her book-the oatmeal gives these pancakes a bit of chewiness.


Oatmeal Pancakes
adapted from Kim Broyce's Good to the Grain
*makes enough for 4
1 cup of all-purpose flour
3/4 cup of oat flour
2 tablespoons of sugar
2 teaspoons of baking powder
3/4 teaspoon of sea salt
3 tablespoons of butter
about 1 1/4 cup of milk (more if needed to thin out the batter)
1 cup of cooked oatmeal (not quick-cook or steel-cut)
1 tablespoon of unsulphured molasses
2 large eggs
1. Whisk together the flours, sugar, baking powder and salt in a medium bowl.
2. Melt the butter and allow it to cool slightly before whisking it with the milk, eggs, oatmeal and molasses in a separate bowl.
3. Fold in the milk and oatmeal mixture into the dry ingredients, gently mixing until combined (don't use a heavy hand if you're aiming for tender pancakes).
4. If the batter is too thick, thin out with a little bit more milk.
5. Heat about a tablespoon of butter in a heavy cast iron skillet over medium-high heat and ladle 1/4 cupfuls of batter into the skillet once it's hot (no more than 3 at one time).
6. Once the pancake batter starts to bubble, flip and cook for another minute or two before transferring to a plate.
7. Continue to scoop in 1/4 cupfuls of batter (re-butter the skillet as necessary) until you have used up all of the batter. Adjust the skillet temperature if you feel that the pancakes are burning or not browning evenly.
8. Top pancakes with jam (we loved lingonberry), apple butter or maple syrup (and a side of bacon, if you must!)
Musical Pairings: Pinback – This Is a Pinback CD + Oatmeal Pancakes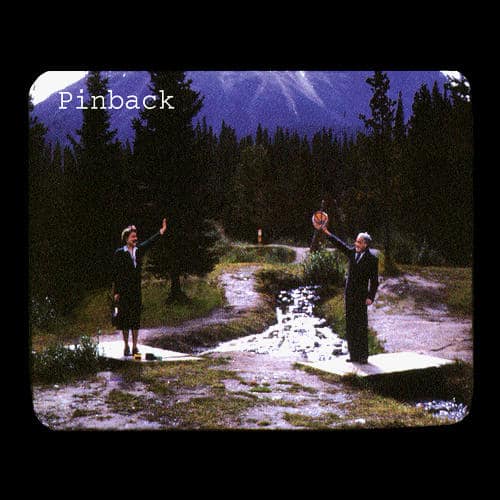 Pinback's 1999 debut album, This Is a Pinback CD, is a beautiful album gently folded together with fluffy melodies that float alongside light and whispery two-part harmonies and intriguing, thoughtfully picked, shimmering guitars. Because of these qualities, it is a perfect album for a morning where you want to wake up gently. And it is also my suggested pairing for Kasey's oatmeal pancake recipe. More at Musical Pairings' home. –Matthew