I like to check the weather forecast in random places. I'm not sure what it is about the weather that makes it the most comfortable place to start a conversation. When I'm on a call with someone I've never met before, there's typically a point when someone needs to break the ice. The easiest thing for me to talk about is how bad the weather is in San Francisco. Ok, it's not so bad all the time. But during the summer, it is arguably depressing. Some friends of mine recently made a move to the city from Southern California and have been shaken to their core. Apparently, not seeing the sun for a few weeks is just simply unacceptable.
But back to checking the weather. Living in San Francisco, I rarely check the weather. It's either 60 degrees or it's 60 degrees with some sun. Or it's 60 degrees with fog. Or clouds. Sometimes, I walk outside entirely over or under dressed because it doesn't occur to me to check the weather. But weather in other places fascinates me. Something about knowing that tomorrow in Rome it will be humid and 85 degrees gives me a sense of being there. Knowing that the forecast for Kauai shows potential rain every single day reminds me of those brief, middle of the day showers that give way to sunshine. Weather unites us. And so does pizza.
Every country I've ever been to has its own version of pizza. Every country claims to have the best version (their own, of course) but I'm still fairly certain that there's no better pizza than real Italian pizza. The thin crust kind. Made with fresh tomatoes and fresh basil and fresh mozzarella. Matt and I make pizza a lot. Why? Because it's delicious, of course! Well that and it is incredibly easy and perfectly filling. We've made pizza using a lot of different techniques (preheating our pizza stone before putting on the dough, varying the amount of whole wheat flour we use, using fresh mozzarella and the dehydrated kind). One thing's for sure–I haven't really had a bad homemade pizza yet. But after trying our hands at Mark Bittman's whole wheat pizza dough recipe, I think I've found my go-to whole wheat dough recipe.
It's nutty and chewy, crisp on the edges, tender in the center, hearty enough to hold a bevy of toppings and quick! We've recently been loving fennel salami (finocchiona) so for this iteration, topped our pizza with some fresh heirloom tomatoes from the farmer's market, mozzarella, basil and a good amount of salami. If your salami is sliced very thin as ours was, I'd recommend waiting a few minutes after the pizza has been baking before topping (the edges are prone to burning). As far as mozzarella goes, the dehydrated kind helps keep the crust from getting too soggy and melts beautifully. The rest, my friends is up to you.
And how's the weather where you're at anyway?
Whole Wheat Heirloom Tomato and Finocchiona Pizza
whole wheat dough recipe adapted from Mark Bittman
*makes 2 large pizzas
1 cup of all-purpose flour
2 cups of whole wheat flour
2 teaspoons of instant yeast
2 teaspoons of sea salt
3 tablespoons of extra virgin olive oil
approximately 1 1/2 cups of water
1. Combine the flours, yeast and salt in a food processor. With the machine running, add 2 tablespoons of the oil and most of the water (don't add all of the water at once, but gradually–starting with about 1/2 cup at a time).
2. Process the dough for about 30-45 seconds, adding more water as needed until the mixture starts to come together in a ball and is just slightly sticky. Add more water if it's too dry or not coming together.
3. Pull the dough out of the food processor and onto a floured work surface and knead it until it forms a smooth, round ball.
4. Pour 1 tablespoon of oil into a large bowl, place the ball of dough inside and cover the bowl with a sheet of plastic wrap. Let rest for 1-2 hours.
5. Separate the dough into two separate balls. Sprinkle a work surface with flour and place the balls of dough on the flour. Cover the dough with a towel and let rest for about 20 minutes. If you are not using both balls of dough to make two pizzas, you can freeze one prior to this step (just bring it to room temperature before using). Position the oven rack in the middle and preheat your oven to 500 degrees F.
6. Once the dough is ready, roll it out to your desired thickness (we like to keep things thin). Transfer the dough to a pizza stone (sprinkled with some cornmeal) and top with desired toppings: we chose sliced heirloom tomatoes, mozzarella, torn fresh basil leaves and finocchiona (a fennel salami).
7. Bake the pizza for about 6-12 minutes (until the edges are nicely browned). Sprinkle with grated Parmesan cheese, to taste.
Musical Pairings: David Bowie – Ziggy Stardust + Whole Wheat Heirloom Tomato and Finocchiona Pizza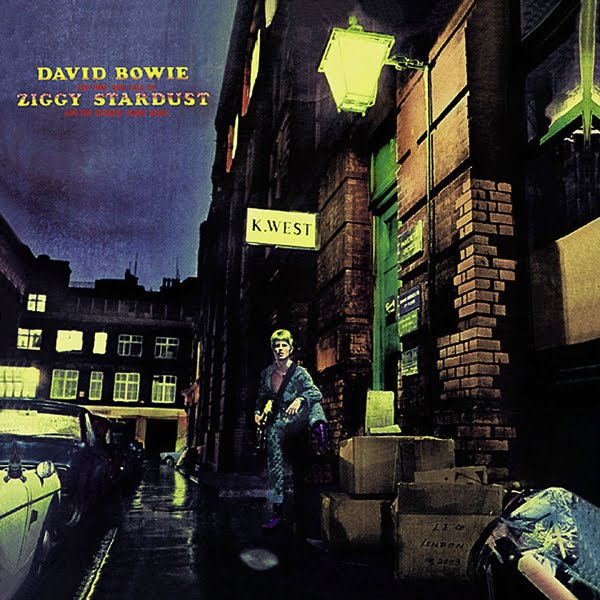 As you can tell from the picture above, it is pizza party time here at eating/sf and Musical Pairings. When I was a child, I thought pizza parties were mind-blowingly awesome. And, of course, they were mind-blowingly awesome since they usually included Teenage Mutant Ninja Turtles (Donatello was my favorite) and stuffed-crust pizza from Pizza Hut. And now that I'm an adult I still think pizza parties are mind-blowingly awesome, but now they tend to incorporate beer, rock 'n' roll, and pizza that is slightly more "gourmet" in nature. So for our pizza party, I'm pairing Kasey's whole-wheat heirloom tomato and finocchiona pizza with David Bowie's The Rise and Fall of Ziggy Stardust and the Spiders From Mars. After all, while I'm not as inclined to run around with my friends pretending to be a mutated ninja turtle fighting to protect the city from a gang of wannabe ninjas at parties nowadays; this amazing rock n' roll concept album is no less creative, bizarre and straight-up awesome than the decision to combine mutants with ninjas. Read more at Musical Pairings' home. –Matthew