I have a confession to make: I really hate the book that I'm reading right now. I purchased it at Powell's Books in Portland, noting that it was a Pulizer Prize winner, and have tried to read it every day on my rides to and from work. I read a few pages while constantly being distracted by the people on the train, Twitter, my work email, etc. No matter what I do, I just can't make myself commit to it. How long do you wait before you give up on a book? Is it fair to give it at least two weeks? Is a week enough? I'm trying to decide at what point I'll just accept that it's not my cup of tea. Part of me, I think, is waiting to be surprised. Because every once in a while I am surprised. By books, television shows, recipes…even friends.
I rarely like something on the first try. I think it's a character flaw of some kind. The first time I watched 'How I Met Your Mother' with Matt–a television show I now find absolutely hilarious–I sat on the couch with my computer on my lap and cautiously looked out above my screen. With every new episode, I paid less and less attention to my computer and more attention to the show until, finally, I was completely addicted.
Not unlike books and television shows, I find that recipes can also be a mixed bag. Some really exceed my expectations while others fall entirely flat. This is an acceptable fate when I haven't spent an entire day preparing one dish, or spent a small fortune on ingredients.
This black cod was a last minute decision on a busy weeknight. I didn't want to commit to something time-consuming, but I also wanted to make something I could blog about (all occasions big and small start with the 'editorial calendar' for the blog). Every weeknight meal could be a lost opportunity if there isn't good lighting, several hours are spent on preparing something that turns isn't entirely impressive, or some other form of disaster occurs. In this case, I wasn't expecting much–I simply hoped for a relatively healthy and quick meal. When it all came together, though–and when I started taking pictures, I definitely felt like I landed on something good. The fish itself was melt-in-your-mouth tender and the chili-garlic oil was really fragrant without being too overpowering. The extra drizzle also created a fantastic dressing for a light arugula and edamame bean salad.
If you find yourself looking for something impressive-looking, quick and finger-lickin'-good (I won't lie, I scooped up that chili-garlic oil with some bread and I didn't let a single piece of fried garlic go to waste), this meal is for you.
Grilled Black Cod with Fried Garlic and Red Chili Flakes
adapted from Bon Appetit
*serves 2
2 black cod fillets (about 1 inch thick)
3 tablespoons of extra-virgin olive oil
2-3 cloves of garlic, thinly sliced
2 pinches of red chili flakes
1 tablespoon of Italian parsley, chopped finely
sea salt and freshly ground pepper, to taste
1/2 cup of boiled edamame
1 cup of organic arugula leaves
1. Brush a grill pan with olive oil and heat over medium-high heat.
2. Sprinkle the fish fillets with salt and pepper on both sides. Place the fish on the grill pan, skin side down and cook for about 5 minutes before flipping and cooking for another 5 minutes (the fish should be opaque, tender and flaky). Transfer the fish to a plate and cover while you make the chili-garlic oil.
3. Heat the olive oil in a small skillet over high heat. Add the garlic and saute for about 1 minute (until it begins to turn golden and you can really smell the aroma).
4. Sprinkle in the chili flakes, stir and cook for another minute or so.
5. To serve, divide the arugula leaves and edamame between two plates. Top with the fish and generously drizzle the fish and greens with chili oil. Sprinkle with parsley.
Musical Pairings: Big Boi – Sir Lucious Left Foot: The Son of Chico Dusty + Grilled Black Cod with Fried Garlic and Red Chili Flakes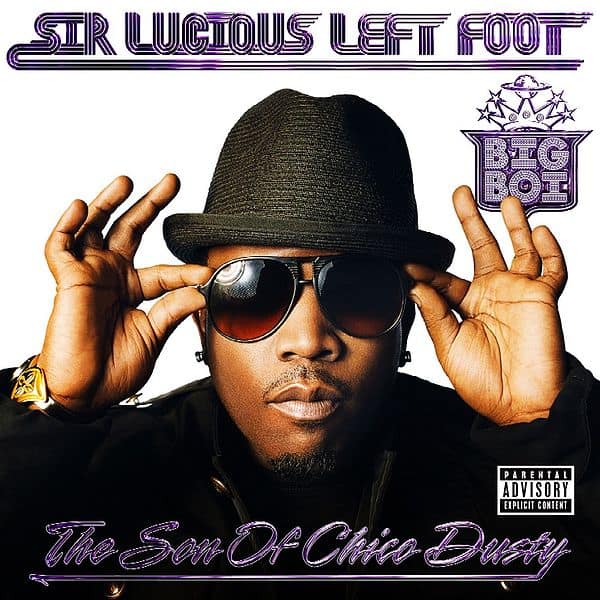 Sure, a hip hop album is a somewhat unorthodox choice for dinner music, but the grilled black cod with fried garlic and red chili flakes that Kasey is featuring on eating/sf today is unusually slick and fresh. It doesn't rely on molecular gastronomy or unusual ingredients, but it is so simple and clean you could call it culinary chic. Similarly, Big Boi's Sir Lucious Left Foot: The Son of Chico Dusty is no ordinary hip hop album. It is full of unique samples, inventive rhymes, and a definite crispness and freshness that is sadly absent from most of the other rap records I've heard in the past few years. So I think for many of our readers, this solo album from Outkast's bad boy MC actually pairs perfectly with this recipe. Head to Musical Pairings for more. –Matthew