Do you keep in touch with your high school friends (if you're out of high school)? I sure do.
In fact, I think my high school friends are pretty great. I group them together as the 'high school friends' even though we all didn't necessarily hang out in high school. Over the years, though, we've spent enough time together at birthday parties, New Years' parties, Spring and Winter breaks and weddings that we've really formed this sort of united front. Like distant cousins, some of us have had to spend enough time with certain high school friends of friends, that we view these gatherings like strange family reunions. These kids have seen me in my best of times and my worst of times. They've TP'd my car, they've let me crash on their couch and borrow their clothes, they've cooked me dinner, they've given me answers to math problems, they've slept over my parents' house, they've danced with me at prom -and later, at my wedding, and they've let me talk their ears off for hours about some guy in college who didn't know I existed. Bottom line is – these people who have known me since back in the day are still some of my closest friends.
Two of them are vegetarians. I don't mind. If I had my way, we'd probably eat a few more vegetarian meals in our house. I'm certainly not about to give up meat, but the return of Spring inevitably excites me. So many vegetables start to spring up –  artichokes, Spring onions, fava beans. I love them all. And while this recipe is still stuck in winter, it's just the right thing to enjoy on a night when you want to nourish yourself with something really good for you.
I made my own harissa a few weeks back, but you can find harissa paste sold in tubes at a variety of specialty and Middle Eastern stores. It adds a brilliant kick to the yogurt and is definitely a star ingredient in the dish. I used some beautiful, striped Chiogga beets, but any beet will do. Find the thinnest, sweetest carrots you can get your hands on, and definitely don't skip the mint.
Beets and Carrots with Couscous and Harissa Yogurt
*serves 2
3 medium beets
bunch of small, thin carrots (such as Nantes)
olive oil
sea salt and pepper, to taste
1 cup of dried couscous
1 1/2 teaspoons of harissa paste
1/2 cup of plan yogurt
handful of toasted pine nuts
1 tablespoon of roughly chopped mint
1/2 stick of cinnamon
1. Preheat your oven to 375 degrees F. Pierce the beets several times with a fork and wrap in foil. Place the beets on a baking sheet and roast them for about 30 minutes.
2. Toss the carrots with some olive oil and sea salt. Add them to the baking sheet on which you are roasting the beets. Raise the oven temperature to 400 degrees F and continue roasting for about 15- 20 more minutes (until the carrots have begun to shrivel a bit and can easily be pierced with a fork). Remove the carrots from the baking dish and set aside.
3. Continue roasting the beets until they can easily be pierced with a fork. Remove the beets from the oven and let them cool.
4. Prepare the harissa yogurt by combining the yogurt and harissa paste in a small bowl and mix with a spoon until fully incorporated. Set aside.
5. Boil 1 cup of water and a teaspoon of olive oil in a small saucepan. Add the couscous, give it a stir, cover the pot and take it off the heat. Drop the cinnamon stick into the pot and set aside for five minutes.
6. Peel and slice the beets.
7. Uncover the couscous and fluff it with a fork. Toss the cinnamon stick.
8. To serve: add about a 1/2 cup of couscous to each plate. Top with beets and arrange the carrots on top. Sprinkle with pine nuts and mint and top with a spoonful of yogurt and a drizzle of olive oil.
Musical Pairings: The Weeknd – House of Balloons + Beets and Carrots with Couscous and Harissa Yogurt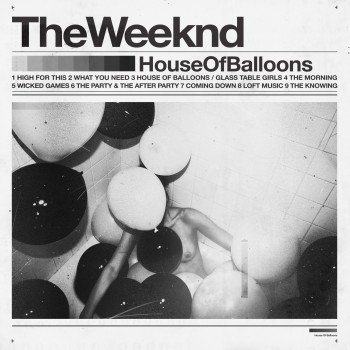 Read/listen over on the Turntable side of things.