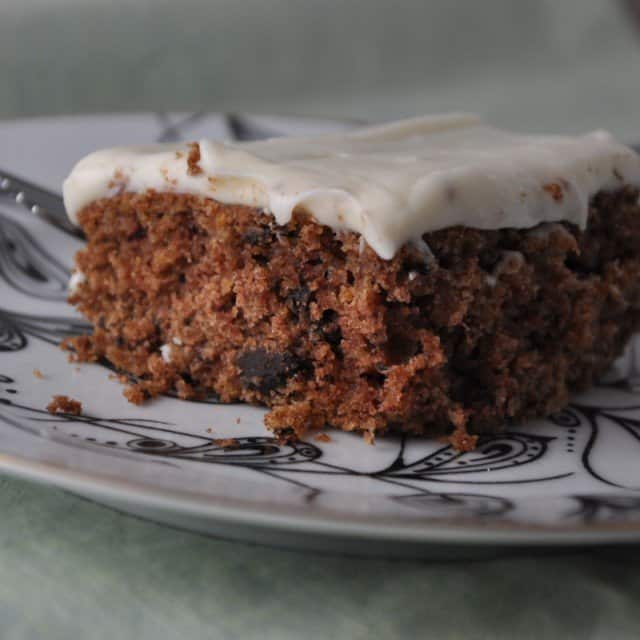 You know how sometimes you want a chocolate chip cookie AND cake? It's hard to decide. Now, you don't have to. Thanks to the guys at Baked, a Brooklyn bakery, we have something even better than a Pizzookie.
My favorite part about this cake is that it's listed in the Breakfast section of their book, making it totally acceptable to eat at ANY time of the day. While some inventions are brilliant because they are so tailored to their purpose (cheese grater, French press, elevator), others are great because they don't fit any particular category. Case in point: this cake. It's not a coffee cake…but it could be. It's not a cookie…but it could be. It's not a cupcake…but it could be.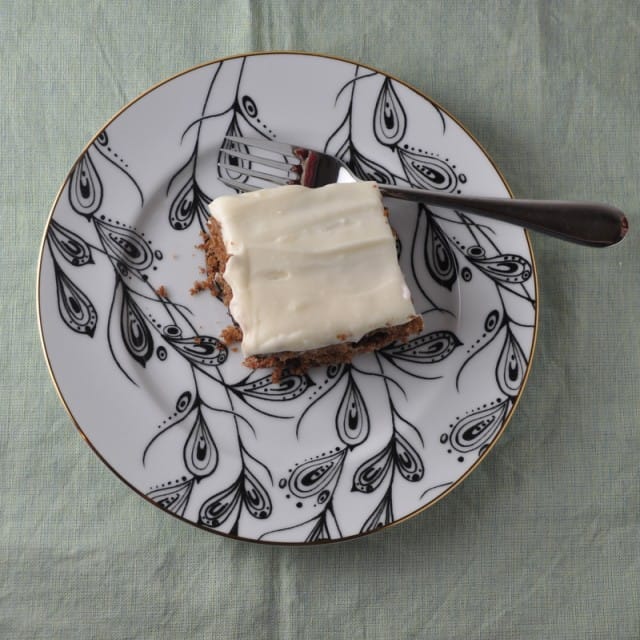 Frankly speaking, it's hard to decide what makes this cake most awesome: the crumb? the cookie-like flavor? the cream cheese frosting? It's hard to choose. I'll just let you decide. I made a few tweaks to the recipe. Namely, I added a little bit of whole wheat flour to batter, as I tend to do with cookies. I find it gives them a great nuttiness. I also used half chocolate chips and half chopped chocolate to really infuse chocolate-iness into every single bite. Lastly, I cut down the sugar just slightly. I might cut it down even more the next time I make it. The frosting is super sweet, so I find that the cake can be a little less so.
Oatmeal Chocolate Chip Cake with Cream Cheese Frosting
adapted from Baked Explorations
4 ounces of semi-sweet chocolate chips
4 ounces of roughly chopped semi-sweet or bittersweet chocolate
1 cup + 2 tablespoons of all-purpose flour
1/4 cup of whole wheat flour
1 cup of rolled oats (not quick cooking)
1/2 teaspoon of whiskey
1 stick of unsalted butter, diced and at room temperature
2 large eggs, beaten lightly with a fork
3/4 cup of sugar
1 cup of brown sugar
1/2 teaspoon of sea salt
1 teaspoon of baking soda
1 1/2 teaspoons of cinnamon
1 teaspoon of baking powder
For the frosting:
5 tablespoons of unsalted butter, at room temperature
5 1/2 ounces of cream cheese, at room temperature
2 cups of confectioner's sugar
1 teaspoon of pure vanilla extract
1. Preheat your oven to 375 degrees F and butter a 9 x 13 inch baking dish.
2. Boil 1 1/4 cups of water. While you boil the water, toss the chocolate in a small bowl with the whiskey and two tablespoons of flour.
3. Pour the oats into a medium bowl and cover with the boiling water. Wait about 30 seconds before stirring in the butter – mix until it is melted and fully incorporated. Allows the oats to sit for about 25 minutes.
4. Meanwhile, in another bowl, whisk together the sugars, eggs, salt, cinnamon, baking soda and baking powder. Stir in the oatmeal mixture.
5. Stir in the flour and chocolate mixture until well-combined.
6. Spread the batter into the pan and bake for 40 – 45 minutes. Cool the cake before frosting.
7. Make the cream cheese frosting: beat the butter at high speed until it is light and fluffy. Beat in the cream cheese and then add the sugar and vanilla. Beat until light and airy (and devoid of any large chunks). Store in the refrigerator until ready to use. Once the cake has had a chance to cool, frost it and put it in the refrigerator to let the frosting stiffen prior to serving.
Musical Pairings: Steffaloo – Meet Me In Montauk + Oatmeal Chocolate Chip Cake with Cream Cheese Frosting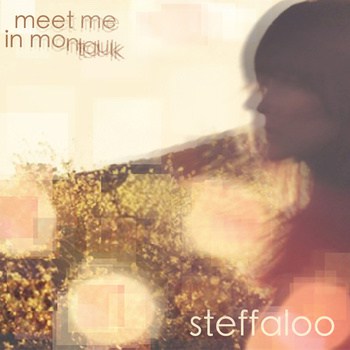 Want to know what goes with Oatmeal Chocolate Chip Cake? Find out by heading to the Turntable.