Growing up in a pretty secular family, I never paid close attention to the Jewish holidays–aside from always enjoying the food and the family time. If there's one Jewish staple that I've always loved and looked forward to having in my house, it's matzo. My dad would purchase it in bulk from Costco and it always seemed to last through the end of summer. My sophomore year of college in San Diego–my first off-campus, 'on my very own' living experience–my dad took me to Costco to 'stock me up.' He ended up buying a massive supply of matzo for our apartment (occupied by only two other friends). I wish I'd had this Matzo Brittle recipe back then.
The matzo lasted for years. I kid you not. When it was time to move out of our apartment at the end of our junior year, my roommates and I realized that there were half-opened boxes of matzo on top of the refrigerator, in the pantry, and possibly even somewhere in our walk-in closet. These days Costco terrifies me a little–the idea of buying groceries in bulk sizes large enough to feed a football team seems unnecessary in a city where I must carry everything due to the fact that I do not own a car. My dad still buys matzo in bulk from Costco–and as every good parent, never comes to our house without a bagful of goodies (be it ten pounds of oranges, a 24-pack of Pellegrino, or a couple of boxes of matzo–because we might want it).
Have you ever tried matzo brittle? It's crunchy, sweet, chocolaty and a little bit salty all at the same time. somewhere between a brittle and toffee–this stuff is absolutely addictive. Have it with a glass of wine, a cup of tea, or an espresso. It's fun to make, fun to eat and fun to give as a hostess/host gift.
This week, we'll be joining my family for a secular Passover dinner. My mom will cook traditional food. My grandfather will inevitably still eat bread. We will inevitably argue about politics. I will inevitably act like a twelve-year-old. We will eat matzo. And this year, some matzo brittle for dessert. And next week, my friend and I will co-host a picnic in the park in honor of Easter (the secular kind–where we eat, drink and cavort with friends). Maybe I'll make some more matzo brittle.
Matzo Brittle
adapted from CHOW
3 sheets of unsalted matzo
1 stick of unsalted butter
1/2 cup of brown sugar
1/2 cup of slivered or sliced almonds
1/2 teaspoon of fleur de sel, plus gray sea salt for finishing
1 cup of semi-sweet chocolate chips
1/2 teaspoon of vanilla extract
1. Preheat the oven to 350°F.
2. Line a rimmed baking sheet with foil, overlapping it over the edges. Place the matzo on the baking sheet, breaking it in half or quarters to make it fit–make sure to place the pieces as evenly and close together as possible.
3. Combine the butter, sugar, and 1/2 teaspoon of fleur de sel in a saucepan over medium heat, stirring until melted and beginning to bubble (about 5 minutes). Continue to stir occasionally for another few minutes, then remove the pot from the heat and carefully pour in the vanilla extract. Stir to combine.
4. Pour the caramel over the arranged matzo pieces, spreading it evenly with a spatula. Bake for about 6-10 minutes (until the caramel is bubbly).
5. Remove the baking sheet from the oven and sprinkle the chocolate chips over the surface. Let sit for a few minutes.
6. Use a silicone spatula to evenly spread the chocolate over the caramel. Sprinkle with almonds and and about 3/4 teaspoon of fleur de sel (or gray sea salt, if you have it on hand).
7. Refrigerate for about 20 minutes before breaking into pieces and serving. Best kept refrigerated for about a week.
Musical Pairings: Here We Go Magic – Self-Titled + Matzo Brittle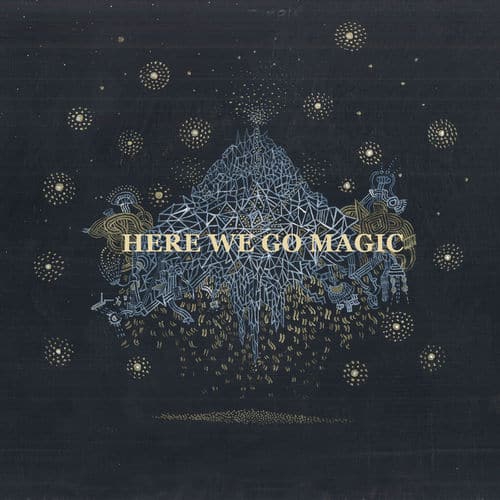 The matzo brittle that Kasey prepared is a somewhat surprising dessert. Like any other simple cracker, matzo itself is pretty plain. By adding the caramel, chocolate and almonds, Kasey created something much more exciting and flavorful than plain matzo. My choice for a Musical Pairing to accompany the recipe is Here We Go Magic's deftly-layered, bedroom produced eponymous debut album. Singer Luke Temple's brittle falsetto flows and spirals smoothly in harmony with revolving tribal pop rhythms, softly shimmering guitars, and psychedelic and ambient flourishes. More at Musical Pairings. –Matthew