In my profession (disclosure: by day–and often by night–I work in PR/marketing at a start-up), getting 'the scoop' is the highest prize you could score. I value and understand journalists' desires to get the ultimate exclusive and feel their pain when they get scooped. When I read this post by Kristin at TheKitchenSinkRecipes, I wanted to send it to all of my friends who work in PR and journalism. I thought it was so appropriate to suggest that she had been scooped in the short time-span that her cake had been in the oven. We're food bloggers here–we're not breaking major news–but getting scooped…well I guess it still happens. And one day, I had to face the realities of getting scooped myself.
Two weekends ago, I made the most amazing sauce–romesco. We have been eating it with everything from potatoes to fish (and, unashamedly, straight from the container by the spoonful). I was just beginning to write a post about this sauce for you when I realized that I had been scooped by the New York Times of the food blogging world. Yep, Miss Deb of Smitten Kitchen posted a recipe for Romesco Potatoes. My mouth agape, I thought to myself: what are the odds? It's not like we were at a briefing for the latest Apple launch together and both feverishly typed out what we had taken away from it. Romesco sauce? I thought about how to approach such a dilemma. I didn't want to look like a copycat. And I didn't want to pretend like I hadn't read her post because, trust, I read ALL of Deb's recipes. And I admit when I adapt them and post them here. Regardless, I didn't want to lose the romesco sauce.
And so, a compromise was reached–with myself, at least. I'd tell you about MY romesco sauce. Or rather, Thomas Keller's–which he shared in his Ad Hoc at Home cookbook. It's exactly what I hoped it would be: spicy, smoky, creamy, slightly oily and rather substantive–presumably, from the bread. I didn't pair my romesco sauce with potatoes as Deb had (I might have been scooped, but I wasn't about to not give my post a new angle, and a new discovery for you, readers). I chose to pair this bang-for-your-buck sauce with a lovely vegetable that I've been loving lately: the baby leek. If you have an outdoor grill, I'd certainly recommend that you use it here. However, given my circumstances, I opted for a grill pan and to my great pleasure, achieved fantastic grill marks and that lovely charred taste.
This is the perfect thing to serve as a side to some lightly grilled fish on a warm (or wishfully-warm) day. Don't be afraid to use your fingers. They will get messy. Don't mind the outer layer–peel it off, dip, and eat.
Romesco Sauce
* adapted from Ad Hoc at Home
makes about 1 1/2 cups
2 dried pasilla-ancho chiles
3 medium tomatoes, cored and halved
1 red bell pepper, halved lengthwise, cored, and seeded
1/2 a large onion, sliced in half
1 large clove of garlic
1/8 cup of extra virgin olive oil
canola oil or spray
3 slices of sourdough bread, crusts removed and cubed
salt and pepper, to taste
1/8 cup of sliced or slivered almonds
1 tablespoon plus 1 teaspoon of sherry vinegar
1 teaspoon of smoked paprika
1. Preheat the oven to 400 degrees F.
2. De-stem the dried chiles, remove the seeds and place them into a bowl of hot water. Let soak for 30 minutes.
3. Toss the tomatoes, pepper, onion and garlic with olive oil, salt and pepper. Arrange the tomato and pepper cut-side down in a 9 by 13 inch glass baking dish. Throw in the onion and garlic and roast for about an hour, until the tomatoes and peppers are lightly charred.
4. Remove the vegetables from the oven and let cool slightly before removing the skins from the peppers and tomatoes. Remove the outer layer from the onion. Reserve the liquid that cooked out of the vegetables.
5. Heat the canola oil in a small skillet and add in the bread, turning on all sides and allowing it to turn a nice golden color (about 2-3 minutes). Be careful not to burn! Add in the nuts and toss for another minute, until fragrant.
6. Drain the chiles and place into a blender along with the roasted vegetables. Blend until smooth.
7. Add the remaining ingredients and blend until smooth. Season with salt, to taste. Sauce can be refrigerated for up to two weeks.
Grilled Baby Leeks
inspired by this recipe in Food & Wine
*serves 2
8-10 baby leeks
olive oil
salt and pepper
1. Brush a grill pan with a little bit of oil and heat over medium-high heat.
2. Brush the leeks with oil, season with salt and pepper and grill them for about 3 minutes. Use a pair of tongs to rotate the leeks, letting them develop a nice char.
3. Serve leeks with romesco sauce. To eat: peel the outer layer with your fingers and dip into romesco sauce.
Musical Pairings: Kinks – Lola vs. the Powerman & The Money-Go-Round, Pt. 1 + Grilled Baby Leeks with Romesco Sauce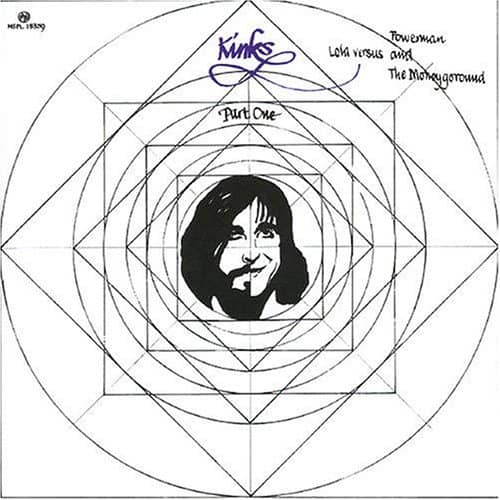 border="0″/>The romesco sauce that Kasey prepared and is featuring today on eating/sf is a spicy, thick sauce made with roasted tomatoes, roasted red peppers, dried chiles, paprika, and bread. It is homey and warm. The grilled baby leeks that she served with it are simple, crisp and clean. But you'd be wrong if you thought this was a boring recipe. The sauce has real zing and the grilled leeks have real flavor. It's a great side dish that goes nicely with any entree. Oh, and make extra sauce! It goes great with pasta, potatoes and on top of just about any fish or chicken dish. Naturally, I chose a versatile, clean, crisp rock n' roll album to go along with it: The Kinks 1970 masterpiece Lola vs. the Powerman & The Money-Go-Round, Pt. 1. To read more, head to Musical Pairings' home. –Matthew